The Best Beaches in Koh Yao Noi
Discover the best beaches in Koh Yao Noi during your tantalising Thai retreat.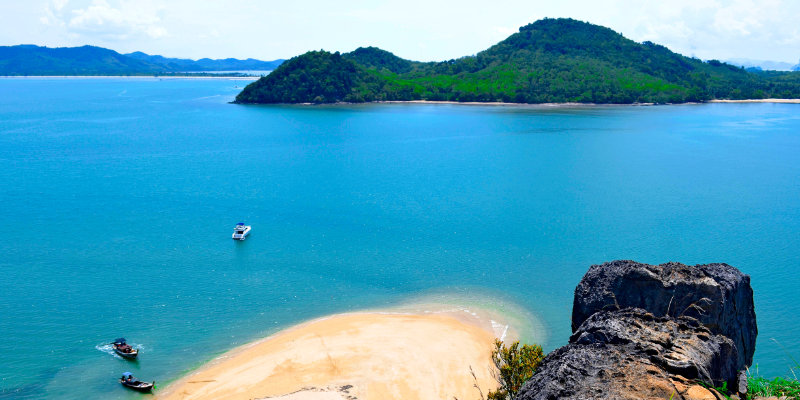 Presenting unspoilt sands and rugged coastlines, the backdrop to these beaches is anything but ordinary.
---
But what are the best beaches in Koh Yao Noi
So, let us get into it. The best beaches in Koh Yao Noi to explore are (drumroll please)…
Pasai Beach
Tha Khao Bay Beach
Haad Yao
Klong Jark Beach
---
Island of the Dragon
Situated between Phuket and Krabi, in the middle of Phang Nga Bay. The peaceful island of Koh Yao Noi, also known as the Island of the Dragon, oozes with tranquillity. The island is also generally a lot quieter than the bustling Thai tourist hotspots.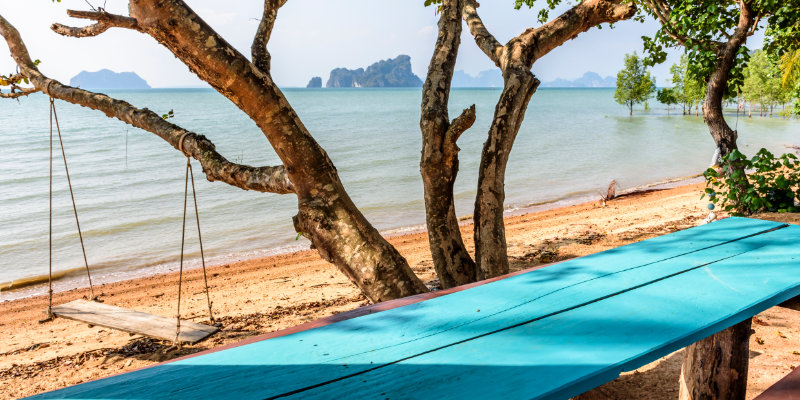 ---
Thai for an adventure?
Any stretch of sand along the eastern coast in Koh Yao Noi could be considered one of our best beaches due to the distinctive charm and unspoilt sands that envelop this beautiful island. However, if you want to make sure you feel the finest of sands between your toes. Read on as we uncover our favourite spots.
A quieter tourist spot compared to Phuket or Krabi, and far smaller in size. The beaches are distinctive and full of authenticity. Providing a unique, yet familiar far eastern beachy ambience. Kao Yao Noi is a perfect option for return visitors.
Top Tip. Hire a scooter or a bicycle for a great way to explore Koh Yao Noi.
---

---
Thai to Explore
Enveloped by gorgeous coastlines and limestone rocks dotted in the ocean. The peaceful shores of Koh Yao Noi are perfect for watching the sunset. To get a closer look at this miraculous island, take a look at the below vlog to experience the hidden gem that is Koh Yao Noi.
---
The Thai is High
Generally, the swimming conditions in Koh Yao Noi are calm. However, as the waves crash against the coast to form these natural phenomenons, beach conditions and swimming availability can vary.
In parts, waters can be very shallow, providing ideal conditions for swimming. But as the tidal cycle bulges, this may only be possible for 6-8 hours each day. We would recommend liaising with the resort staff. Or heading out there yourself to discover the best times to explore these beautiful beaches for a leisurely swim.
---
Pasai Beach
One of the most well-known beaches on the island, Pasai Beach, is roughly 2km long. A lovely spot for relaxing in the sunshine. There is also a great range of water sports and tour kiosks along the beach too. Plus, with great beaches comes great restaurants. So it's no surprise you'll find the best places to eat in Koh Yao Noi not far from the best beaches.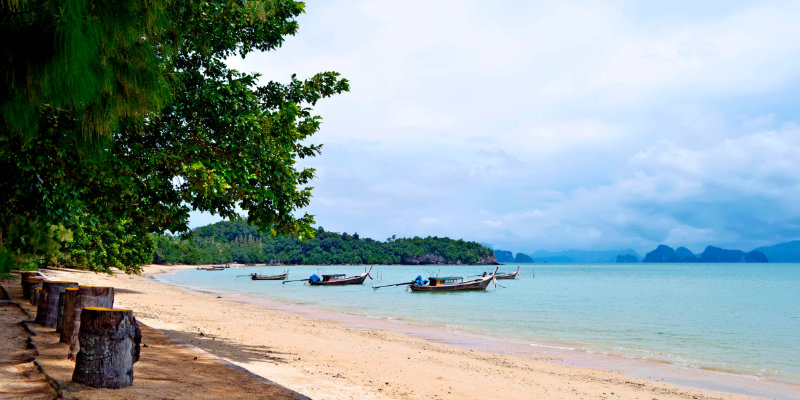 ---
Tha Khao Bay Beach
The untouched crescent of sand that is Tha Khao Bay Beach is next on our list. The beach is probably the islands best-hidden secret and our go-to spot for a relaxing beach day if you are looking for peace. The surrounding area also presents beautiful vegetation, and the local village next to Tha Khao pier is also worth checking out to fuel up your bike or explore the trinkets from the shops.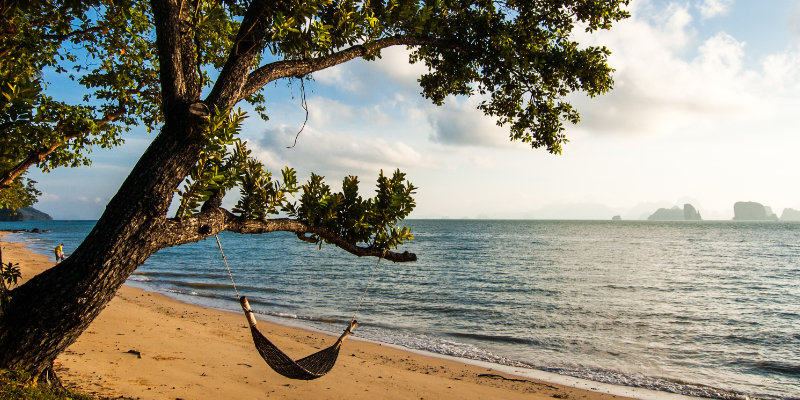 ---
Haad Yao
Our next stop off takes us to the nearby island of Haad Yao. The area provides easy access from Koh Yao Noi and epic conditions for snorkelling. However, make sure you bring protective footwear to avoid the coral and sea urchins!
But apart from that, Yao beach is probably our favourite spot in Thailand and provides several beach facilities. Including options for massages, yoga, water sports and dining.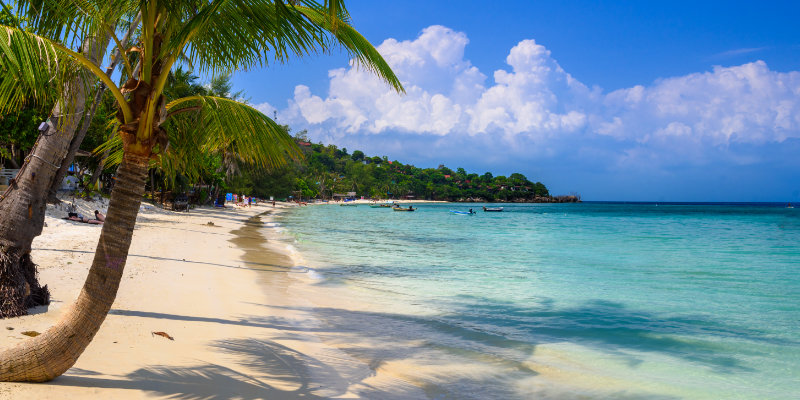 ---
Klong Jark Beach
Our last visit takes us to Klong Jark Beach. The crystal-clear waters and soft white sands provide beautiful beach conditions great for swimming.
The natural environment has an individualistic charm meaning a unique place for a photo opportunity or a romantic stroll along the sands. The nearby restaurants and bars also make it worth the visit if you fancy an evening affair or spot of lunch.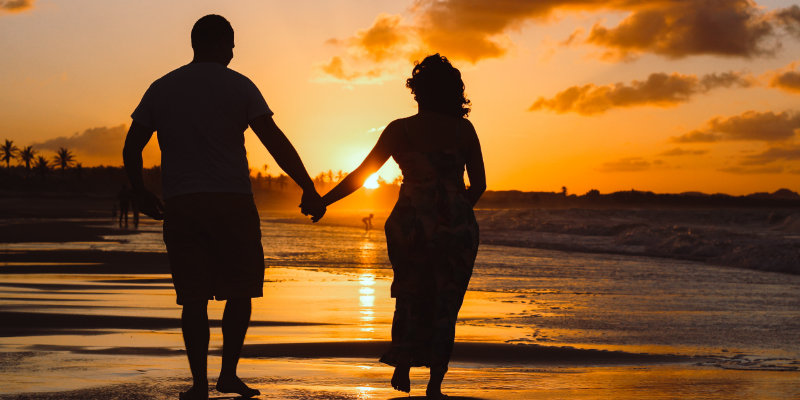 ---
Shorely it's time for a break?
Thinking about heading to Thailand for your next adventure? Koh Yao Noi should undoubtfully be on your holiday hit-list!
Now you know the best beach spots to to unfurl your towel, it's time to discover Paradise Koh Yao Noi. Our favourite resort for experiencing an unforgettable Thai holiday.
Alternatively, to read more about holidaying in Thailand. Our Top 11 Thailand Travel Tips provides a great place to start. As our Thailand guru, Steve, reveals how to get the most out of your far-eastern retreat.