Top Honeymoon Activities in the Maldives
The wedding is done, so now it's onto finding out the top honeymoon activities in the Maldives! Get ready to experience the most romantic getaway of all time.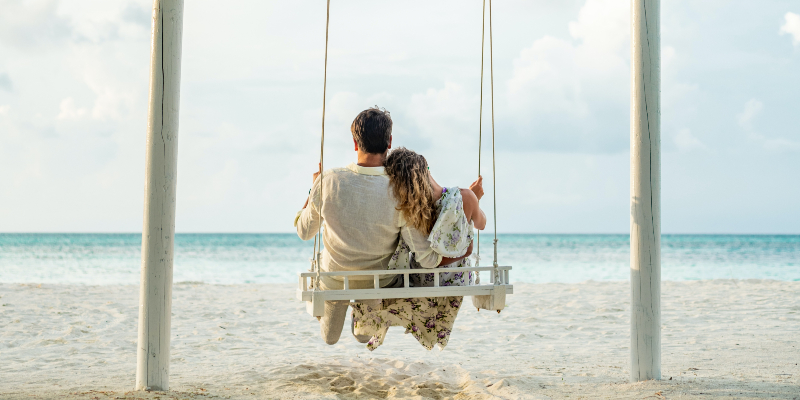 Your honeymoon should be a time to celebrate you and your partner's next chapter. So, to us that means you need to go BIG or go home! And what's bigger than a trip to the beautiful Maldives? The stress of the wedding is over, you've worn the dress, you've cut the cake and you didn't trip over on your first dance. Now it's time to relax and rejuvenate your body and mind. But that also doesn't stop you from having tons of fun with your spouse.
The Maldives is known to be one of the most romantic destinations in the world. Of course, it makes sense to have your honeymoon here! If you've heard of the saying 'honeymoon phase', it's time to get back to that ooey-gooey kind of love.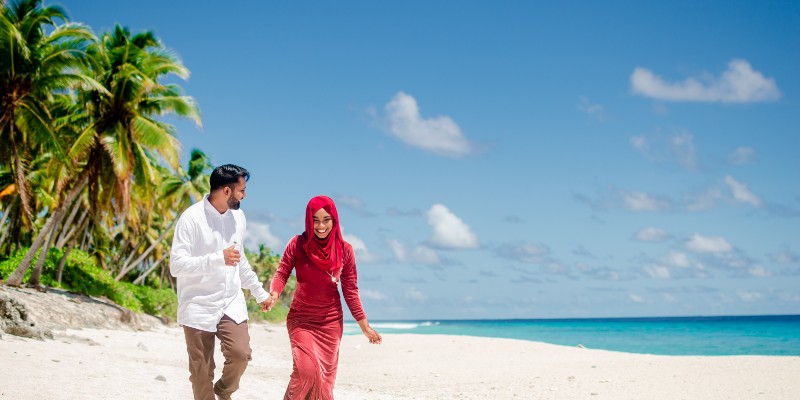 ---
Turn that romance up a notch and check out these activities
Known for it's stunning beaches, breath-taking resorts, and amazing landscapes, it's no wonder the Maldives is so sought after for a honeymoon. If you're looking to spend your days lazing around a pool or soaking up the rays, it's the perfect place to be!
On the other hand, if you're wanting to add a bit of thrill to the mix, there's also a variety of fun activities to take part in for you and your significant other.
We've got a list of 8 top honeymoon activities in the Maldives just for you!
Stay in an Over Water Villa
Visit the Glowing Beach
Rejuvenate at the Spa
Snorkel in the Beautiful Ocean
Go on a Sunset Cruise
Enjoy a Beachfront Dinner
Ride Around on an Underwater Scooter
Go Kayaking
---
Stay in an Over Water Villa
If you want to experience a truly secluded and tranquil break, a stay in an over water villa is a must! These beautiful villas are usually the face of the Maldives, and they offer a beautiful stay for couples.
Enjoy each other's company in the privacy of your own villa as you sunbathe on your sundeck, take a dip in the ocean, or even soak in your tranquillity tub. You can enjoy the finer things in life as you have all the time in the world to relax with your partner.
If you still want to add a bit of adventure to your stay in a water villa, being so close to the ocean is the perfect opportunity to meet the fish that live around your villa. Grab a snorkel and go down your villa steps into the crystal-clear waters to get up close and personal with the vibrant marine life.
Tropical Warehouse has an amazing choice of water villas to stay at in the Maldives. So, this luxurious experience doesn't have to come at an expensive price!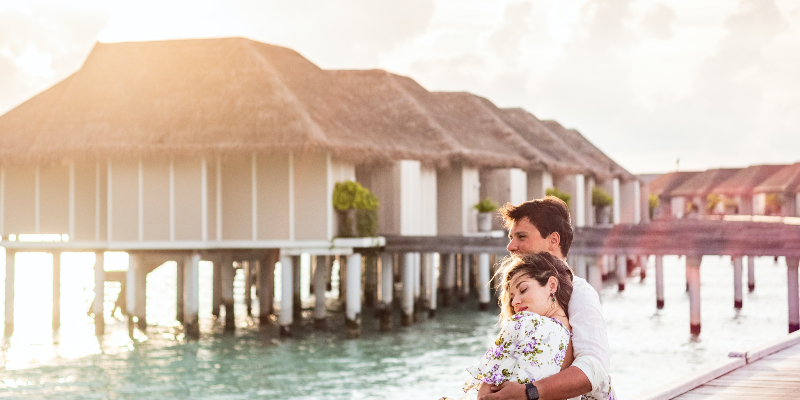 ---
Visit the Glowing Beach
Are you ready to visit a beach that looks like something straight from a Disney movie? Vaadhoo Island is home to a beautiful phenomenon called 'the Sea of Stars'. This is where bioluminescent phytoplankton fill the waters and the waves moving cause the coastline to glow- just like a starry sky!
Vadhoo Island is just a fifteen-minute speedboat journey from the Maldives capital, Male. So, why not take advantage of this short journey and get ready to see this beautiful sight. Sit with your partner under the dazzling night sky as you watch the sand and waves glow magnificent blues and greens.
This small island has only 500 inhabitants, but many people flock to see this sight every year. It is definitely a memory that will stick with you for years to come, and a romantic trip for any couple.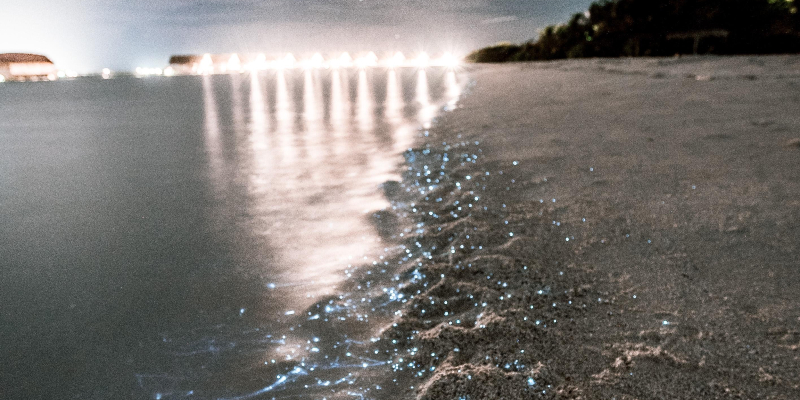 ---
Rejuvenate at the Spa
A trip to the spa is the best way to get out all of those knots caused by the stress of planning a wedding. Many resorts have an onsite spa, so why not take advantage of this, and plan a couple's trip with many rejuvenating spa treatments.
The therapists at the spa will be able to regenerate your body and get you feeling back to your old self. Most spas offer a range of treatments, including massages, body wraps, aromatherapy, or beauty therapies. Take your pick and enjoy an afternoon of true serenity with your partner whilst the team work their magic.
Some resorts even offer spa treatments available to have on the beachfront. Imagine that- sounds of the ocean gently lapping over the shore as you enjoy a revitalising massage. Absolute bliss!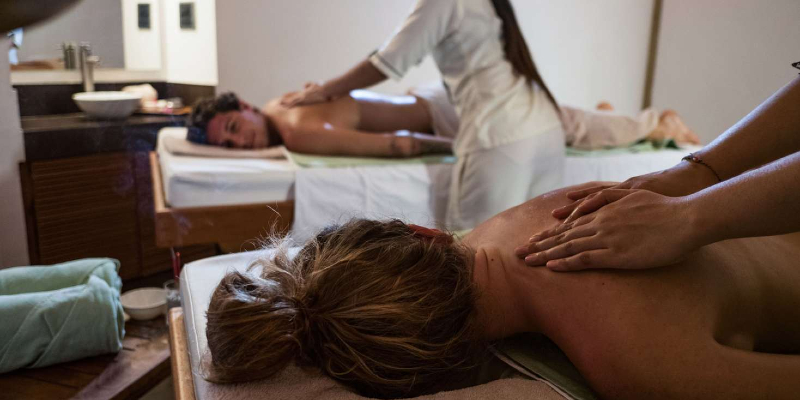 ---
Snorkel in the Beautiful Ocean
You don't need to be staying in a water villa to be able to enjoy snorkelling in the stunning water in the Maldives. There are so many places to enjoy this natural aquarium, and you don't even have to venture far.
The most popular place to snorkel in the Maldives is within a house reef. These are usually close to a resort and are within a comfortable swimming distance. A house reef is home to beautiful coral formations and colourful marine life, including turtles and sometimes sharks.
If you feel comfortable snorkelling without guidance, you and your partner can head out together and snorkel to your hearts content. However, if you're not the most confident, you can do snorkel trips with a guide.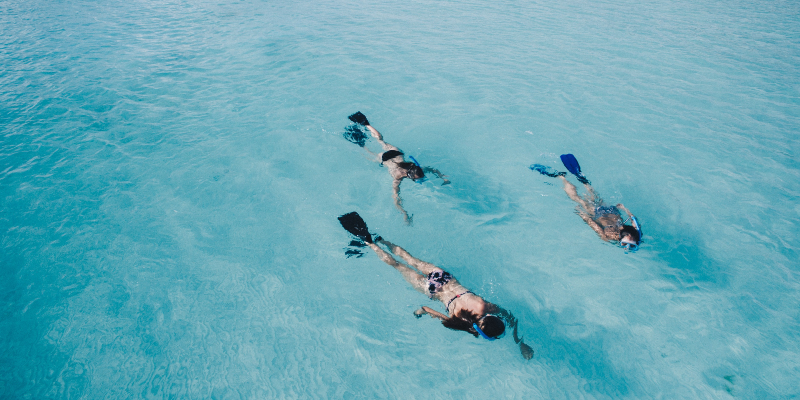 ---
Go on a Sunset Cruise
Is there anything more romantic than cruising into the sunset as it fades into the horizon? Embark on your cruise in the evening whilst the sun is still up, but slowly make your way out to the open waters until the sun starts to go down.
Watch the sky above you change colours as you sip on a glass of champagne with your significant other. You may even catch a glimpse of dolphins as you sail across the ocean. It will be like a scene from a postcard!
A Maldivian Dhoni is a lovely traditional way of sailing through the turquoise waters. The absence of a motor helps create a serene atmosphere so you can enjoy each other's company with just the noise of the ocean waves.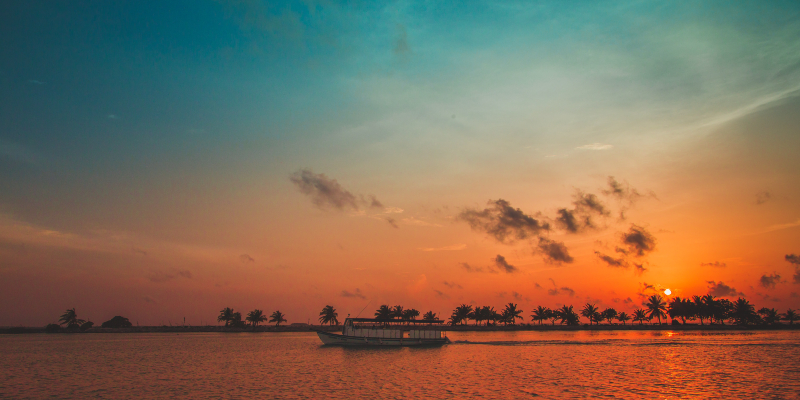 ---
Enjoy a Beachfront Dinner
An intimate dinner on the beach is the perfect setting to sit with your spouse and talk about all of your amazing memories during your time together. Or it's the perfect setting for indulging in plenty of delicious food as you enjoy fantastic views. Either way, a dinner on the beach is a must-do for a honeymoon in the Maldives.
Some resorts set up a sitting area in the sand for you to sit and enjoy your food, amongst candle light and romantic music. Alternatively you may have lavish tables full of mouth-watering food adjacent to the water's edge.
Be served exquisite dishes by your personal waiter in this magical and romantic atmosphere. It's a great way to just spend time as a newlywed and enjoy each other's company (whilst also eating lots of incredible items off the menu!).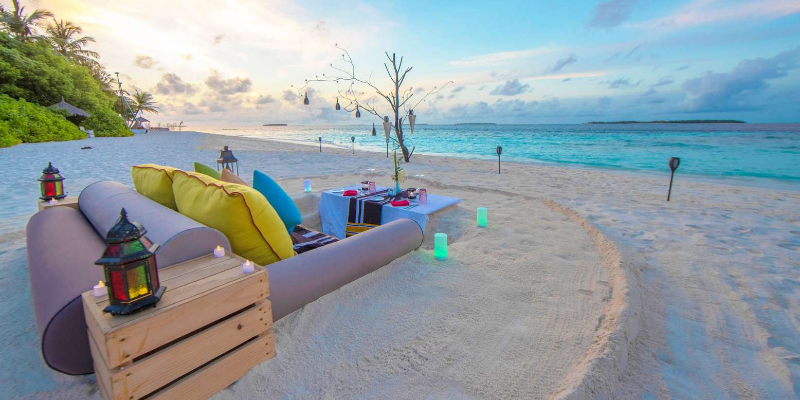 ---
Ride Around on an Underwater Scooter
Okay, so this one isn't something you'd usually see people doing on their honeymoon, but it's one of the top honeymoon activities in the Maldives! For those couples who are looking to have a bit of fun, and a once in a lifetime experience, you have to check out the underwater scooters.
They do look like something that may have come out of Wall-E or a science fiction movie, but we can assure you they are very real. There's no special diving requirements needed to hop onto one of these bad boys. You just turn the handlebars, push the batons and off you go.
You and your partner can share a scooter, or even scoot around the waters on your own. They have been decisioned specially for diving, so you can breathe comfortably whilst having excellent visibility of all the reefs and marine life.
---
Go Kayaking
Bringing it down a notch in terms of unusual activities, but kayaking is a great bonding experience for your honeymoon! If you head off on a two-person kayak, get ready to learn how coordinated your significant other is.
It's a peaceful way to explore the Indian Ocean whilst providing an enjoyable day out for the both of you. You get to experience the beauty of the water as you watch the fish swim around you. Whilst also basking in the sunshine.
Spend a couple of hours discovering just what the Maldives incredible waters have to offer, and all for an inexpensive price. Some resorts even offer a kayak free of cost, so make sure to check if this is available to you before you hire one.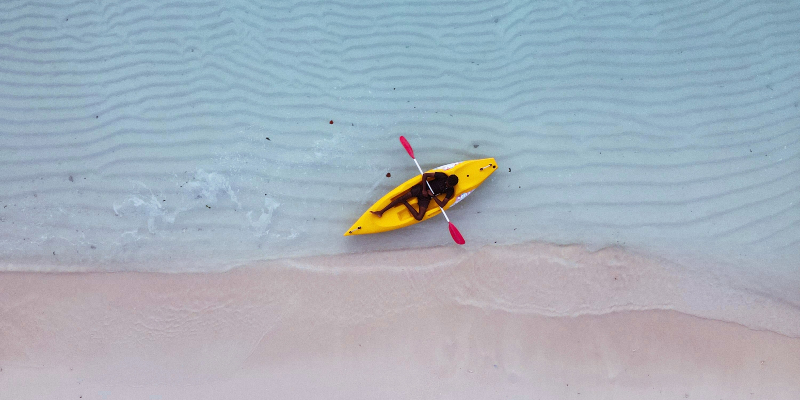 ---
Feeling loved up?
The Maldives truly is one of a kind, and it's romantic atmosphere is enough to keep any couple happy. With an abundance of top honeymoon activities to take part in, keep the good vibes going and enjoy all of the love!
If you need help with deciding on accommodation, our beach villa or water villa blog can certainly help you out with that. Just click the big blue button below to get there!