A Guide to the Best Night Markets in Thailand
A guide to the best night markets in Thailand, because these streets are still bustling even when night falls and the sun has gone down.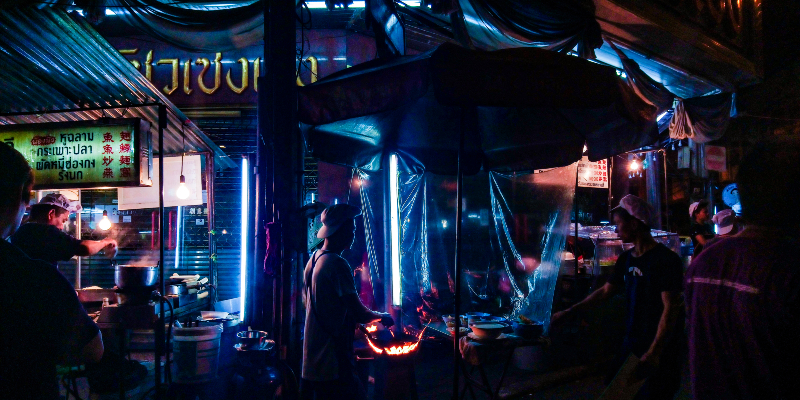 In the UK we are used to getting up at the crack of dawn to visit a market, or even a car boot sale. Of course, you don't want to miss out on all the good stock or produce so you visit in the daytime before the stalls close. But what about if you had to wait until the sun set before you could visit them? The Thailand Night Markets are exactly that.
These night markets sell a variety of different goods. From street food, to fashion, and even vintage cars. There are hundreds of them across Thailand, open on any day of the week. So, how are you supposed to decide which one to visit? Well, don't worry, we're here to help out with that one.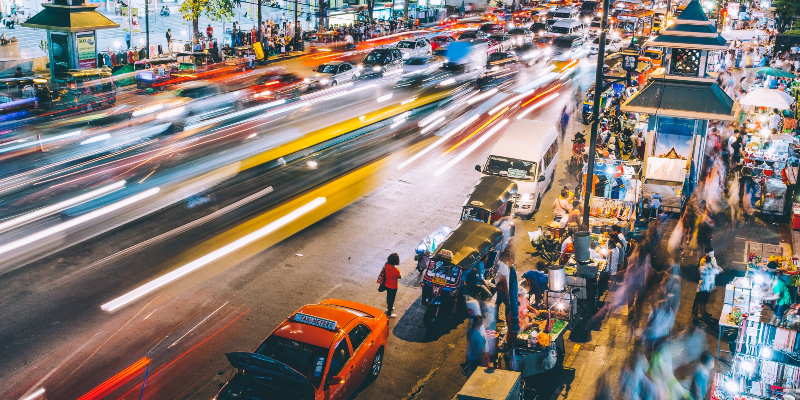 ---
Night Fever, Night Fever 🕺
So, you've stayed up all day, exploring the country's best spots. But your day isn't over, in fact it's just begun. Get ready to experience diversity, culture, cuisine and of course a lot of shopping! Here's our guide to the Best Night Markets in Thailand.
Rot Fai Market (Srinakarin Soi 51 & Ratchada)
Chang Chui Bangkok Plane Market
Rong Kluea Market
Krabi Town Walking Street Market
Talad Neon Market
Phuket Weekend Market
Asiatique Night Market
---
Rot Fai Market (Srinakarin Soi 51)
There are actually two markets that make up Rot Fai Market, also known as Train Market, which are both in the city of Bangkok. The first market is located on Srinakarin Soi 51, behind Seacon Square Shopping Mall. You will find that this open-air market is a lot larger than the other Rot Fai Market however, it's not as easily accessible.
Although it's not as easy to reach, it's definitely worth making the effort. Most visitors to the market make their way there by taxi, as most local taxi drivers know the area well enough to make the journey there.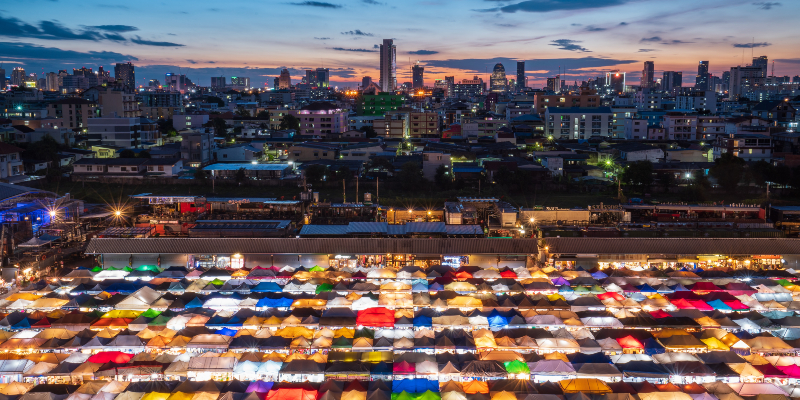 You will find three sections to this incredible market, selling everything from vintage goods, collectables, amazing fashion, and delicious street food. With over 2,000 stalls. You can make your way through and explore all that is on offer.
Premium items at the market are on offer in a building called Rod's Antiques. This is where you'll find the top-quality antiques, including classic cars, pieces of furniture and décor. There's no bargaining when it comes to purchasing these goods, and you'll find all of them have a price-tag. Unlike the other areas of the market, where you are free to have a barter.
Where to find it:
51 Srinagarindra Road, Nong Bon, Prawet, Bangkok 10250, Thailand
Open: Thursday–Sunday from 5pm to 1am
Rot Fai Market
(Ratchada)
The other market is located in the Ratchada area of Bangkok. Bringing the exact same vibes, but into an area of the city that is more accessible to everyone, due to the close by Underground Station. With food stalls, antiques, second-hand toys, and the typical market style items, you can enjoy a trip around the whole area due to its more compact space.
Whichever market you decide to visit, you're in for a great evening. Even if you don't buy any goods, it's a great opportunity to browse, enjoy some fabulous local cuisine and to speak more to the locals. A note to add, if you are taking a taxi, be sure to be clear on which market you would like to go to!
Where to find it:
Ratchadaphisek Road, Din Daeng, Bangkok 10400, Thailand
Open: Daily from 5pm to 1am
---
Chang Chui Bangkok Plane Market
With artistic, modern, and urban vibes at Chang Chui Bangkok Plane Market, it's something completely different to your usual market. Expect to see art installations, live music, food stalls, trendy boutiques and so much more. Then of course, there is the giant L-1011 TriStar Lockheed plane in the centre which you can't miss.
Split into two zones, you will find the green zone and the night zone. In the green zone, it's open all day until later in the evening, and it is alcohol free. It has the aesthetic cafes, bookstores, retro style restaurants and a huge amount of plant life. It's basically an Instagram influencers dream spot, with plenty of opportunities to get some cool snapshots.
Then, the night zone is exactly what it says on the tin. The zone you visit in the night! This time alcohol is available, and there are several bars selling your favourite alcoholic beverages, along with speciality craft beers. With the most popular bar being the Runway Bar, which is set underneath the wings of the incredible plane.
Of course, alongside the bars you can also find restaurants, shops, sculptures and just so many incredible things to see.
But, we haven't let you know what's the deal with the plane yet. Well, it was originally supposed to become a fine-dining restaurant, yet it didn't get quite there. At the moment, it's half restaurant, half museum and it's only open for those who have hired it privately or for special occasions.
Where to find it:
460/8 Sirindhorn Rd, Khwaeng Bang Phlat, Khet Bang Phlat, Krung Thep Maha Nakhon 10700, Thailand
Open: Thursday to Tuesday – the green zone opens between 11am to 9 pm, the night zone opens between 4pm to 11 pm.
---

---
Rong Kluea Market
As one of Thailand's most frequented border markets, and being in the path of so many travellers, Rong Kluea Market is in one of the busiest retail areas in Thailand. With a plethora of different stores and stalls, you're bound to bag a bargain!
There's approximately 1380 stores to shop from, and despite being in our guide to the best night markets in Thailand, it's also open in the day. With so many options to choose from, you can grab anything from cheap electronics, clothes and crockery to so much more.
A lot of the vendors even travel from neighbouring countries so that they can sell their items. Although you will see a huge variety of inexpensive goods, mixed amongst them are some real specialities. So, you may even be able to grab a unique present to take home.
Where to find it:
58 Rd Suwannason, Aranyaprathet, Sa Kaeo 27120, Thailand
Open: Daily from 8am to midnight
---
Krabi Town Walking Street Market
Krabi Town Walking Street Market, also known as Krabi Night Market, is one of the most important shopping events that take place in Krabi Town. There is a whole range of goods available, similar to Rong Kluea Market. From stalls selling food, to fashion and even homemade Thai handicrafts.
Majority of the stalls at the market are actually ones that are selling food, so make the most of the delicious cuisine on offer. With the likes of barbecued fish, grilled satay and mouth-watering thai deserts, your belly will be thanking you.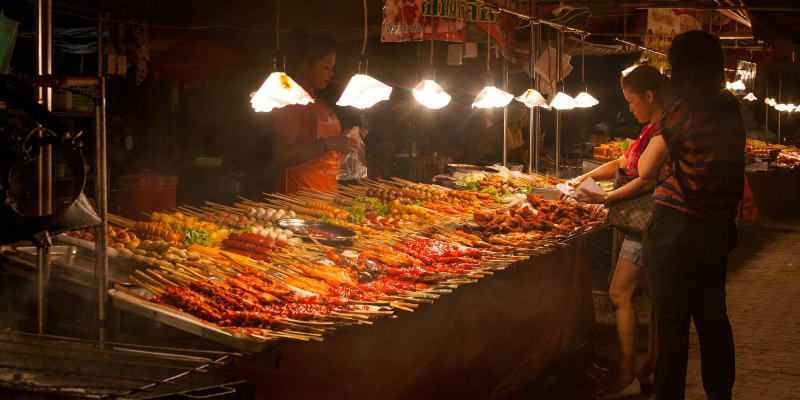 You can enjoy live performances throughout the evening and into the night from the stage. There are various different live acts which you can appreciate as you shop. From local artists performing to children from the local Krabi Music School playing traditional Thai music with instruments. It really adds to the vibrant and lively atmosphere.
It's open every weekend from Friday to Sunday, from 5 until midnight. However, it does get busier as you get further into the evening. So, if you are looking to miss the crowds, maybe try and get there a bit earlier.
Where to find it:
Soi Maharaj 8 Thailand, behind the Vogue Department Store.
Open: Friday, Saturday & Sunday from 17:00-22:00
---
Talad Neon Market
As one of the newer night markets in Bangkok, you'll find larger crowds at the Talad Neon Market. This market is one of the more popular night markets in Thailand for tourists, rather than the locals. It's a brightly lit, modern style market with plenty to see and do.
Once again, there's a plethora of different stalls selling all types of goods. When all of the stalls are occupied by vendors, there are around 1000 to explore, so you can spend your night shopping away. Of course, you have to try the local food at the food stalls too.
With neon lighting dotted around the market, along with live music performances, the Talad Neon Market has a futuristic style to it. There are also plenty of alcoholic drinks available if you're looking to liven up your evening. With drinks in lightbulbs, galaxy cocktails and jello shots, you're in for a good night.
Where to find it:
1087/167 Phetchaburi Rd, Makkasan, Ratchathewi, Bangkok 10400, Thailand
Open: Daily from 5pm to midnight
---
Phuket Weekend Market
Bringing the authentic Thai vibes is the Phuket Weekend Market, also known as Naka Market. It's the biggest night market in Phuket and you can really feel the energy of Thailand in this night market.
Wander the two zones which make up the market and indulge in the delicious street food available on the right section of the market. The two zones include the covered section of the market, and the open-air section.
Within the covered you can find second-hand goods, clothes, and souvenirs. The open-air section offers all sorts, including mobile phones, electronics, perfumes, jewellery and toys.
This market can get fairly crowded, and although it's not the biggest market in Phuket, you will find a lot of tourists and locals visit. Some sections of the market are quite narrow, so if there is a crowd you may have to wait a little bit before the crowd disperses. If you want to avoid these crowds, try to visit the market earlier on in the evening, as the later on you visit, the busier it is.
A lot of people visit to experience more of an authentic Thai market whilst they are in the country. The food is excellent, the prices are good, and you get a true feel for the real Phuket.
Where to find it:
7 Wirat Hong Yok Rd, Phuket Town, Muang, Phuket 83000, Thailand
Open: Saturday & Sunday from 4pm to 11pm
---
Asiatique Night Market
Asiatique Night Market is very unique compared to the other night markets in Thailand. This gigantic riverfront market is divided into four zones, with a theme all about the history of Bangkok as a trading harbour.
It combines the traditional night market with a huge mall, and there are over 1,500 stores and 40 restaurants. Once a bustling shipping port, the incredible are where Asiatique Night Market lies has been completely transformed.
The Chareonkrung District is the main spot where you'll find all of the boutiques, along with a Calypso Cabaret Show and a Joe Louis Puppet Theatre.
At the Factory District you'll find some great gadgets and trendy fashion stores. With edgy clothes on offer, along with home furnishings and electronics, it's a must-visit!
The Waterfront District is where you'll find the fancier restaurants, with everything from Korean food, Italian restaurants and of course traditional Thai food. Concerts, live performances and fireworks also take place in this district as it's by the picturesque riverside. So, it's the perfect place to enjoy some delicious food, live music all whilst having a beautiful view.
Finally, the Town Square District is the best spot to grab some quick food to go. With chain restaurants such as KFC and Pizza Company, along with sports bars and cafes, you're sure to find something to eat and drink here.
Where to find it:
2194 Charoen Krung Road, Wat Phraya Krai, Bang Kho Laem, Bangkok 10120, Thailand
Open: Daily from 4pm to midnight
---
Where will you be spending the night?
There are plenty of night markets all around Thailand, and if you're thinking of visiting this incredible country, we'd definitely recommend staying up to visit one!
Before you leave for your magnificent getaway, it's always a good idea to learn about the laws and regulations in Thailand. Check out our blog on 10 whacky laws in Thailand you didn't know where a thing – just to be extra safe!