15 Of The Weirdest Things To See And Do In Thailand
Come with us on a magical mystery tour as we look at some of the most unusual things to do in Thailand.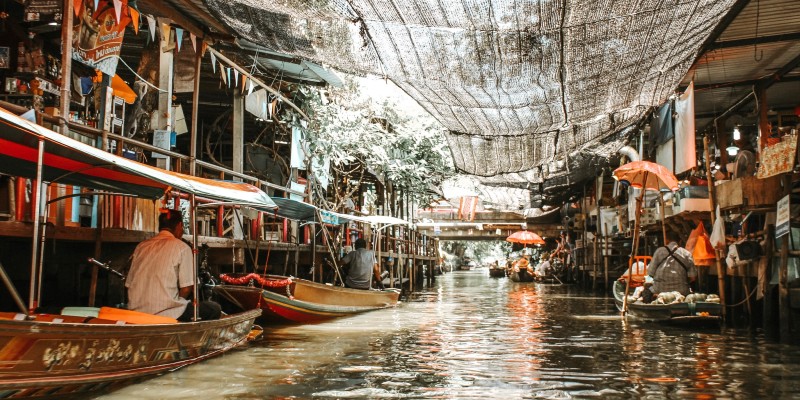 Many travel to the popular destination in Southeast Asia for the soft sand beaches, sumptuous street food and resplendent temples.
However, we're more interested in the unusual things to do in Thailand.
You may not know it, but Thailand is absolutely brimming with whacky days out. From museums with mummified serial killers through to restaurants in the treetops. There's something to satisfy even the strangest niche.
But what are these 15 strange scenes?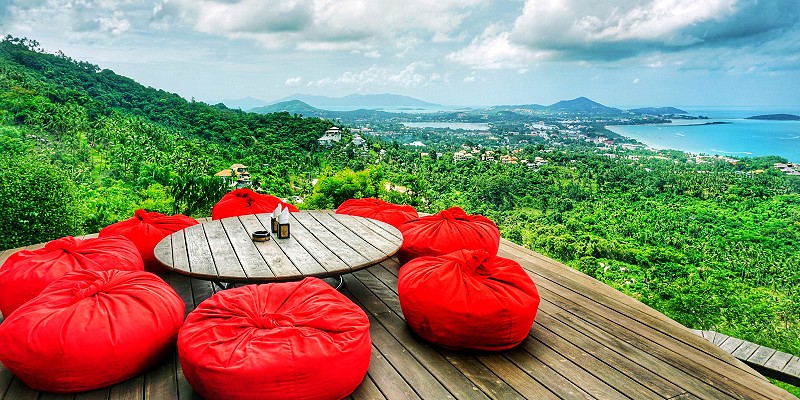 ---
15 of the most unusual things to do in Thailand 
Koh Hingham – the cursed black pebble island
Red Lotus Sea
Wat Pa Maha Chedi Kaew – the beer bottle temple
Siriraj Medical Museum
Wand Saeng Suk Hell Garden
Bangkok Airplane Graveyard
The Sathorn Unique – Ghost Tower
Treepod Restaurant
Solar Chicken
Wattana Panich half-century-old soup
Haoma Restaurant
Bo Sang Umbrella Village
Counterfeit Goods Museum
Bua Tong – the sticky waterfall
Phaya Thaen Public Park
---
Koh Hingham 
We begin our tour of the weird, wonderful and downright unusual things to do in Thailand with a visit to Koh Hingham. In reality, it's just an uninhabited island made up of black pebbles. So it should probably have a place on our boring Thai attractions list.
That is, however, until you learn the black rocks have been cursed. According to Thai folklore the god of Tarutao cursed the stones so that anyone who removed a rock would receive bad luck in the future.
Whether you believe in the tales of mythology or not. You can't argue with the fact that every year the park receives hundreds of black stones in the post. Returned by people who presumably are unable to stand their rotton fortunes any longer.
---
Red Lotus Sea
From the cursed to the sublime.
Up in the northeast of Thailand, in Udon Thani, there's a sight which will live long in the memory if you're able to witness it.
The red lotus sea is actually on Nong Han Kumphawapi, from December to March the surface of the lake is partly covered in gorgeous lotus flowers. The best time to visit is in the morning when the red flowers are blossoming in an ocean of colour.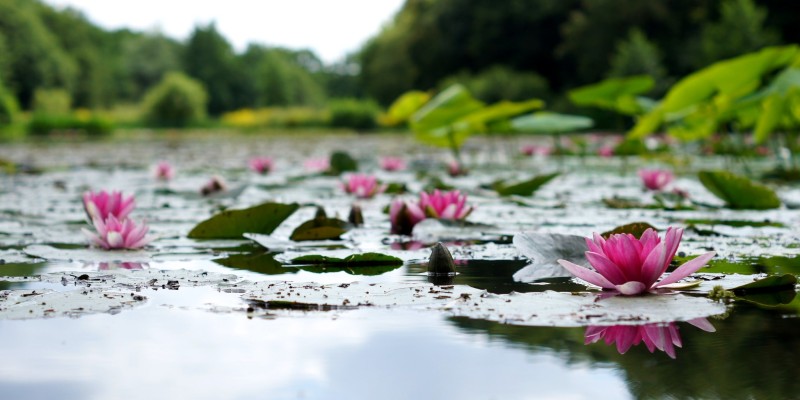 ---
Wat Pa Maha Chedi Kaew
No, this isn't some utopian homage to beer. It is, in fact, a temple made completely of beer bottles.
We'd love to be able to tell you this temple was built after the mother of all sessions. But it was actually constructed by a group of monks who were sick of seeing the glass receptacles littering their streets and beaches.
Despite its whackiness, it's still one of our best temples in Thailand and a fascinating adventure too.
Fascinating maybe a word to describe this next stop on our magical mystery Thai tour. Another might be horrifying – just depends which side of the fence you're on we suppose.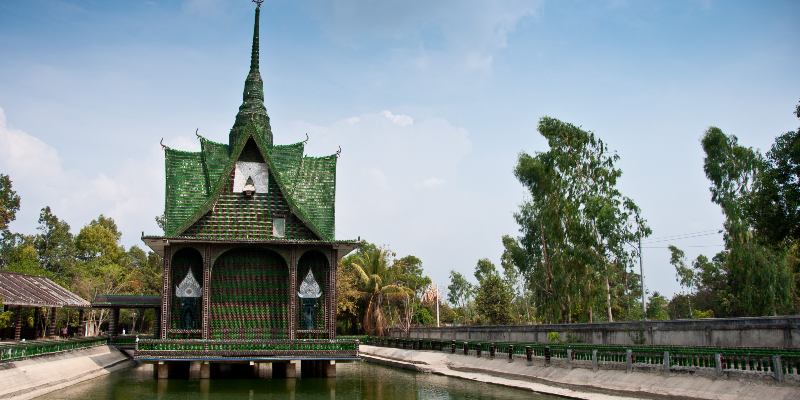 ---
Siriraj Medical Museum
The name is pretty benign in itself, however what lies inside is anything but. Split into six different museums all displaying an assortment of real anatomical anomolies. The Sririaj centre holds a plethora of exhibits from the interesting to the abhorrent.
For example, here you can see everything from a perfectly dissected nervous system to cancerous organs preserved in jars and the mummified remains of a serial killer. But there's miasma of other oddities which we can't even publish – you'll have to just go and see it for yourself.
If you've treated yourself to a large resort breakfast in the morning, then maybe give this one a miss.
---
Wand Saeng Suk Hell Garden
Continuing on the theme of odd exhibits. The Wand Saeng Suk Hell Garden is a field full of sinister carvings and artworks decipting the many tortures which await sinners in Buddhist hell.
According to Buddhist teachings when a person dies, they appear before four celestial beings who pour over their life's acts. If the bad deeds outweigh the good they're sent for punishment in hell.
This fascinating garden is a dazzling culmination of local culture, art, and Buddhist teachings. Although some of the statues are relatively graphic, the garden remains a tourism hub for families. Presumably, with hordes of parents attempting to dissuade their children from misbehaving – it would work on us!
---
Bangkok Aircraft Graveyard
Again, you may think this is yet another morbid stop off on this whacky tour of unusual things to do in Thailand. However, three families have managed to turn the derelict wrecks of a number of surplus planes into positive change, by making their homes in them.
Rumour has it, the site started back in 2010 when the nose sections of two Boeing 747s were reported in the area. Soon after two MD-82 models joined their stricken brethren, after 89 people lost their lives in a plane crash at Phuket International Airport back in 2007. The MD model was scrapped shortly after.
Now, that trio of families earn a living selling parts of the jets as scrap and showing paying tourists around the eerie site.
---
The Sathorn Unique
Remaining on that eerie thread for now, the Sathorn Unique (or Ghost Tower) looms like a post-apocalyptic relic above the bustling streets of Bangkok. Some reports say it's haunted whereas others say, in bad weather, debris from the building's open-to-the-elements interior rains down on to the street below.
However, what we do know is, construction on the tower was started back in the early 90s. But the Asian Financial Crisis happened and development ceased. Now, no one seems willing (or brave enough) to finish off the skeletal structure.
Haunted or not, we know it's definitely up there with the scariest places to visit in Thailand. But let's move away from the stomach-turning sites and focus more on filling it up.
We've brought together four amazing Thai restaurants which have earnt their place on this list for very different reasons. Let's get into them now.
---
Treepod Restaurant
Set out on the island of Koh Kood off the southern coast of Thailand waits an eating experience unlike any other. If you've got a stomach for heights then this will be perfect for you, because here your meal is served to you by waiters in harnesses.
After a short trek through the island rainforest you'll be taken to your pod which was handmade by local craftsmen and sits 36 feet in the air. The food comes from the nature all around you with local fruit, vegetables and seafood making up the bulk of the menu.
However, the star of the show is, undoubtedly, the incredible views out over the Gulf of Thailand.
---
Solar Chicken
From the sublime to the ridiculous. Ever had Thai chicken? Of course you have, now, have you ever had Thai chicken cooked by reflected sunlight? Nah, we didn't think so.
South of Bangkok, chef and inventor Sila Sutharat has created a wall of mirrors which harness the power of the sun and direct it to evenly cook his poultry offerings. Environmentalists have hailed the inventor for creating a cheap and super-eco-friendly alternative to outdoor cooking. However, Sutharat just says it makes the chicken taste nicer.
Apparently it takes approximately 12 minutes to perfectly cook a bird using his curved wall of
---
Wattana Panich
You've heard of slow-cooked beef, right? Well, we doubt you're going to get a slower cooked beef stew in your life. The stew at Wattana Panich, a Bangkok bistro, has been cooking constantly for 45 years.
Owner Nattapong Kaweenuntawong grew up learning about the stew from his father and continually adds to the popular neua tune mix everyday. So, in addition to the long cook there's also no set recipe, instead Kaweenuntawong says they just taste as they go.
Would you try it? Unfortunately, we don't think it's going to make it on to the new series of Jamie Oliver's 15 Minute Meals.
---
Haoma Restaurant
Haoma takes the idea of farm to table to a whole new level. Tucked away on the bustling Sukhumvit Road in Bangkok. This up-market restaurant features an in-house urban farm and fish pond.
Chefs at the popular eatery use fresh ingredients from the farm and pool to create delicious dishes. Moreover, the restaurant also boasts a zero-waste approach. With evaporation from the fish pond cooling the environment and waste from the pool working as fertiliser for the in-house crops.
If you can get a more delicious, environmentally conscious, meal in Bangkok we don't want to know about it!
---
Bo Sang Umbrella Village
Moving away from the dinner table and back into the realms of unusual things to do in Thailand. We're looking at decorative paper parasols now.
Used many years ago by fashion-conscious women as a way to keep protect their skin from the sun's rays. However, now the parasols are mainly created as stunning works of art. Take a walk around the village near Chiang Mai which is famous for designing and building the umbrellas from bamboo and Mulberry bark paper.
On your tour, have a go at making and designing a colourful parasol of your own and have the chance to purchase one in the gift shop.
---
Counterfeit Goods Museum
Now, we can't decide whether this is just brilliant or another brilliantly boring day out in Thailand.
Set in the, still operational, offices of a law firm in downtown Bangkok. The Tilleke & Gibbins Museum of Counterfeit Goods is full of "exhibits" which have been donated by companies who've employ the law firm to crack down on illicit replicas of their product. Other items have been seized in raids across the country.
Along with a talk about the dangers of using counterfeit products, your guide around the museum also gives tips on how to spot fakes. Examples of items on display in the museum include "Casio" calculators, designer clothing, tech and even food.
---
Bua Tong – sticky waterfall
Ever walked up a waterfall? No, it's impossible, right? Guess again, because the Bua Tong waterfall defies gravity and attracts visitors from across the world every year.
Thailand is literally dripping with incredible waterfalls, but none of them offer the unique opportunity to walk up the thunderous cascade.
At Bua Tong, white-water tumbles from a calcium spring over three levels through the thick Thai jungle. The calcium-rich water has given the submerged geology a rough, porous texture which makes it easy for visitors to walk up.
---
Phaya Thaen or Yasothon Public Park
If you told anyone that, on your trip to Thailand, you walked inside a giant toad and explored a museum dedicated to animal biology and Thai folklore, they might think you accidentally visited Glastonbury not Thailand.
But, amongst other attractions, that's exactly how we're ending our tour of the top unusual things to do in Thailand. At the Phaya Thaen Public Park a huge toad welcomes tourists into a five-story museum with a plethora of interesting exhibits.
Learn about Thai mythology and the diversity of the jungle.
You finish your toady-tour in the giant amphibian's mouth, taking in stunning views out over the Chi River.
---
Ready for more wow! moments?
So, there you have it! Let it never be said that you can't have an unforgettable time in Thailand.
We know we've thrown a lot at you in this blog. But if all that craziness has just whetted your appetite for more Thailand based lunacy, then we've got more for you. 
Click the button below and we'll tell you about a host of festivals to check out in Southeast Asia if you like the more alt-side to travel.