Best Places to Propose in Dubai: Say Yes! In UAE
Is 2022 the year you're going to pop the question to your significant other? Well, why not book a romantic trip to Dubai and plan the perfect proposal in a stunning location.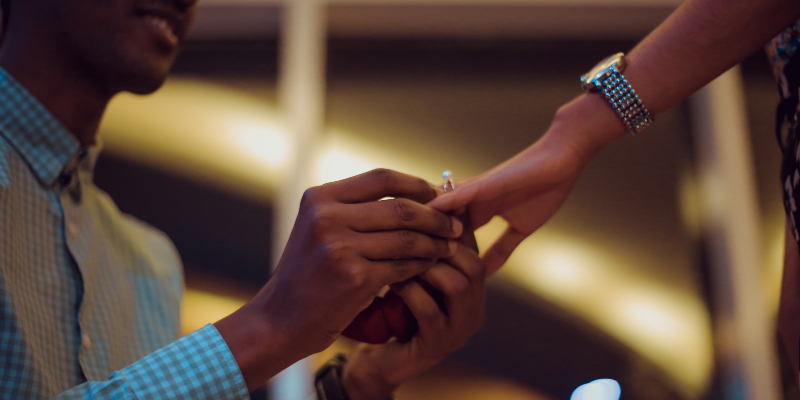 Get the engagement ring ready
Are you ready to commit to that forever type of love with your partner? If you're planning on getting down on one knee, the location is always an important factor to consider.
For those thinking about doing a chilled proposal in your living room after a takeaway night, there's no judgement here! But maybe you're wanting a city skyline backdrop or a beautiful desert setting. We will always think that the decision to propose in Dubai is one of the best decisions to make.
You're bound to get a definite YES if you choose any of our best places to propose in Dubai.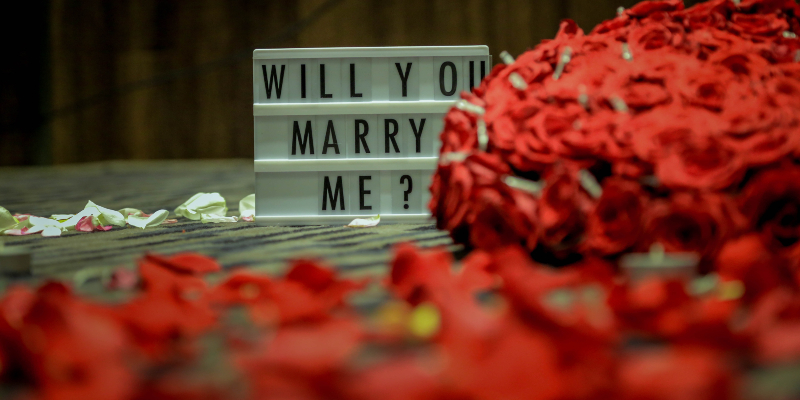 ---
Best places to propose in Dubai
There's no doubt that Dubai isn't full to the brim of beautiful locations. So, it's all about finding the one that matches you and your partner best. You should hopefully know what kind of proposal your significant other would appreciate the most. So, what are you thinking?
A Beach Proposal
At the Top of the Burj Khalifa
After a Sky Dive
In the Desert
On a Balloon Ride
Amongst Nature at Dubai Miracle Garden
With the Fish at The Atlantis
---
A Beach Proposal
This one is a classic spot for a wedding proposal, but it's one we all love! Whether it's a candlelit dinner under the stars as the waves provide a tranquil soundtrack. Or even a romantic stroll for two along the sand. The beach is just a stunning location to ask that all important question.
With many beautiful beaches to choose from, it may seem overwhelming for which one to pick. If you are looking for a boujee backdrop, Umm Suqeim Beach offers views of the Burj Al Arab, a seven-star luxury hotel in Dubai.
If you want more of a quieter and secluded beach, the Black Palace Beach can offer this. It's hidden location means that it's a secret beach to many. However, it's important to note that there aren't any facilities such as shops or restaurants on the beach. So, if you're wanting to have a romantic meal before your stroll, this may not be the right beach for you.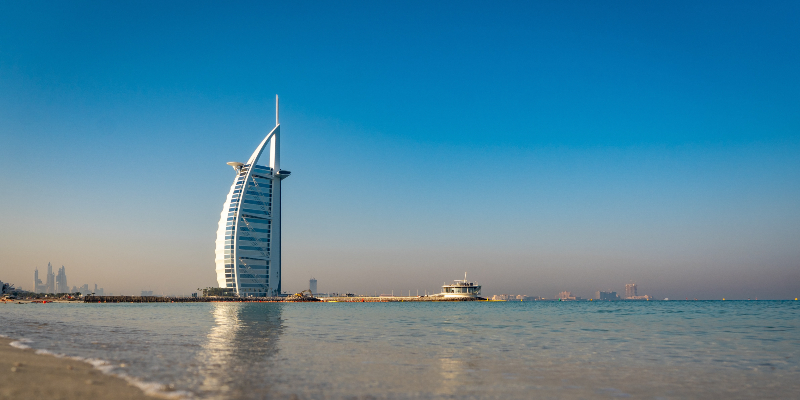 ---
At the Top of the Burj Khalifa
Feel on top of the world on top of the world's tallest building, the Burj Khalifa. This record breaking building is the perfect way to make your partner feel amazing!
Of course this experience does come at a price. Depending on the time of day and when you visit in the year, the price for visiting the top can cost anything from £30 to around £150.
There is also a restaurant which provides incredible views, delicious food and a priceless experience (of course it does come at a price, but it's worth it!). If you're scared of heights then a bottle of bubbly should help calm your pre-proposal and height nerves.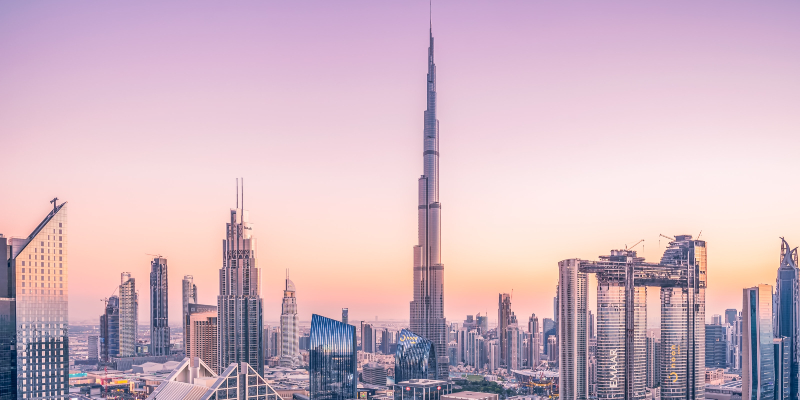 ---
After a Sky Dive
Skydive Dubai offers an unforgettable skydive experience and proposal rolled into one! Could there be anything more nerve-wracking than jumping out of a plane and then getting down on one knee to propose?
As they glide through the air you can present them with a huge sign saying will you marry me? It will give them plenty of time to think of an answer before they finally reach the ground where you can be waiting with the ring!
---
In the Desert
As the sun sets over the sandy dunes, indulge in a romantic candle-lit dinner in the desert before asking your loved one if they would like to spend the rest of their life with you.
There are several different companies that offer to set up a beautiful scene for you and your partner so all you will have to do is turn up with the ring.
They even set up your hotel room so when you return the romance can continue. With rose petals, candles and of course champagne to celebrate.
---
On a Balloon Ride
As your high up in the clouds, you can heighten the mood by proposing as you look out over Dubai deserts.
A hot air balloon ride is a fantastically unique experience, and one that will create an unforgettable memory. It's best to make sure that your partner is okay with heights before you take to the sky.
Balloon Adventures Dubai are a popular company that offer private hot air balloon rides just for couples. You begin your day with a pickup in a luxury car where you will be dropped off to begin your balloon ride. Once you land you can enjoy a gourmet breakfast for two. It's the perfect way to disguise your true plan!
---
Amongst Nature at Dubai Miracle Garden
Dubai Miracle Garden is like something out of a fairy-tale book. This eye-catching location is something a bit more lowkey, but still with plenty of breath-taking landscapes.
If you plan to propose in Dubai, but aren't too keen on the idea of skydiving or sandy dunes, then the Miracle Garden is a beautiful spot. With more than 150 million flowers spread across the gardens, the only difficult decision you will have is where to pop the question.
Could it be by the giant teddy bear made out of flowers? Or maybe the Umbrella Tunnel is your ideal spot. We think that the Heart Tunnel is the perfectly romantic location within the gardens to feel all the lovey-dovey vibes.
---
With the Fish at the Atlantis
Ossiano restaurant in the Atlantis is an amazingly unique experience for you and your loved one. Indulge yourself with the fine dining on offer as you watch sharks and sting rays swim by.
Then once you've finished your delicious meals, present the ring alongside a desert for the perfect surprise. Or, if you want to be a bit extra, you can even ask one of the restaurant's divers to swim by your table with the very special message.
---
Is it a yes?
So, not only is Dubai a fantastic place to spend your holidays, why not go that step further and make it the place you propose? Your partner will appreciate the time and effort you've gone through to make it the best proposal possible.
We know that we would say yes if you asked us in any of our suggested spots!
If Dubai is the place to pop your question, our super romantic Make a Date with Paradise collection couldn't be more perfect. With plenty of exclusive upgrades, great savings and fantastic resorts in Dubai, you'll be jetting off in no time.