12 Super Cool Secret Bars in Dubai and Where to Find Them
Passwords and private handshakes at the ready, we're going in search of the best secret bars in Dubai and you're coming with us.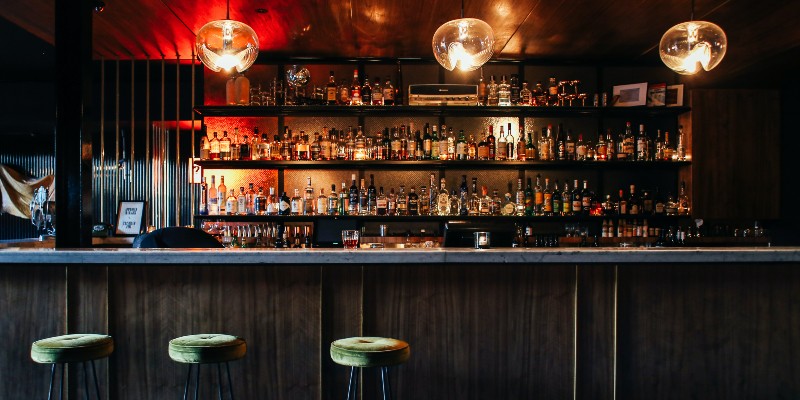 The best secret bars in Dubai are a thing of true beauty. But you need to know what you're doing if you're going to find them.
We all love a secret bar. Whether it's the unique entry methods, uber cool interior styling or just the buzz of knowing about something other's don't.
In this blog we'll talk about the best exclusive bars and where to find them. Plus, we'll also give you the inside scoop on any quirky entry requirements you may need to know.  
So, what are these 12 underground watering holes?
---
The best Secret Bars in Dubai
The Unlucky Cat
NYX Club
The Luggage Room
COYA Members Lounge
KnoX
Flashback
Off The Wall
Hudson Tavern
Cartel
Industrial Avenue
Room 108
Secret Room
---

---
The Unlucky Cat
Transport your senses to the backstreets of Asia. The Unlucky Cat bar has been pawing at punters from the shadows since 2018. Its dimly-lit funky Asian speakeasy style is uber cool and the signature cocktails are even cooler.
Located in the Taj Hotel Dubai, just along the corridor from the vibrant Miss Tess, you won't need a secret code to get in, but you may have to look hard to find it. 
Where
Burj Khalifa Street, Business Bay, Dubai, United Arab Emirates
---
NYX Club
This place has been hired and frequented by famous faces like A$AP Rocky, Rita Ora & 50 Cent. So you know it's an exclusive venue. Located in the basement of super-trendy Greek restaurant Gaia. NYX is so covert as a night spot that nobody actually knows how you gain entry. The club have kept this information on a need-to-know basis and, essentially, most of us don't need to know.
However, our sources have managed to uncover this footage of NYX's undercover location. Head down the stairs to a door secluded in Gaia's colourful artworks. But, be bold, try the handle and you'll be richly rewarded with this retro New York style night spot. 
Where
Gaia Restaurant, Podium Level, Gate Village 11, DIFC, Dubai
---
The Luggage Room
In a brilliant piece of repurposing, The Luggage Room secret bar was created out of an old… you guessed it, luggage area. But by boasting stunning decor blending industrial and modern themes, as well as playful suitcase wall art ensure there aren't many smoother places to enjoy a posh cocktail or bite to eat. 
Although, you'll have to be super switched on in the Millennium Place Marina lobby to find it. Check near to the incredible Masterchef TV Experience restaurant and you should see a secret door. Check out this teasing Instagram post for more clues.
Where
Al Marsa Street, Dubai, United Arab Emirates
---
COYA Members Lounge
Whether or not you can find your way into the secretive COYA Members Lounge shouldn't stop you from getting this place on your Dubai itinerary. Because COYA is a Peruvian inspired restaurant which, in itself, is already a detraction from the every day. But the stunning restaurant interiors will transport you from the glamour of Dubai to the jungles of Lima. 
However, sign up to become a member and enjoy access to the private lounge located behind a secret door just off the main entrance. In a complete atmospheric shift, the members area offers more of a cigar lounge vibe. With authentic hand-crafted Peruvian furniture and a relaxed feel. 
Where
Restaurant Village Four Seasons Resort, Jumeirah Beach Rd, Jumeirah 2, Dubai, United Arab Emirates
---
KnoX
Meanwhile, in true secret bar style, at KnoX you have to give two knocks on a large metal door in Andaz Dubai the Palm to gain entry.
Like a cocktail bar from the future, though, once you're inside KnoX you'll find a super-cool interior. Blending ultra-modern tones with an industrial vibe to help fill up your timeline. 
Where
KnoX, Andaz Dubai, The Palm Jumeirah, Dubai, United Arab Emirates
---
Flashback
Head for Paramount Hotel in Downtown Dubai. When you get to the front desk you need to ask for the password to Flashback. As you open the secret door which cloaks it's identity, you'll feel like you've been transported back to the 1920s. 
But, in Flashback there's a true prohibition vibe. Here stunning cocktails, botanist gins, craft beers and whiskys are all served in vintage tea cups. Meant as a clever subterfuge for hiding illicit alcohol from Johnny Law. 
Where
Business Bay, Dubai, United Arab Emirates
---
Off The Wall
Styled after one of the oldest areas in Dubai, Al Satwa. Off The Wall is a cocktail bar which, as its name suggests, is a little out of the ordinary. Cleverly disguised within the walls of  Hotel Indigo, part of the IHG Group who brought us 3 awesome resorts in Dubai Festival City.
But walk through a random door in the hotel and you'll be spilled into a neon-lit tunnel which leads to this quirky artistic hauny. Although you may want to be careful with taking that approach. As you might also just end up walking into a cleaning cupboard – in which case, don't drink anything!
Where
Marasi Drive, Business Bay, Dubai, United Arab Emirates
---
Hudson Tavern
After you've made your way out of Off The Wall you should find carrying on the tour of secret bars in Dubai pretty simple. Because by heading just 4 minutes around Business Bay to Hyde Hotel you'll be close to another. Although, you may also just find an unassuming square room with a telephone on the wall. 
But, all is not as it seems, push the doors of the telephone booth open and you'll stumble across the Hudson Tavern. Another 1920s-style New York  speakeasy. However, rainbow coloured bottles behind the bar, incredible interior design, master mixology and a mouth-watering bar menu make Hudson Tavern a must visit if you have a couple of days in Dubai. 
Where
Hyde Hotel Dubai, Business Bay, Dubai, United Arab Emirates
---
Cartel
Another IHG property holding a big secret. Because at InterContinental Dubai Marina and you can find the party atmosphere of Cartel. But you'll need to be willing to travel up to higher reaches of the building. 
Plus, you'll need a password to become a member of the Cartel. However, ask at reception and you shall receive. Travel up the resort towards the incredible La Carnita restaurant and you should find the spot. But that's all we can say for now.
---
Where
King Salman Bin Abdulaziz Al Saud Street, Dubai Marina, Dubai, United Arab Emirates
---
Industrial Avenue
Surreptitiously hidden behind a toilet wall (yep you heard that right) in speakeasy-style bar The Shoreditch, you'll find Industrial Avenue. An underground club hidden inside a speakeasy, how's that for secret bar inception. 
With a super laid back, East London-style, approach to clubbing including happy hours, no dress codes, and free drinks for ladies on a Wednesday. It's easy to see why Industrial Avenue is becoming one of the places to be seen in Dubai. 
Where
The Westin Dubai Mina Seyahi Beach Resort & Marina, Dubai, United Arab Emirates
---
Room 108
From an edgy club scene to a relaxed place for a quiet drink. Room 108 finds itself sanwiched, ironically, between two raucous clubs. Here service comes at the ring of a bell as you recline on comfortable leather seating and take in the frightfully British vibes. 
Although, you may also need to be ready for there to be some smoke in the air. Room 108 also works as a cigar lounge. 
Where
Majestic City Retreat Hotel, Bur Dubai, United Arab Emirates
---
Secret Room
Now, you know a place is pretty hush-hush with name like that. But somewhere, buried deep under chic beachfront restaurant Praia, lies the Secret Room. 
Conversely to some of the other venues we've explored, here you should expect lively DJ sets, sparklers in drinks and a party atmosphere. Meanwhile, the privileged few who know about Secret Room are able to use fingerprint scanners to gain instant access to the exclusive venue. 
Where
No. 1 Palm Jumeirah, Dubai, United Arab Emirates
---
Access All Areas
Filling your Emirates adventure with lots of secret venue hunting is one of making it special. Another way is to check out our list of the most unique things to do in Dubai. 
However, now you know where you need to be looking, why don't we take care of your digs too. Click the button below to shop our latest Dubai offers.