Everything you Need to Know About South Palm Resort: A Maldives Icon
Dreaming of a tranquil white sand and azure ocean paradise? Look no further than the stunning South Palm Resort in the Maldives.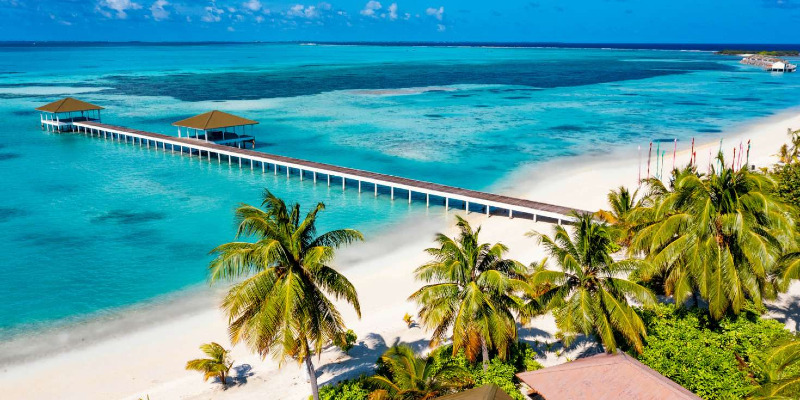 We've all had the fantasy of escaping the stresses of everyday and heading to a remote island in the middle of the ocean.
Picture swaying palm trees, a slight ocean breeze and all-villa accommodation. Where the only worry is what drink you are going to order next. Turn these fantasies into reality and jet off to South Palm Resort in the Maldives.
Boasting incredible facilities and everything you could want from a tropical paradise. This private retreat is the holiday we've all been dreaming of these past couple of years.
---

---
Tell me more about South Palm Resort
Located on the Southern tip of the Maldives in the Addu Atoll is this relaxing getaway. Surrounded by blue waters and verdant greenery, it's the perfect island escape.
You can reach the resort by taking a domestic flight or a seaplane from Velana International Airport in Male to Gan. Once you reach Gan it's a quick speedboat transfer to the island.
With a plethora of excursions, from diving with the vibrant marine life to motorised water sports on the beach, your time at South Palm Resort will be one to remember.
You can enjoy a variety of different flavours at the Banyan restaurant. Plus, you can sip on refreshing cocktails at the Moodhu Bar.
Shall we find out more about that all-villa accommodation we mentioned?
---
Winner winner all-villa
Presenting 100 land-based villas and 30 over-water villas, the only question you will need to ask yourself is beach villa or water villa?
The land-based villas are made up of the Sunrise Villa, Palm Villa, Beach Villa and Family Villa.
All beautiful in their own way, you will find comfort and style in each and every villa. They all offer a cosy king-sized bed to retire too, along with free wifi and air conditioning.
At the Sunrise Villa you can wake up to the first peak of the sun rising over the Indian Ocean as you relax on your outdoor daybed.
Or maybe you're more drawn to staying in the Water Villa? Start the day with a dip in the energising water below, before lounging on your own wooden deck.
Once you're ready to grab a bite to eat, head on over to the Banyan Restaurant.
---
Dining delights
Prepare to feast your eyes and belly upon a magnificent choice of food at South palm's main dining venue. At the Banyan Restaurant you can expect international, Maldivian and Asian cuisine! Serving food at breakfast, lunch and dinner time, you will be spoiled for choice.
Special dining is available if you're wanting to share a special moment with your loved one or family. Enjoy a sunset dinner on the beach or a family barbecue.
At the Kanduolhi Bar you can get your favourite drink as you overlook the lagoon. There is also a large barbecue so you can grab a bite to eat of some freshly grilled meats and fish.
What about when you are looking for some relaxation time?
---
Relax at Kurumba Spa
Prepare to unwind in the first ever floating spa rooms in the Maldives. Set on the island's natural lake, you can reach it by taking a Dhoani boat. At Kurumba Spa you can renew your mind and body with a variety of incredible spa treatments.
Open from 10am in the morning until 9 at night, you can get your fix of relaxation throughout the whole day. Using Asian, Balinese and Ayurvedic practices, you'll be feeling completely rejuvenated.
On the other hand, if you're looking for some adventure and something to get your adrenaline pumping, check out the water sports.
---
Dive in and explore
Explore the amazing life that lies beneath the ocean waves. From colourful coral to turtles, rays, and even sharks. At the on-site Dive Centre you can make friends with all of the fish as you discover an abundance of marine life.
If you prefer to stay above water, don't worry! You can take part in multiple different water sports. Including canoeing and paddle boarding, there's something to suit every type of traveller.
The outdoor swimming pool is the perfect spot to retreat to when you are looking to just chill out and have a little paddle. Or, grab a sun lounger and have a nice afternoon nap. Just don't forget to cover yourself in sun cream before dozing off!
Enjoy water sports at South Palm Resort

Take to the water
---
Keep Palm and book a trip!
A trip to South Palm Resort is an amazing experience for the whole family. It provides a haven of peace and tranquillity with beautiful scenery.
For the travellers wanting to have a bit of fun, there is a variety of activities to keep them busy. But, if you are looking for a week of doing absolutely nothing, this is the place to be too!
You can even bring the kids along with you as they welcome families with open arms. There is a kids park for when they are looking for some outdoor fun and babysitting services for when the adults want some alone time.
To start building your quote for a stay at this incredible resort, just click the big blue button below.