The Maldives For Kids: 10 Family-Friendly Resorts Your Little Ones Will Love
It may be better known as a destination for honeymooners, but these family-friendly resorts in the Maldives prove there's plenty of family fun in the sun to be had on the atolls. Now with added resorts!
Updated April 2022.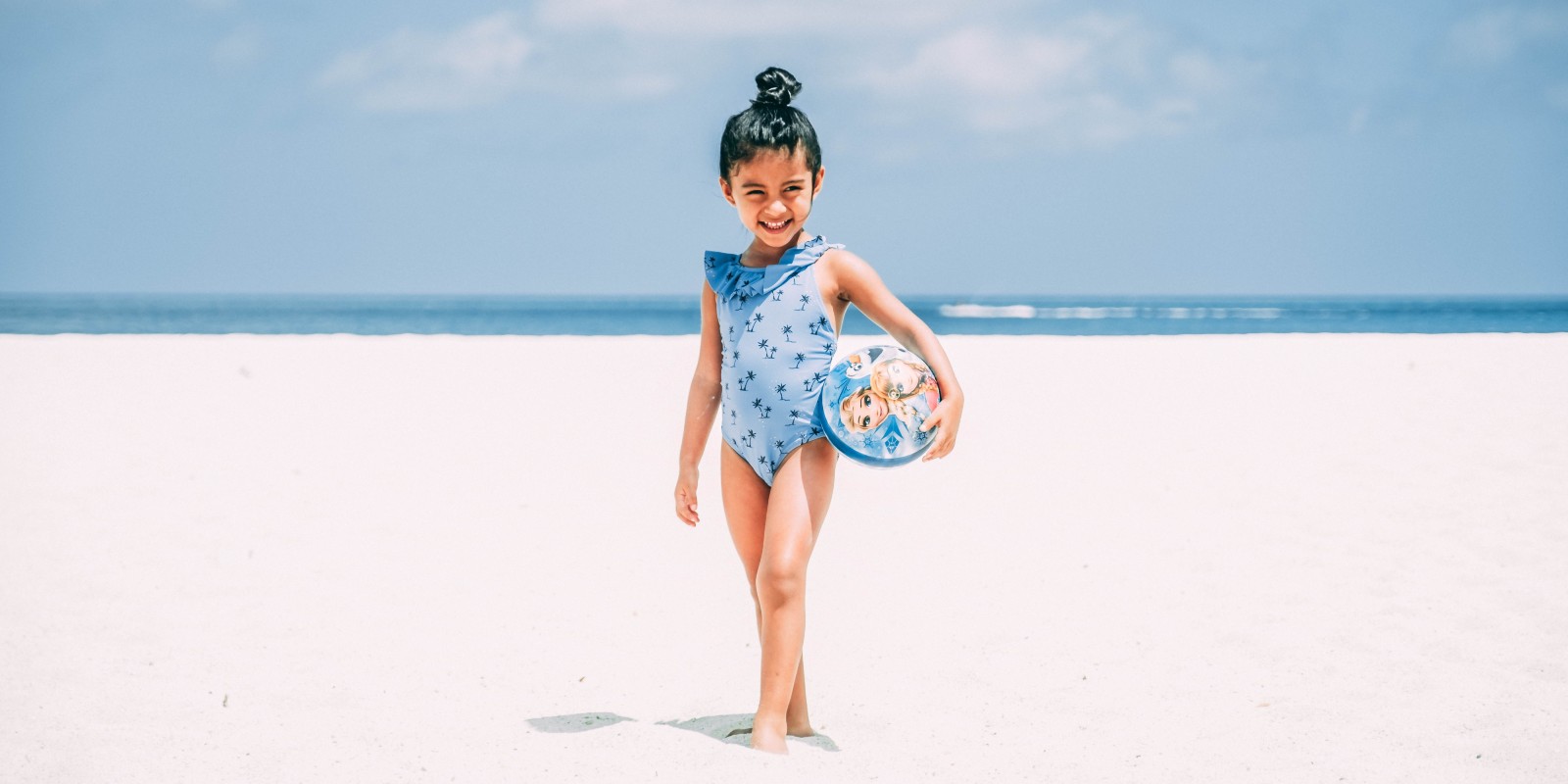 Okay, scenario: The school holidays are coming up and you want to give the family a break they'll never forget. The Answer to your problem? The Maldives! We've cherry-picked the best family-friendly resorts in the Maldives so you don't have to compromise on your next group getaway.
We've decided to broaden our search and found added properties from across the atolls that your whole gang will love. 
---
Doing it for the kids
In this blog, we'll tell you about those resorts that have child-friendly villas and energising kids clubs to keep the little ones entertained. So here's one school holiday where you won't have to hear those maddening words "I'm booooored" again! 
We've even got you covered when it comes to taking care of the bill and ensuring you still have enough in the wallet for a little treat from the duty-free. Check out our guide to doing the Maldives on a budget and discover how to enjoy your escape to the islands without coming home potless.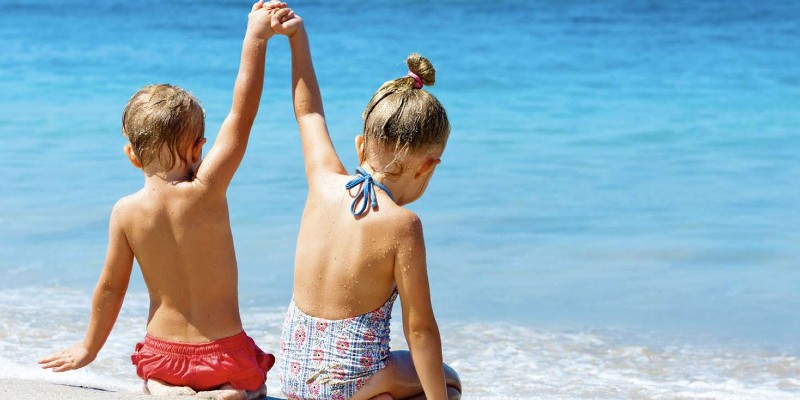 But, enough about semantics, how about we tell you what these resorts are and where to find them?
---
10 Family-friendly resorts in the Maldives
Centara Grand Island Resort & Spa, South Ari Atoll
South Palm Resort, Addu Atoll
Furaveri Island Resort & Spa, Raa Atoll
Dhigali Maldives, Raa Atoll
Cocoon Maldives, Lhaviyani Atoll
Kuramathi Island Resort, North Ari Atoll
Canareef Resort Maldives, Addu Atoll
Eriyadu Island Resort, North Male Atoll
Kihaa Maldives, Baa Atoll
The Standard, Huruvahli Maldives
---
Centara Grand Island Resort & Spa
Families have been well considered at Centara Grand Island Resort & Spa. The resort's Deluxe Family Water Villas are unique to The Maldives and are perfect for families and their little travellers to explore island life.
Safety is at the forefront of the design with special features like safety rails on the wooden decking area above the water so the whole family can relax comfortably. These amazing villas also come complete with a Playstation 4 so older children can get their gaming fix.
Centara Island Resort

Chill out by the pool at Centara

Gaze out over the Ocean while the family play in the pool

Kick back on the beach or lend your expertise to the sandcastle construction

Have you ever seen a more picturesque bar?!

Enchanting suites

Your bed is set up on the mezzanine

Bunk beds are perfect for your little tykes

Get a private swimming pool overlooking the beach ideal for family fun

Fun bar layout perfect for blowing off some steam

The ideal spot to catch a sunset over a glass of your favourite tipple
The family-friendly theme continues with the Kid's Club Camp Safari. Little explorers can roam freely in the vibrant surroundings of the club. The specially trained staff are on hand to entertain and watch over their fun. Learning, developing and of course playing are high on the agenda here so everyone is sure to have a great time.
But teenagers aren't forgotten here either, they can check out the E-Zone. A chilled-out environment with a pool table, games, and loads of other activities. This space offers a chance to relax, make new friends, and have an unforgettable holiday experience.
The resort also offers a baby-sitting service for when Mum & Dad want some alone time. This service is payable at the resort.
---
South Palm Resort
Family-friendly highlights at South Palm Resort include the 100sqm Family Villas.
These spectacular villas are made up of two adjacent rooms with a connected veranda. They're also located in a prime position with the Kid's Park located just next door so there's plenty of opportunity for playtime.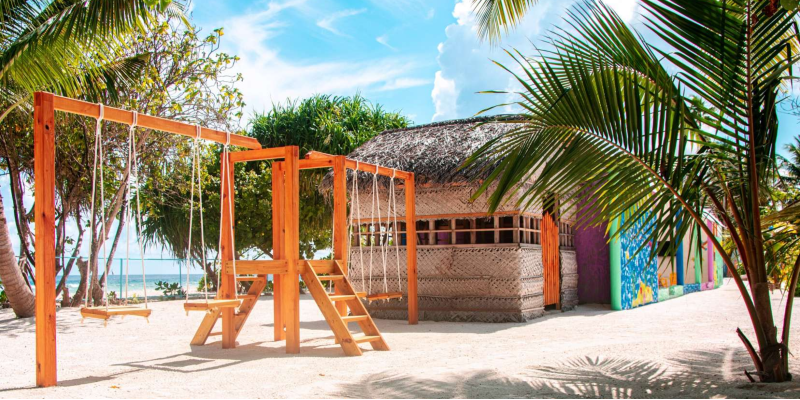 With a host of other outdoor activities children will have plenty to keep themselves occupied here. For sports lovers there's a football pitch and volleyball court plus the opportunity to play table tennis not to mention the amazing swimming pool perfect for splashing around in.
---
Furaveri Island Resort & Spa
Furaveri Island Resort & Spa is another island retreat that certainly packs in a lot of family-friendly features.
Here the Koama Kid's Club offers a fun-filled experience for children with supervised activities designed to keep little hands busy. Think crafts, games and lots of outdoor adventures. Your little ones will have the chance to learn all about the island and The Maldives in general as they play and get active at the amazing playground.
Relax in the idyllic setting of Furaveri Island Resort

Powder white-sand beaches

Water villas are perfect for upgrading your family trip

Kick back and relax in the lap of luxury

The view from your beachfront villa

Comfortable inside space complements the incredible exterior

Get involved in busy schedule of water sports in resort

Go diving and meet the amazing submarine life
When it comes to accommodation there's a couple of options for families. The Two Bedroom Reef Residence with Pool is the epitome of family opulence in The Maldives, offering direct access to the lagoon and a glass-floored living space. This is perfect for spotting the colourful marine life and certain to keep the kids entertained for hours. There's also a Two Bedroom Beach Residence with Pool that gives you chance to enjoy the beach life as a family. Children will love playing in the sand and you'll be close by to keep a watchful eye.
---
---
Dhigali Maldives
This beautiful resort appeals to families as well as couples, thanks to an abundance of facilities including the Play Kid's Club. Little ones will have the time of their lives here as they get involved with all the activities on offer and play with other children.
The splash water centre and games room top off a fun-filled list of daily activities. They'll also love to build sandcastles on the sandy beach in the tropical paradise of Dhigali Maldives.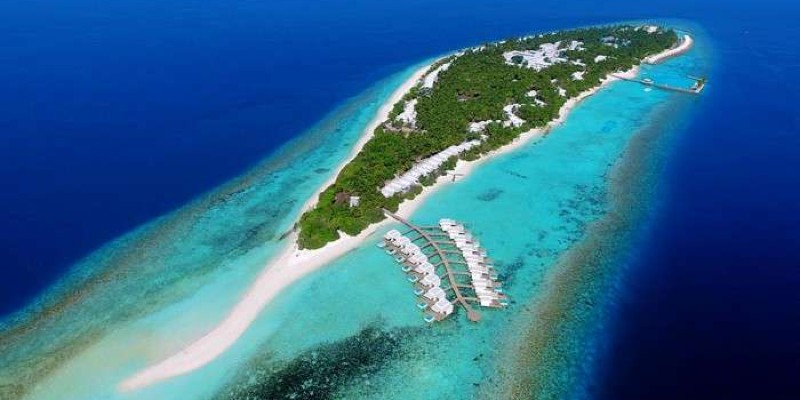 ---
Cocoon Maldives
Offering a taste of family-friendly Maldivian luxury there's a lot for families at Cocoon Maldives. The Family Beach Villas have been perfectly designed with families in mind and offer superior comfort for everyone.
One of the best features for families is that this resort offers an all-inclusive package. With an ample buffet available everyday even the fussiest of eaters are sure to find something they'll enjoy.
The children will also have fun in the stunning swimming pool and love building sandcastles on the sandy beach at this stunning resort.
---
Fun Fact
Cocoon Maldives also features in our Top 5 Most Luxurious Resorts in The Maldives countdown.
---
Kuramathi Island Resort
There's so much for families at Kuramathi Island Resort. From the fantastic kid's club to the amazing facilities everyone can enjoy some quality family time here.
The Two Bedroom Beach Houses include separate living spaces and can accommodate up to four adults and two children. Bageecha Kid's Club welcomes children aged 3-12 years with a host of activities including face painting, beach games and marshmallow grilling.
Older children will love the games room, whilst the youg ones will appreciate the playground. The fun continues all day and into the evening here with entertainment catering for all ages. Plus, there's a choice of three amazing swimming pools to enjoy.
While you're here you must check out the Eco Centre complete with a sperm whale skeleton. Little ones will be awestruck by it's size, plus it's a great educational feature to get those little brains learning.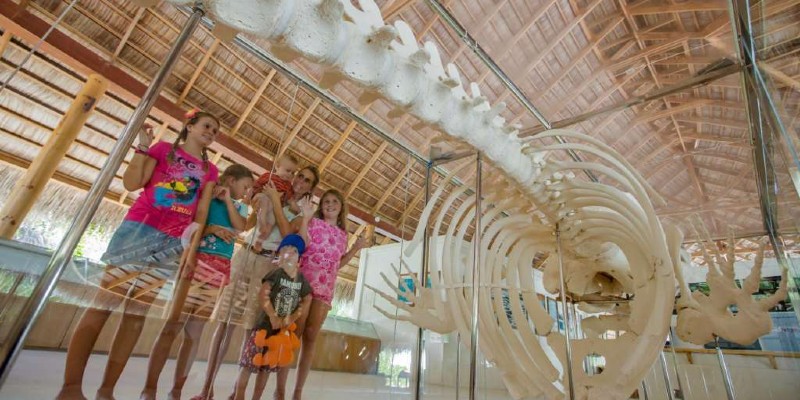 ---
---
Canareef Resort Maldives
A choice of either a Sunrise Villa or Sunset Villa is yours at Canareef Resort Maldives, both are suitable for families.
The Kid's Club is open for children aged 5-12 years and will astound and delight little ones with all the activities available. These awesome activities include games, crafts and plenty of beach fun.
Children ages four or under are still able to attend but need to be accompanied by a parent. With so much entertainment on offer the whole family will be ready to relax and unwind in the evenings.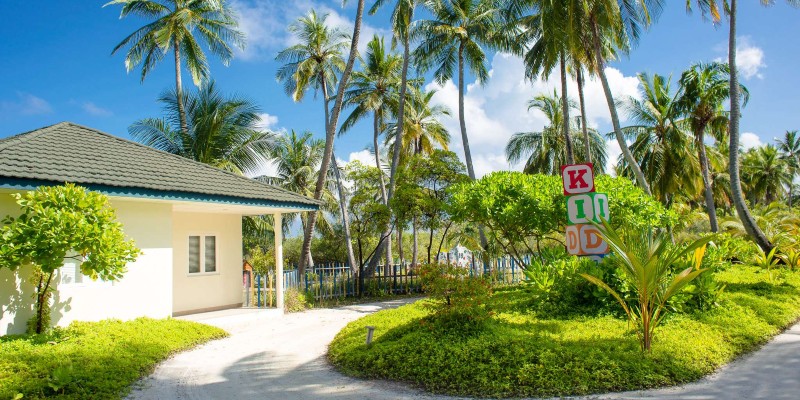 ---
Eriyadu Island Resort
Over in the North Malé Atoll there's plenty of family fun to be had at the incredible Eriyadu Island Resort.
Get yourselves booked into a Deluxe Beachfront Villa and have the added luxury of feeling as though you have your own private stretch of Maldivian sand. Can you imagine the excitement in the kids faces when they see that their bed is just steps from the beach!
Elsewhere at Eriyadu there's a plethora of activities available to suit travellers of all ages. The on-site PADI dive centre can teach them how to see the amazing monsters of the deep, whereas the engaging kid's club is perfect for keeping little hands entertained. One other great thing about the Eriyadu kid's club is it's aimed at teaching children about the Maldives' enchanting indigenous flora & fauna.
They'll love that it's playtime all the time, you'll love that it's actually educational fun. It's a win win!
---
Kihaa Maldives
Live out your wildest Swiss Family Robinson dreams at Kihaa Maldives. This resort is perfect for engaging your little ones and ensuring you have a top time too.
An incredible kid's club is on hand to give your little ones an extraordinary insight into life in the Maldives. From learning all about the thriving eco-system which surrounds them, to knowing more about local cultures. The knowledgeable resort team make sure they're well entertained.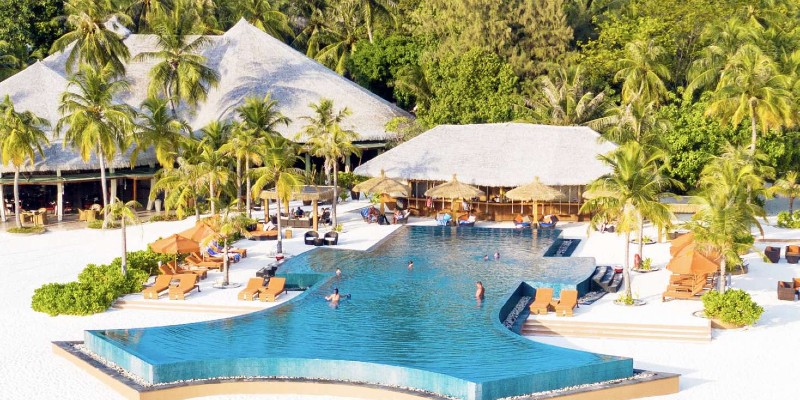 When their brains are bulging with local wildlife knowledge, take them to meet some of the amazing animals. As the resort is based right on the submarine doorstep of Hanifaru Bay, you can take them snorkelling (or even below the waves). Get a glimpse of the kaleidoscopic world of the deep in one of the best spots in the region for diving, including the chance to spot a majestic manta ray.
If you or them aren't the most confident on the water, then you can check out the PADI dive centre for some top training. Or you might even like to stay out of the wet stuff altogether and plump for a glass bottom boat tour instead. Either way, you should prepare to be dazzled.
---
Find out more about Kihaa Maldives and Hanifaru Bay now, with our resort rundown.
---
The Standard, Huruvahli Maldives
We know that these resorts aren't your ordinary family-friendly escapes. But The Standard, Huruvahli Maldives really is like nothing else you'll have seen on the islands.
Standing alone as a monument to modern design and incredible natural beauty, The Standard aims its offering at a younger generation of holidaymakers. Here you'll find a beach club approach to the island escape trope. 
With a laundry list of activities, a stylish kid's club (of course), an inflatable water park out in the cerulean lagoon, and kite flying all aimed at the youngsters. Meanwhile, you can enjoy the added pleasures of this five-star paradise. There's even an activity wall in every villa to help kick start the fun. 
Let them loose on the inflatable water park in the lagoon

Huruvalhi island is just a short seaplane journey from the airport

Todis Bar is a beachfront bar retreat for the adults

You'll also find a calming experience sequestered at Tonic Bar in the resort spa

Eat like a local at Gudaguda the Maldivian restaurant over the lagoon

Enjoy a film night like no other

Each villa benefits from bold interior design and check out that activity wall

Stare out over the lagoon from your bed

Imagine soaking it up in this supersized tub

The water villas looking resplendent at dusk
---
Ready to start your own family-friendly Maldivian adventure?
With these 10 amazing resorts just waiting to be explored, there's no reason why your school holiday experiences can't be incredible.
But, before you go, we still have some wisdom to impart. Click the button below and we'll tell you about all the things you need to know before you step foot on the famous atolls.