Live Like a Superstar at V Hotel Dubai, Curio by Hilton
Get a dazzling date with Dubai in your diary at the awesome, Rockstar-chic, V Hotel Dubai Curio by Hilton.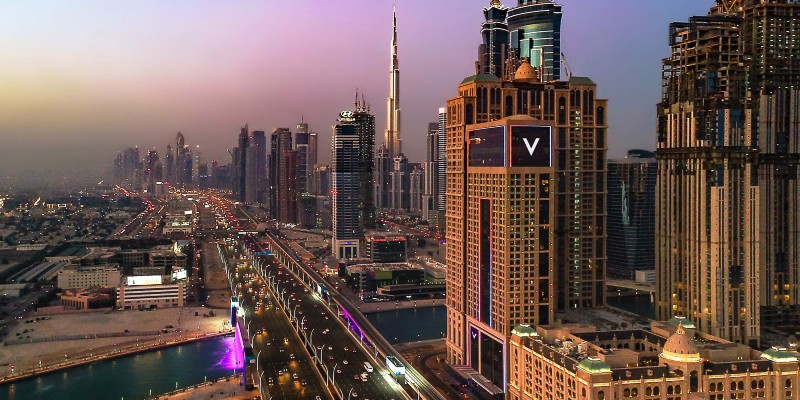 The perfect belated start to 2021
Now that lockdown in the UK seems to be on its way out, we think it's about time you got an unforgettable holiday booked. V Hotel Dubai is the perfect destination as there's nowhere better for making you feel every inch the A-lister!
The resort is a superbly chic place to lay your head. Finished in a style the hotel chain like to call retro-futurism, everything about the place will blow your mind.
From the incredible décor to its location in stunning Al Habtoor City complex just 8km away from iconic landmarks like the Burj Khalifa and Dubai Mall. The resort has everything you could wish for from an unforgettable Dubai escape.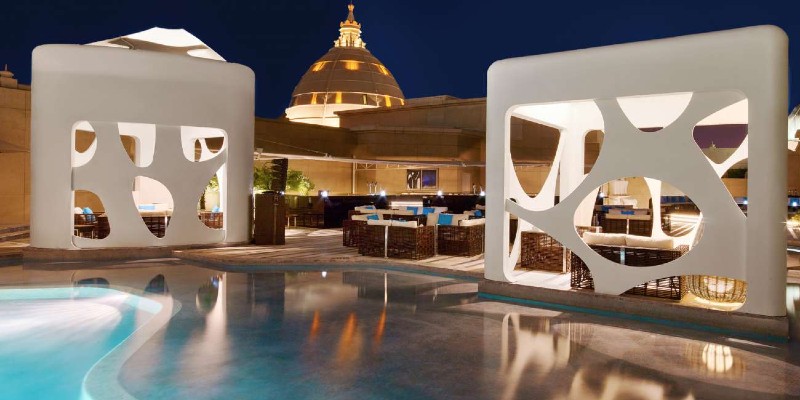 ---
Interior design
Your elevated experience in Dubai will start with the incredible interior design at V Hotel. Not like any other resort you've been to, the setting and the retro-futurism theme conspire to create a super contemporary space.
Special design work follows you around the resort even as far as your bedroom, which is an even in itself. All the suites at V Hotel feature a unique round bed and that super chic design. Tastefully placed coloured LED strip lighting illuminates the nooks and crannies giving your room an effervescent glow.
If you can pull yourself away from the incredible sights inside your suite, step out on to the private balcony. Take in the stunning views out across the Dubai Water Canal and beyond to the Arabian Gulf. That is if you can see that far through your Rockstar shades.
---
Fill your belly
The A-list vibes don't stop in your room. Of course, there's a galaxy of amazing restaurants in Dubai. If you feel like stepping out for the evening bedecked in your finery you won't have to search for long to find an indulgent eatery to satiate any craving.
However, if you prefer to stay put for the evening, because you don't always feel like heading out when you're on holiday do you? The resort has a dazzling evening meal covered for you.
Take the choice of Mediterranean fare or the culinary wonders of Asia. Level Seven has a Marketplace vibe and delivers all those sumptuous flavours of the Tuscan hills. Whereas Summer Place couple's incredible Asian cuisine with equally mind-blowing views of the city through its floor-to-ceiling windows.
As the resort is located in Al Habtoor City complex, you'll have the freedom to wander taking in all the entertaining things to see and do. Offering a whopping 23 incredible restaurants all delivering a different take on mouth-watering cuisine. The problem you'll face is deciding where to spend your evening.
---
That's entertainment
Speaking of the complex, we can't talk about his resort without mentioning the incredible line-up of entertainment just waiting to blow your mind.
If you love nothing more than when a pool area turns into a venue, then you'll adore V Hotel! Also, that's a pretty niche thing to love, but we've got all bases covered here. Lounge in complete bliss in one of the stylish poolside cabanas in the day, then watch as the area goes from chilled out vibes to evening hotspot. Colourful lights and live DJ sets come together to create a super exclusive party feel. It's like you've been invited to one of those super-chic rooftop parties all the A-listers are always snapped at.
But, if DJ sets aren't your thing, there's something special waiting for you in the complex. The La Perle show has been wowing audiences across the UAE for years. A breath-taking performance of superb choreography and thrilling stunts make this show one of the best around. And the best part is, the auditorium is inside the complex and you can have free tickets. Worth approximately £50 per person, with our latest offer!
But more about that later… this show is not to be missed.
---
Spa's the limit
While there's so much this dazzling city can offer to make your trip truly memorable, we understand sometimes there's nothing better than a spot of indulgence.
The Silk Spa at V Hotel is the perfect place to get your pamper on. A delightful array of soothing treatments administered by trained professional therapists are available. Relax your mind with some aromatherapy or soothe your muscles with an indulgent massage.
What more could you want to live your best A-list life than a visit to the spa in Dubai. We can almost feel the elegance radiating out of you from here.
---
The offer
Experience V Hotel Dubai, Curio by Hilton from just £668 per person now*. Plus…
---
Ready to go?
At V Hotel Dubai, Curio by Hilton you'll have everything you need to live that superstar lifestyle, without having to pay the Hollywood prices.
Honestly, is there a better way to kick start your 2021 than getting this truly unique getaway in your calendar? Click the button below to get booking.

*Price correct at the time of publishing