Channelling Your Inner Robinson Crusoe At Kihaa Maldives Resort
Explore a world altogether more beautiful at Kihaa Maldives. From majestic manta rays to paradise island vibes and luxurious interior design. You'll never want to leave.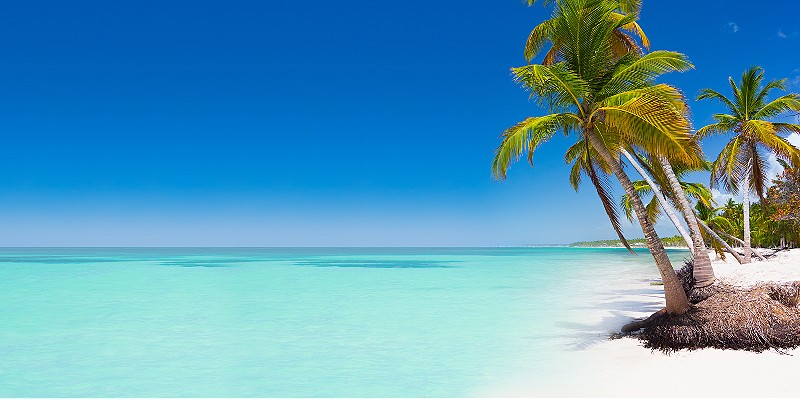 Paradise in real life
If you've ever dreamed about living that Robinson Crusoe life on a paradise island somewhere, but you're just a bit too boujee to slum it in a treehouse. Then Kihaa Maldives in the incredible Baa Atoll is right up your street.  
From the elegant comfort of this five-star resort, you'll be able to take in the true majesty of the Maldives.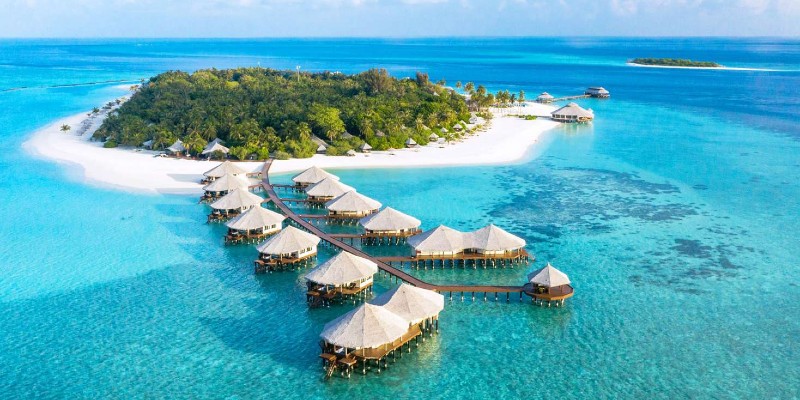 Nestled on a palm-thronged, powder white sand beach encircled by azure lagoon waters, Kihaa Maldives is a slice of pure island-bliss. If Man Friday and the lads could see you now eh!  
The worst-kept secret about Kihaa Maldives is, it's the closest resort to Hanifaru Bay. A renowned manta ray feeding ground which is so incredible it's been given UNESCO Heritage Site status. But more about that later, for now let's get into first impressions and where you'll stay.  
---
First things first 
Whether you transfer from the international airport to Kihaa via a super seaplane or chic speedboat you're assured of an elegant arrival. From the moment you start walking along the jetty to the island, the beauty of the place hits you. You are finally living the Robinson Crusoe dream.  
Like many Maldives resorts, Kihaa attempts to blend its interior design with its natural surroundings. Expect plenty of open-sided spaces and contemporary design merging with authentic island décor.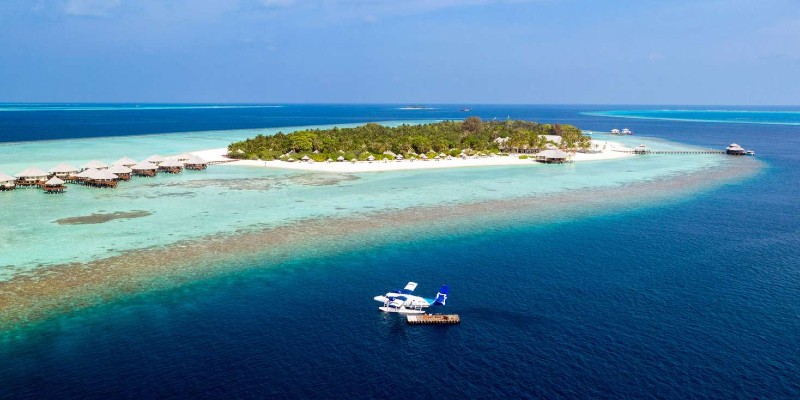 ---
Where you'll lay your head
The current Tropical Warehouse offer allows you to pile on those Robinson Crusoe vibes with an upgrade to a staggering Lagoon Prestige Beachfront Villa with Private Pavilion.  
Feel like you've got your own private island escape. Stare out over the coralline beach and turquoise lagoon from the comfort of your own private sun deck. There's something so soothing about having the beach and ocean just steps from your bed.  
Along with those incredible views and unrivalled beach access you can also benefit from having a super-swish Maldivian bathroom suite. An outdoor rain shower and standalone soaking tub create the ideal environment to make even the most mundane of acts, washing, an event. 
Away from five-star bathing and stunning views. The spacious accommodation and proximity to the beach ensure Kihaa Maldives is one of many great family-friendly resorts in the Maldives. 
Imagine relaxing back on your sun lounger and watching the kids playing freely in the soft white sand or clear blue lagoon.
---
Go large in the Maldives with an upgrade
If you want to add even more opulence to your Kihaa escape then take the chance to upgrade to an Over Water Villa. These elegant bungalows sit on stilts over the calming lagoon waters and offer heavenly views out over the ocean. Moreover water villas put you in the best place to experience the beauty of the house reef. With direct access to the lagoon take your snorkel and head straight down to the colourful world beneath the rippling surface.
Learn more: Check out our favourite over water villas now.
---
Filling your belly 
Now, here's where Kihaa pulls away from the more generic resorts in the Maldives (if there are such things). Where the vast majority only offer one main restaurant (albeit with stunning ocean views), Kihaa delivers three stunning places to eat your fill.  Variety is the spice of life after all. 
Malaafaiy

 Restaurant

 
At Malaafaiy you couple stunning Indian Ocean vistas with classically cooked international cuisine. It's the main restaurant and culinary hub of Kihaa, so expect buffet service and a huge variety of dishes. As well as international favourites, Malaafaiy also serves up authentic Maldivian cuisine if you fancy broadening your palate's horizons.  
Sangu a la carte Restaurant
Tables and benches are wonderfully set in the powder white sand of the beach. One for the couples, Sangu allows you to dine out under the moon and stars. A simple, yet delicious, menu of seafood will dazzle your tastebuds as you get lost in conversation and the gentle background noise of the lapping ocean.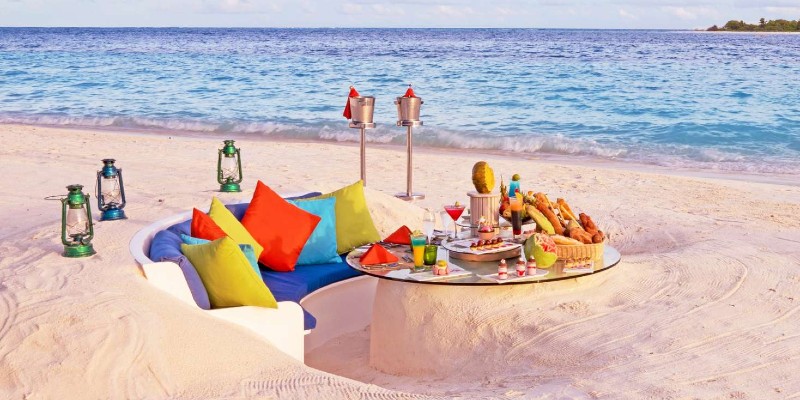 Hanifaru Bay Restaurant
What's unique about Hanifaru Bay is it boasts a vintage style and opens as an elegant tearoom throughout the day. Before running a fine dining menu in the evening. It has the chameleon-like ability to shift its vibes from quaint oceanfront tearoom to elegant dining space in a matter of hours.  
---
It's important to stay refreshed too
In addition to these three awesome eateries, Kihaa also offers two bars which serve a dual purpose. Named Raaveriya and Undhoali, the bars offer a nice spot to get out from under the heat of the tropical sun and a place to grab a cool thirst-quenching libation – you may even be able to snap up a cheeky snack or two.
---
Stay active (if you want to…)
We touched on it earlier but the main event at the resort has to be Hanifaru Bay. Kihaa's proximity to this UNESCO Site allows the team to run three daily excursions out to the manta ray feeding ground.  
A great activity for the kids as well as the adults, if you time your trip right you'll be inundated with the illusive gentle giants. Choose to either stay on the boat and watch from afar or don your wetsuit and get in some facetime with the mantas.
Spa and wellness 
When you've done all the diving and exploring you can take, it's nice to know you can kick back in a serene spa. At Kihaa Maldives specially trained therapists take you through a range of treatments which originated not too far from the Maldives.  
Perfect if you fancy some alone time or you want some quiet time away from the kids. Drop them in at the kids club and come get your pamper on.  
---
Anything else?
That's pretty much it for Kihaa Maldives. In essence it's a secluded island paradise from where you can live out your childlike fantasies.  
But, more than that, it's a place where you can go from pampering yourself away from the kids, to learning about the unique natural landscape of the Maldives.  
So if you're ready to start blending your fantasies with reality hit the button below to get started on your quote for Kihaa.