Nusa Penida vs Nusa Lembongan: Which Island Should I Visit?
Between Nusa Penida and Nusa Lembongan there's plenty to see and do. But which should you definitely not miss on your Bali adventure?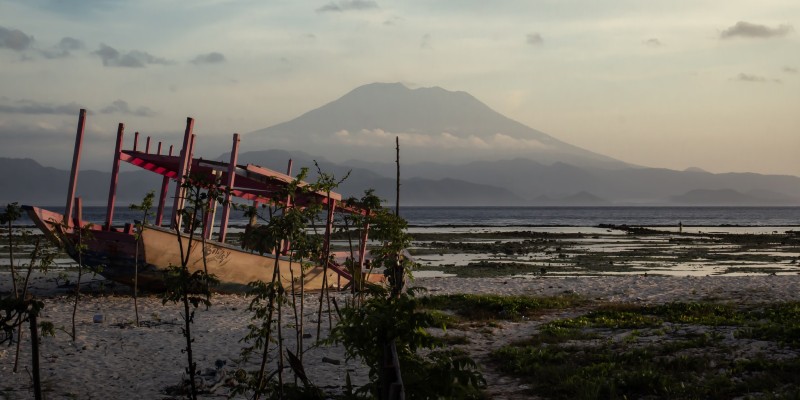 Home to many an excursion, Nusa Penida and Nusa Lembongan are two islands off mainland Bali offering killer experiences.
While most people choose to stay over on the islands, it is possible to take them in on a couple of day trips. But which one is better for an entertaining visit?
---
Where should you go?
In truth, it's a difficult one to answer because both have their advantages. Nusa Penida is better for adventuring and checking out insane scenery.
Whereas Nusa Lembongan is where you'll find more shops, restaurants, bars, resorts and general facilities to help your visit run smoothly.
So, if you want to get back to nature then Penida is king. But for touristy fun with more facilities then Lembongan is your one. Families would probably be better off on Lembongan though. There's a rugged quality to Penida which is magical for adventure, not so good for excited little ones.
But let's explore these magical islands a little further and check out all the amazing things you can do there.
---
Getting there
First things first, we better tell you how to make it to the dynamic duo.
The islands are next to each other in an archipelago which houses three islands: Nusa Penida, Nusa Lembongan and Nusa Ceningan. Although, Penida and Lembongan are more popular than Ceningan.
Relatively close to the mainland, if you're staying in Sanur then you can easily board a boat transfer to either island. And because of their proximity to each other, the price to get to each is usually similar.
There's a big yellow bridge which links Ceningan and Lembongan. But if you want to travel onwards to Penida you're gonna need a boat. Down by the yellow bridge you'll find boats to take you the 10-minute sail from Lembongan to Penida. 
---
Getting around on the islands
Nusa Penida is the largest of the two islands, but at only 200km2 it's still easily navigable. There are scooter hire stores on both islands so many people choose to get out and explore on two wheels. Although it may take a couple of days to see it all.
The much smaller islands of Lembongan and Ceningan can be seen in one day by scooter. You can even choose to walk around the sights here and would probably still do them all in a day.
---
What are the islands best known for?
Tourism has boomed on Nusa Penida and Nusa Lembongan in recent years. But they have always been known as incredible diving sites in Bali. Divers from all over the world flock to sites like Manta Point, Crystal Bay and Gamat Bay. In fact, the diving conditions in the area are that good, over 20,000 hectares around the islands was designated as a protected maritime zone back in 2010.
Surfing is also a popular pastime in Bali and you can find some killer waves off the islands. Which is why many surfers choose to spend time on Lembongan.
This mix of water sports and the stunning natural surroundings saw resorts start to spring up on the smaller island. Meanwhile, accommodation on Penida still only stretches as far as the odd guesthouse or villa.
---
What are the best things to do on Nusa Penida?
Apart from the insane water sport conditions and stunning world beneath the waves, as we said previously, Penida offers a more naturally themed excursion.
The west coast delivers more incredible scenery as well as the chance to spy an unforgettable sunset or two. On the other hand, if you travel to the north of the island you'll be able to go hiking and explore sites like Volcano Agung.
Moreover, wherever you travel on the island you'll never be too far away from another one of the best beaches in Bali. Kelingking Beach, or T-Rex Bay as it's known because of the way it resembles a dinosaur drinking from the sea, is a must visit. It's a little hairy getting down to the sand, a steep winding staircase is now in operation, but it's still a little dicey. So good shoes are the order of the day – not flip flops.
But once you're there you'll be greeted by amazing scenery and plenty of Instagrammable moments, like this one 👇. 
There is also a deeply religious side to Nusa Penida. Plenty of festivals take place every year so you may time your visit right to witness something special.
The Goa Giri Putri temple is a place of deep cultural significance. Every Hindu in Bali must visit the site once in their life and go through the purification ceremony. Tourists can also take part in the celebration – although you can choose to fast-track the usually two-and-a-half-hour ceremony.
---
What are the best things to do on Nusa Lembongan?
As we said earlier, Lembongan is the more built-up of the two islands. However, that development happened relatively recently and is still only present in a small area on the north coast of the island.
The entire eastern side of Lembongan is swallowed by a vast mangrove forest.
Away from the forest you can find more of the best beaches in Bali on Lembongan. But the addition of high-end resorts, mouth-watering restaurants and refreshing bars are a welcome benefit to visiting. Families will love the diversity here. The chance to go from teaching kids about the local wildlife in the mangroves to fun on the sand is perfect. But the best part is still having the option to finish the day with a stunning restaurant dinner and catching an iconic sunset.
However, if you're travelling as a couple or with friends it's definitely worth sticking around to make the most of the local nightlife.
There isn't much of a scene on Penida, but Lembongan makes the most of its vibrant bars. We recommend taking the chance to grab a seat outside and taking in a special sunset over a cool beer or cocktail.
---
In conclusion
As you can probably tell there's plenty to see and do on both islands. However, Nusa Lembongan will probably offer you the most.
But if you're travelling to Bali and want to change up your trip, then Nusa Penida and Nusa Lembongan offer a wonderful option. Although, just to offer you another option, hit the button below an check out all the amazing things you can see and do in Sanur.
If you can do all three you'll be seeing the very best of Bali on your break.