Visiting Furaveri Island Resort: 10 Common Questions Answered
Our insider Clare recently headed to Furaveri Island Resort & Spa in the Maldives. So we took the chance to ask some FAQs.
There's no doubt, Furaveri is one of the most luxurious resorts in the Maldives. But, within that, there's lots of questions we want answered about the place.
So, when our insider Clare recently returned from the fantasy island we jumped at the chance to have a catch up and ask some common queries.
---
Hi Clare, how was the Furaveri trip?
Ohh, it was incredible thank you. We loved every minute of it!
---
Brill, so jumping straight in, how did you get to Furaveri?
We arrived at Furaveri by seaplane.
But before that we had a decent experience on our 10-hour direct BA flight. Arriving in Male airport was fine and we breezed through check-in. Our Furaveri rep met us and put us up in the seaplane lounge while we waited to board. Like in most airport lounges, the complimentary food and drink went down well! But more about the seaplane…
The transfer was incredible! Best experience I've ever had.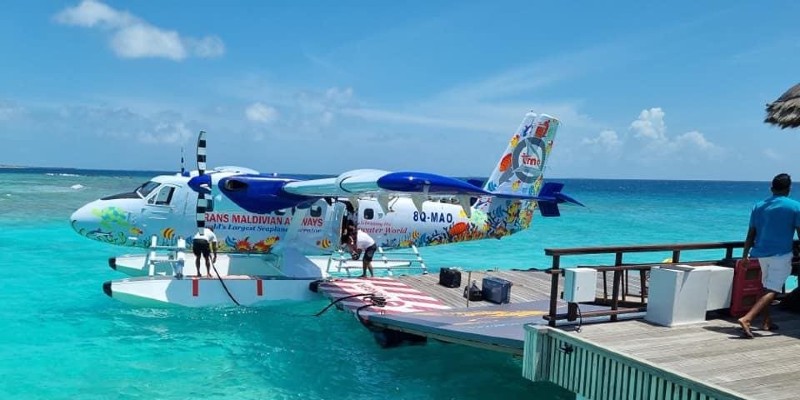 Flying over you can clearly see the various islands and crystal clear blue waters. It makes you feel quite emotional. Although, I'm not sure whether that was the sheer beauty of what I was seeing, the fact that I hadn't been on holiday for so long or the complimentary drinks – maybe a combination of all three.
Eventually the plane lands and takes you right up to the resort which is a relatively unique feature to Furaveri. Other resorts on the archipelago don't have direct access like this, so you have to land and get a speedboat to the welcome jetty. But that's not the case here.
Walking down the welcome jetty is breathtakingly beautiful. Looking out at the island and crystal-clear waters with fish flitting around below the surface is phenomenal.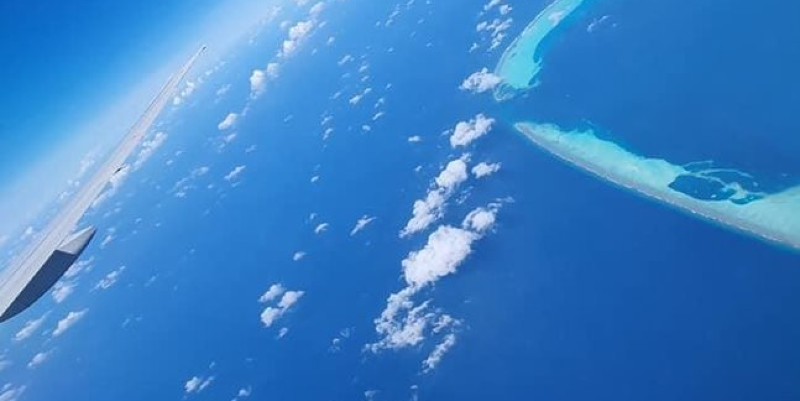 ---

---
What was your arrival like?
We completed check-in really quickly. But our room wasn't ready at the time. So we were taken over to the resort bar by golf cart to have a couple of drinks while waited.
However, we were literally only there 30 minutes before they came to tell us it was all ready for us.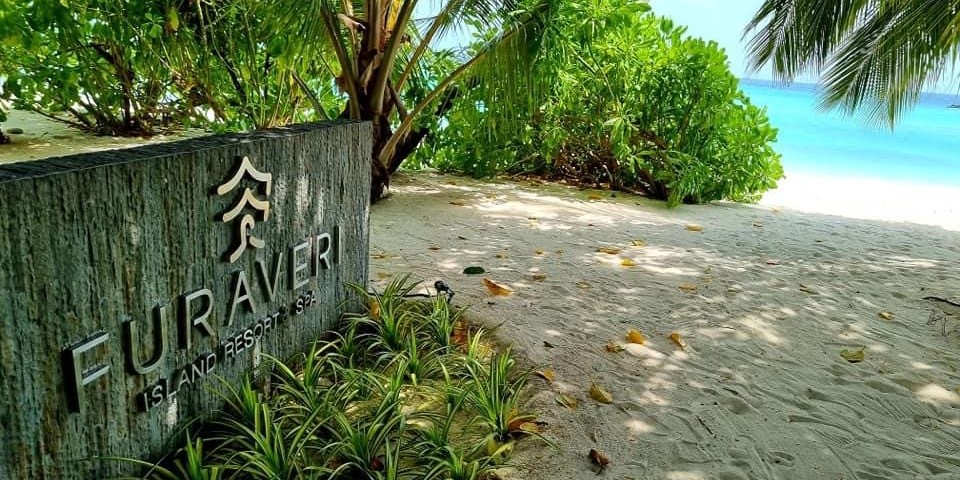 ---
What room did you stay in?
Because we extended our break from 7 to 10 days, we ended up experiencing a split stay. We were in a Water Villa for the first 7 nights. But were moved to a Beach Villa for the final 3 nights as the Water Villa wasn't available.
I know lots of people often struggle to choose between a beach or water villa. But the change allowed us to experience both room types in one, which was great. Although, my favourite was definitely the Water Villa.
---
What was it like staying in a Water Villa?
I'd never been to the Maldives before, so arriving at our Furaveri Water Villa had such a Wow! Factor to it.
The bed looking out over the ocean was absolutely stunning. In fact, we even said, working in travel we get to see some special pictures of places like this, but they just don't do it justice.
To give you a quick snapshot of the room, away from the bed looking out on the ocean, we had a large decked veranda. On there was a big daybed, sun loungers, a table and chairs, as well as some steps leading down to the ocean.
---
Did you take advantage of having direct access to the ocean?
No, I didn't. My partner did but I had seen lots of baby blacktip reef sharks swimming around in the shallows, so I was too scared of being eaten. My basic thought process was, the baby sharks won't hurt me, but if there's baby sharks then mummy and daddy must be around here somewhere.
Honestly, I think it was probably halfway through the holiday before I was brave enough to go in the water up to my shoulders. I was too scared of Jaws getting me!
The resort offers baby shark feeding sessions. Because Furaveri is family-friendly, there were lots of kids enjoying feeding time too, which was really nice to see.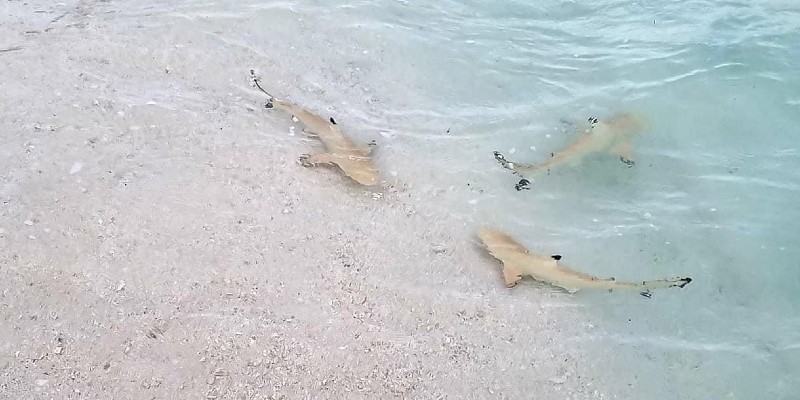 ---
Apart from feeding the sharks, are there any other activities?
There are plenty of activities available, if you're not the lounging type. We went out on a sunset cruise one day which is actually included in the deal we had. The boat takes you out and, dependant on weather, you can see dolphins. But the main event are the views across the islands at dusk. The sunsets were something else!
The bulk of the activities were centred around the water. So, jet skiing was $110 for 30 minutes. Or you could also head out with a motorised swim aid (you know those things that you hold on to and they propel you along under the water). We didn't do either activity, but they looked fun.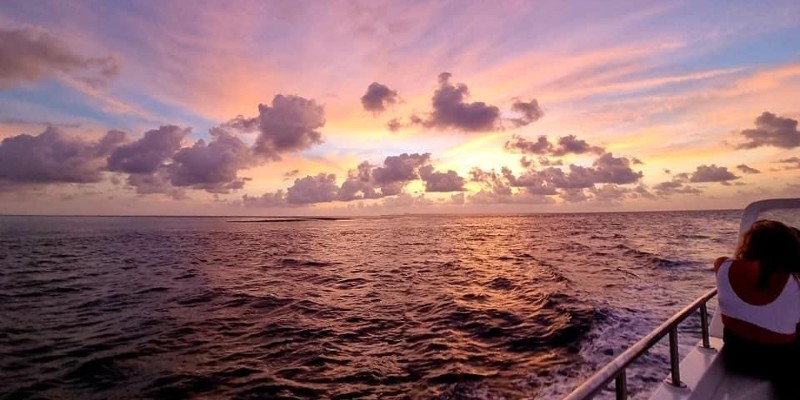 On the other hand, if you don't fancy getting in the water, there are activities available on dry land. Anyone searching for family-friendlty resort in the Maldives will love that there's a kid's club. In fact, there's even a kid's corner in one of the restaurants as well as a babysitting service if you want to get out and have a grown-up night.
Furaveri is a tiny island, so you literally walk around the island or hire bikes and ride around it too.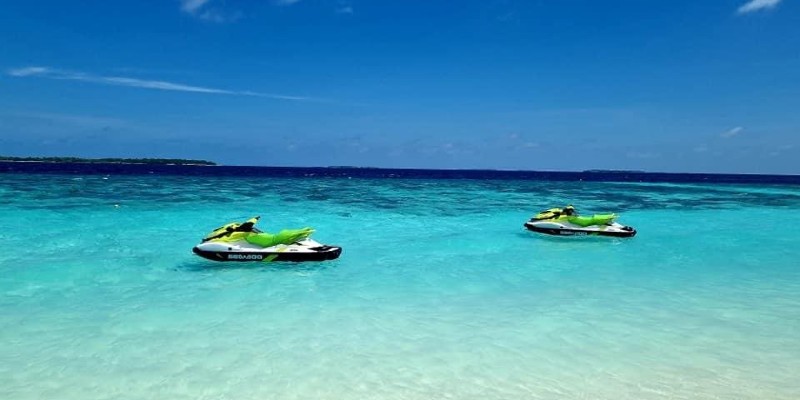 ---
How were the bars and restaurants on-site?
There's three restaurants at Furaveri. One is the main buffet and the other two are a la carte restaurants which serve Mexican and Asian cuisine respectively.
While you can pay and visit the a la carte restaurants whenever you like, if you book premium all-inclusive you actually get one visit included for every five days you stay. Because we extended our trip to 10 days we were able to sample both for free.
Amigos is the Mexican which great. You can be eating fajitas while staring out over the ocean. Whereas Raiyvilla is the Teppanyaki restaurant where you can also choose, for an additional $175 charge per person, to do a lobster and champagne dinner. We splashed out on the Saturday night of our stay and it was gorgeous. Watching them cook the lobster, prawn and other seafood was brilliant.
The buffet restaurant is called Jaafaeiy and, while buffets aren't normally my 'thing', this one was incredible. The food quality was exceptional, and every night had a different theme including Italian, Mexican, European, and Maldivian. So you weren't just getting the same buffet each day.
---
Are there any good bars?
The realxing pool bar comes alive at night with lots of entertainment like dancers and DJs, which is great. I'd recommend going there to watch the Maldivian dancers, they were brilliant.
But if you don't fancy listening to the loud music or you just want a chilled drink, of an evening, Raiyvilla also have a quieter cocktail bar. Perfect for escaping the party atmosphere of the main bar.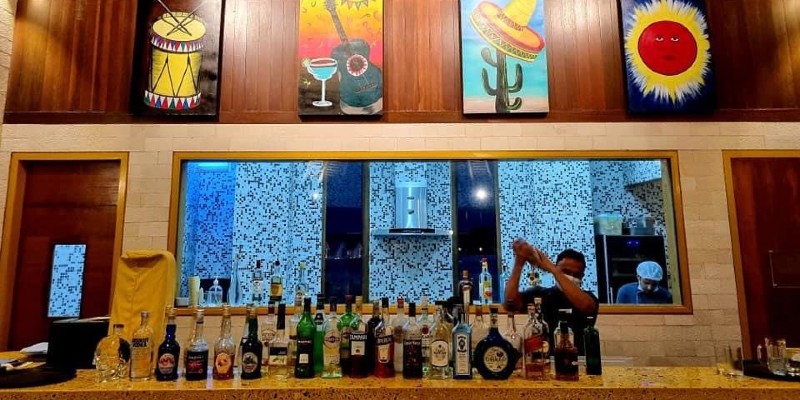 ---
Would you recommend going all-inclusive?
Yes, definitely!
With the premium all-inclusive offering from Tropical Warehouse we were able to sample every restaurant, as well as snacking and sipping through the days. If we'd gone full-board we potentially may not have experienced everything we did because of cost.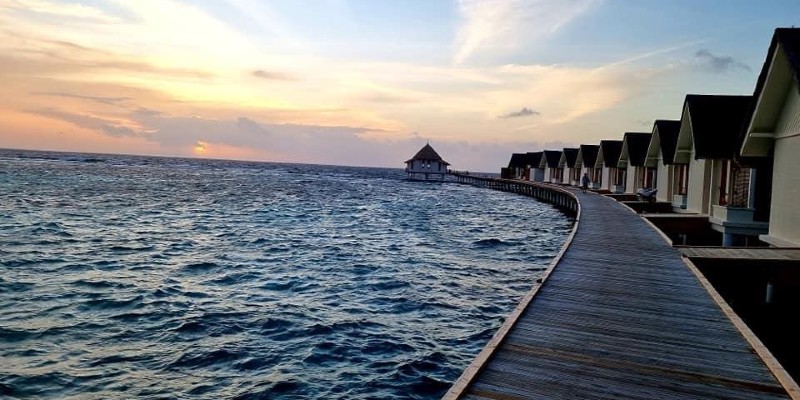 ---
Follow in her flip flops steps
Sounds like Clare had an incredible experience on the island. But if you want to hear more about this oasis, check out what Jonny thought it was like.
However, if you've heard enough and want to start your own island adventure, click the button below. Get started on your building your own Furaveri quote. You'll sunning it up with the baby sharks in no time.