QUIZ: Was This Movie Shot in Thailand?
For fans of the big screen and Thailand, test your knowledge and see if you can spot whether a movie was shot in this beautiful country or not.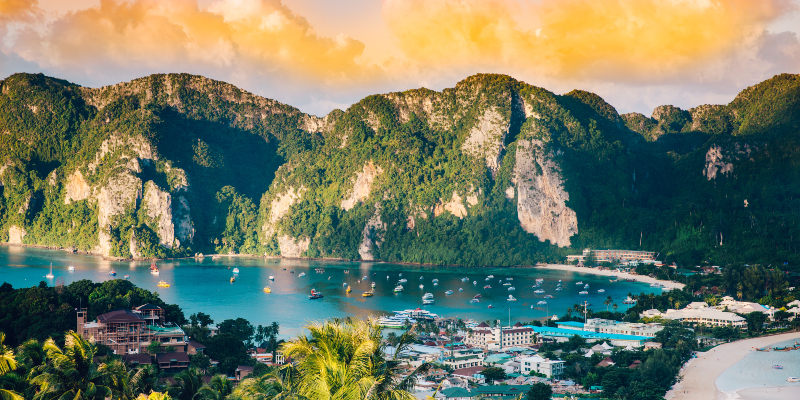 ---
Thai and test yourself!
With CGI and green screens it can sometimes be tricky to tell reality from a false universe in movies. However, we think it's pretty easy to spot the spectacular country of Thailand when it shows up on the silver screen.
It has beautiful beaches and incredible natural backdrops. Alongside this, you can find bustling streets and tall sky scrapers. There's a real variety of sights in Thailand. So, it's easy to see why so many film directors use this fantastic country as their setting. 
Whether you're a fan of movies, or a lover of Thailand, why not test yourself and see if you can tell if a movie was shot in Thailand or not? You may have already read our blog on 6 movies filmed in Thailand, which will be a big help.. But, it's up to you whether you want to do your revision or not!
---
Here we go…
The Man with the Golden Gun
The Man with the Golden Gun was shot on the iconic island of Phang Nga Bay, renamed James Bond Island, in 1974. The film also features several other locations in and around Bangkok, but James Bond Island is definitely the most popular.
Lost in Translation is actually shot and based in Tokyo, Japan!
Nope! Portions of Lara Croft: Tomb Raider were shot on location at the Ta Prohm temple, Cambodia, where the film is based.
Yep, The Beach was shot in Thailand. The actual beach is located on the island of Ko Phi Phi Leh.
You can watch the Wolfpack take over the streets of Thailand in The Hangover Part II. Featuring scenes in the bustling city of Bangkok along with Krabi.
Filming of Kong: Skull Island actually took place in the northern portion of Vietnam, no Thailand this time!
Bridget Jones: The Edge of Reason
Bridget and Daniel travel around Thailand in Bridget Jones: The Edge of Reason. They take a trip to Phang Nga Bay and pass the village of Ko Panyi.
Star Wars: Episode III – Revenge of the Sith
The whole film wasn't shot in Thailand, but you do see scenes of it in Star Wars: Episode III – Revenge of the Sith. You can see it at the Battle of Kashyyyk, the home of the Wookiees.
Although Julia Roberts does do a lot of travelling, you won't see any shots of Thailand in Eat, Pray, Love.
Yes! Along with several other locations, and despite being set in Burma, a lot of the film was shot in Chiang Mai, Thailand.
QUIZ: Was This Movie Shot in Thailand?
Oh.. Erm... Well, it seems you don't know much about movies? Or maybe it's the Thailand part which threw you off?
Not bad, but definitely not the best.. You seem to have a slight knowledge on films and Thailand.
Okay, so you may have read our previous blog on movies shot in Thailand- or maybe you just have a good knowledge on films and their locations?
Have you seen these films before? Or maybe you read our blog on movies shot in Thailand.. Either way, we think it's a good result!
Woohoo! Well done you, double figures. You definitely know your stuff when it comes to films and their locations.
---
Are you a movie buff?
Could you spot Thailand in these movies from a mile off? Or, are you needing to chill out and watch a few hours of Netflix to do some more revision?
If these movies have peaked your interest in a trip away to this magnificent country, then boy do we have good news for you. Thailand's entry requirements have recently changed due to the Sandbox Programme. Read all about it in our most recent blog by just clicking the big long button below!