13 Best Things to Do in Krabi
With so much to do and see, and so little time to do it in. What are the best things to do in Krabi?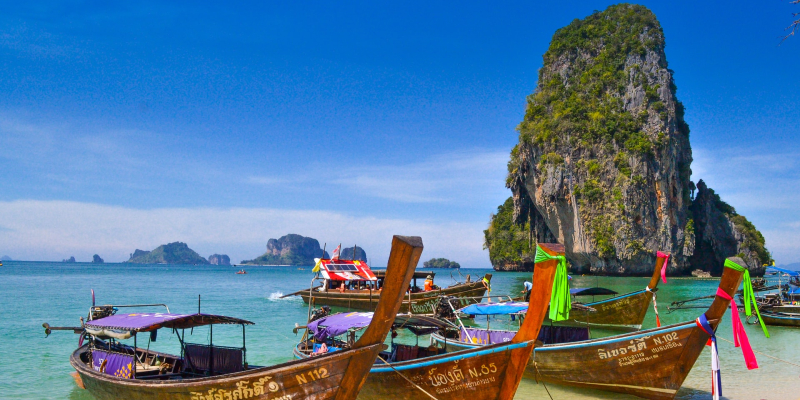 Located on the southern coast of Thailand, Krabi is a holiday destination like no other. As well as being the perfect base from which to explore the province, Krabi is also home to a wealth of experiences. From bathing in hot springs to tiger temples and discovering the best beaches, the choice is yours. Read on for our round-up of the 13 best things to do in Krabi.
---
THE Things to do in Krabi
Explore Krabi Town Walking Street Market

Travel on a longtail Boat

Rock climb at Railay Beach

Be at one with nature at Thung Teao Forest Natural Park

Take a swim in Emerald Pool

Rejuvenate at Klong Thom Hot Springs

Visit Wat Tham Sua (Tiger King Temple)

Discover Koh Hong in a day

Island hop around the Phi Phi islands

Visit a fossil shell beach

Party at Ao Nang Beach

See the famous Khanab Nam mountains

Seek out the sun at Koh Lanta beach
---
Explore Krabi Town Walking Street Market
A trip to Thailand wouldn't be complete without a visit to a bustling night market. The Night Market at Krabi runs weekly from Friday to Sunday and is packed with stalls selling an array of items. Soak up the atmosphere as you browse the souvenirs, grab a tasty bite to eat and appreciate the live music. With over 50 vendors, the market attracts large crowds and is an ideal way to experience authentic Thai life.
Travel on a long tail boat
Long tail boats are a popular mode of transport in this area and open up a whole new world to explore. The iconic wooden boats are impressive to look at and unique to the province. Their narrow structure enables them to perfectly navigate the creeks, caves and bays of Krabi.
The space at the front of the boats is reserved for passengers to sit back, relax and enjoy the scenic views as you travel around the waterways. Take to the water and be in awe at the natural beauty of Krabi and the stunning scenery complete with majestic limestone cliffs, waterfalls and an array of islands.
Rock climb at Railay Beach
Railay Beach is simply beautiful. It's easy to see why this one makes our list of the best things to do in Krabi. It's definitely worth planning a day trip to visit so let us tell you why.
The beach is only accessible by boat, so it's the perfect opportunity to tick travelling by long tail boat off your list too. Simply hop onboard from Krabi Town Pier for the 30 minute sailing. Tranquillity exudes from the area, think white sand beaches, hidden caves and no roads whatsoever! Railay Beach is the very image of a tropical paradise and as such is the ideal place to kick back and relax.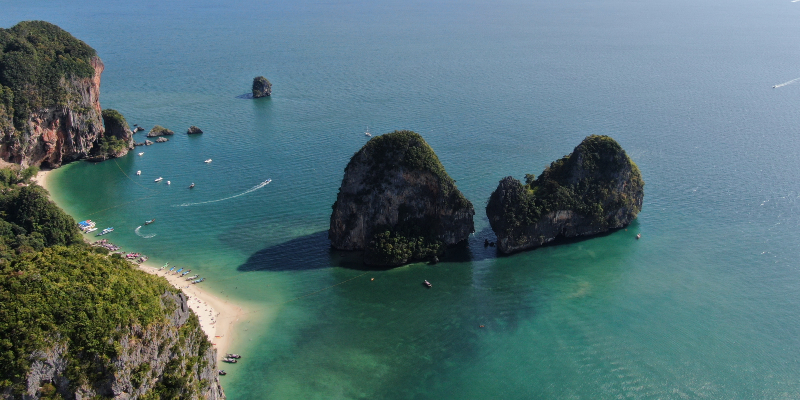 The weathered cliffs not only amplify the beauty but provide an excellent opportunity for some rock-climbing adventures. The cliffs here attract climbers from all over the world and even if you're not participating yourself the sight of the climbers navigating the rock faces makes for some nail-biting viewing.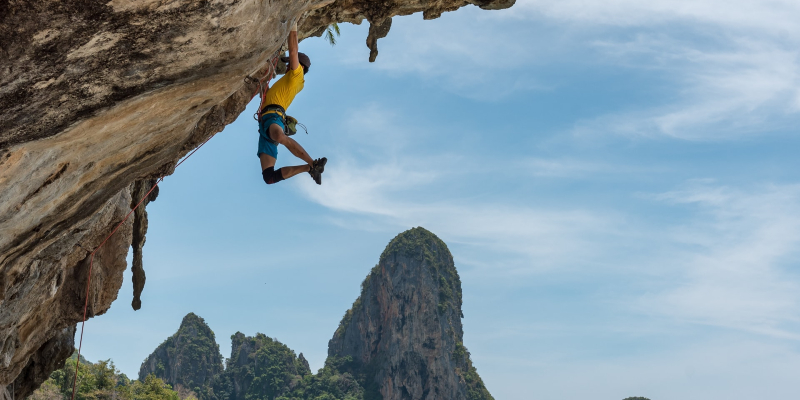 Be at one with nature at Thung Teao Forest Natural Park
Another one of the best things to do in Krabi is take a visit to a national park. So, take a break from the beaches of Krabi and spend some time getting closer to nature. The park is also home to the famous Emerald Pool natural lagoon and hot springs, but more on these later.
As soon as you enter the park you'll feel like you've been transported to another world. There's plenty to do here so it makes the day trip very worthwhile. With tropical rainforest canopies and ancient lowland forest there's an abundance of flora and fauna to discover.
Complete the 2.7km nature trail which takes you on a winding route through the forest. Enjoy a leisurely stroll taking in the spectacular sights and sounds that will surround you. The park is easily accessible and is just an hours drive from Ao Nang.
Take a swim in Emerald Pool
Located within the Thung Teao Forest Natural Park is the unique Emerald Pool. Aptly named because of it's striking colour, this dazzling lagoon is a must-see whilst you're in the area. As we've mentioned this natural crystal lagoon is hidden away in the depths of the national park. You'll need to pay 200 Thai Bahts to swim in the pool, but it's well worth it. The quietest times to visit are weekdays and early mornings. Take a dip in the cooling crystal clear waters and you'll soon be left feeling refreshed and ready to continue your national park adventure.
Rejuvenate at Klong Thom Hot Springs
Also situated in the same reserve as Emerald Pool are Klong Thom Hot Springs. So, a visit here should be next on your agenda during this trip. Continue walking for 15 minutes from the Emerald Pool and you'll find yourself at the hot springs. Again, there's an entrance fee for this part of the reserve which is 100 Thai Bahts.
This is the ideal way to finish your day as you're able to bathe in the hot springs which are a pleasant 35-42 degrees. Switch off and relax surrounded by nature at it's best and with exceptional views of the river below. Did we mention the salts in the spring water is also said to work wonders for your skin too? Just remember to pack a towel and your swimwear.
Visit Wat Tham Sua
If you're looking to experience some culture during your Thai trip then be sure to visit Wat Tham Sua. Also known as Tiger Cave Temple the spot was founded in 1975. Legend has it that a Buddhist monk saw tigers roaming around the cave during a meditation session. Tiger paw prints were also found in the cave backing up his claims. Whilst it's unlikely you'll see a tiger today there is an abundance of cheeky monkeys who you may see while you're there. It's a spot favoured by tourists who attempt to climb the whopping 1,237 steps to the summit. If you make it then you'll be rewarded with some epic panoramic views.
Discover Koh Hong in a Day
Koh Hong also known as Hong Island is an island just off the coast of Krabi. Widely regarded as one of the most beautiful islands in the area with the iconic Phang Nga Bay providing the ultimate backdrop. The island itself is part of Than Bok Khorani national park, which has an entrance fee of 200 Baht per person.
The main highlights are the impressive limestone formations and powder white sand beach, providing a breath-taking scene. A huge rock divides the beach into two sections and has created the perfect bay for snorkelling and catching a glimpse of some marine life.
Island hop around the Phi Phi Islands
Head over to the Phi Phi Islands, a group of islands varying in size that are part of a larger marine park. Expect hidden coves, turquoise waters, coral gardens and caves making the area great for underwater exploration. Day trips to the islands are readily available from Krabi. Explore the largest island of Phi Phi Don complete with numerous restaurants and amenities. Plus, Hollywood movie 'The Beach' was filmed around the islands.
Visit a fossil shell beach
Few places in the world can say they're home to a shell graveyard. But Krabi is home to one of them. Susan Hoi shell graveyard dates back over 40 million years. This unique relic of yesteryear came to be when the limestone deposits in the water covered the land and the process of fossilisation began. A whole host of sea creatures have been preserved by nature including shellfish, turtles, sea snails and of course a variety of shells. Susan Hoi is not just for the geologically minded though it's a natural beauty and a wonder to behold.
Party at Ao Nang Beach
Ao Nang Beach is renowned for being at the epicentre of Krabi's tourist scene. Stroll along the main street and discover shops, eateries and bars. Head over to the beach and spend the day lazing under the sun or hail a water-taxi and venture to one of the nearby islands.
The area really comes to life after dark with a diverse nightlife scene to satisfy even the most prolific night owl. With a 70s themed bar, a reggae bar and beach side café complete with live DJ performances!
See the famous Khao Khanab Nam mountains
These majestic mountains are one of the most famous landmarks in Krabi. You'll probably recognise them instantly from photos you've seen. Many visitors to Krabi take the time to view the mountains close up for themselves, and it's easy to see why. Standing at 100 metres tall and separated by a river they certainly make for a scenic photograph. Be amazed as you enter the caves and view the prehistoric paintings alongside awe-inspiring stalagmites and stalactites.
While you're in the area, a trip to Ko Klang fishing village is also worthwhile. Here you'll discover a museum and local craft centre where you can purchase unique souvenirs as a memory of your trip.
Seek out the sun at Koh Lanta beach
Travel to the southernmost tip of Krabi Province and visit Koh Lanta. The island is the largest of over 50 in the region. Formerly a backpacker's paradise, the island is now home to some exclusive high-end resorts. The beach at Koh Lanta is usually quiet with excellent opportunities to scuba dive and catch sight of some stunning coral reefs alongside a host of marine life. Renowned diving sites like Hin Daeng and Hin Muang are easily accessible from Koh Lanta. Or if diving's not your thing, immerse yourself in island life and enjoy watching the sunset over the crystal-clear waters.
Like the sound of all that Krabi has to offer? Want to know more about the great nation of Thailand? Of course you do. Simply click the button below to get the lowdown on our top tips for visiting Thailand from our resident expert Steve.