6 Do's & Don'ts of Travelling to Dubai During Ramadan
Travelling to Dubai during Ramadan is a different experience. But what are the main things to know before you go?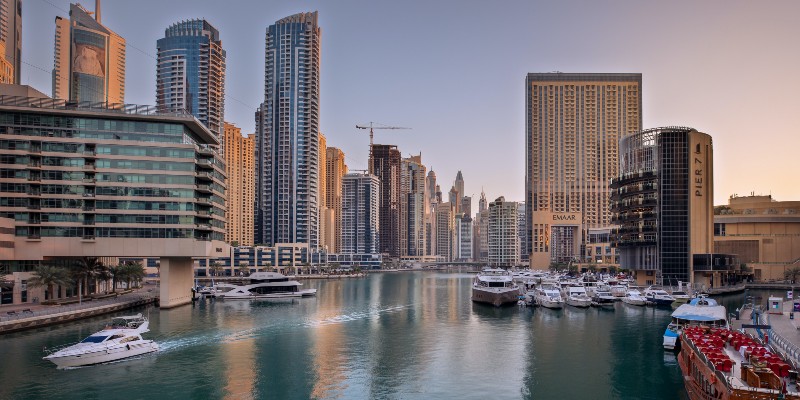 The shift in opening times and quieter streets when travelling to Dubai during Ramadan may have you thinking that it's not worth it.
However, if you're aware of the etiquette involved, you can have an unforgettable and unique time in the city. 
Our guide to the do's and don'ts will show you how to have the best time, while remaining respectful during the holy month.
---
What is Ramadan?
Because Ramadan falls in the 9th month of the lunar calendar, its dates can change every year (this year the period runs 2 April – 2 May). However, what doesn't change are the reasons for the month-long observance. 
Ramadan is one of the five pillars of Islam where Muslims traditionally fast for 29 to 30 days. This abstinence is said to teach self-awareness, patience and tolerance. In addition to the fasting, working days are cut to an average of six hours and Muslims are encouraged to complete increased periods of worship and reflection. 
You might think all this ritual and ceremony make for a dimished tourism experience. But Ramadan is actually one of the best times to visit the Emirates. 
---
Should you travel to Dubai during Ramadan?
You definitely should travel during Ramadan!
It may be a little quieter out on the streets during the day as those who're fasting tend to stay out of the heat of the sun. But take advantage of those less-busy times and go see more of the city. 
On the other hand, Dubai is a great place to be when the sun goes down and the celebrations begin. Away from the fasting and celebrations though, Ramadan is a perfect time for visiting and understanding more about the city's rich culture. 
This vast heritage can sometimes get overlooked when we start thinking about the shimmering skyscrapers and unique experiences in Dubai. 
---
Do…
Attend a traditional iftar
See the nightly cannon firing
Time your trip to experience Eid ul-Fitr
---
Attend a Traditional Iftar
Iftar is a lavish feast which is put on after the final prayer marking the end of the daily fast. It's not uncommon for restaurants around the city to lay on iftar celebration with some amazing offers on food. 
Expect incredible spreads with cuisine spanning the globe. It's actually relatively commonplace for iftar invitations to be extended to non-Muslims.
You definitely need to take this opportunity, if offered, as it's a great chance to get fully immersed in Emirati culture. But, be aware, it's also good practice to be respectful and let the fasters eat first. 
Experience Eid ul-Fitr
This is probably more about the timing of your trip than anything else. But, if you can get booked up towards the start of May this year, you may be able to spend a couple of days in Dubai experiencing the incredible festival of Eid ul-Fitr. 
A huge knees-up to celebrate the ending of Ramadan. Eid ul-Fetir is a national holiday and lasts for three days, with plenty of family time, gift giving and food to mark the occasion.
In true Dubai style though, there's also a gargantuan fireworks display. 
As an added bonus to the festivities, the shops and malls also offer some pretty sweet discounts during Eid ul-Fetir. So, it might be a great opportunity to bag a bargain too.
See the Nightly Cannon Firing
Maghrib is the prayer which rings out across Dubai to signal the end of the day's fast, it's also the cue to start tucking into iftar buffets. However, in Dubai, Maghrib is accompanied by the firing of a cannon. 
In a regional tradition which has stood since the 60s, five cannons are let off across the city to mark sunset. Get along to either Burj Park, Dubai City Walk, Madinat Jumeirah or the Eid prayer grounds in Al Mankhool or Al Baraha for a front row seat to the firing.
You never know, on your way back to the hotel, you might be able to stop by a local iftar celebration.  
---
Don't…
Eat or drink public
Be disrespectful
Go on the roads around sunrise and sunset
---
Eat or Drink in Public
It should really go without saying, but, in a city where the majority of the populus are fasting through the day, it's pretty bad manners to openly eat and drink in public. Smoking in public is also frowned upon during Ramadan.
But that's not to say you have to fast too. You just need to eat and drink in more private settings. Restaurants will offer special areas where you can dine.
On the other hand, local laws around hotels serving food and drink during Ramadan have been relaxed to accommodate non-Muslims. So you can stay in your hotel and enjoy a meal or drink through the day. However, just be mindful of anyone who may be fasting around you. 
Be Disrespectful
Ramadan is an extremely meaningful time for Muslims, so it's best to dress with a little more modesty than usual. Also PDAs (public displays of affection) are an even bigger no-no than normal. 
Laws around clothing are stricter during the holy month. While some allowances will be made for non-muslims, it's best to cover up from shoulder to knee. Unless you're on the beach or in resort where it's acceptable to break out the swimwear. 
Additionally, mind your language in public. Because Ramadan is fundamentally a peaceful time meant for reflection, there should be no anger and abusive language or gestures in public spaces. 
Go On The Roads
The combination of long, hot days without food or water and the excitement of getting home for iftar celebrations means there may be some erratic maneuvors happening on the tarmac. 
It's probably best to just avoid the roads altogether around sunrise and sunset. Aside from the questionable driving, however, there's also lots of congestion, so getting anywhere can be a faff. 
---
Get Out There
Now you know everything you need for exploring Dubai during Ramadan, we'd better look at getting the perfect resort in place. 
Well, remember earlier when we mentioned those sweet discounts at Festival City Mall?
Click the button below and we'll show you three awesome resorts in the heart of Festival City. You couldn't ask for better positioning for seeing the sights and experiencing the holy month.