An Instagrammers guide to the Maldives
We're here to show you why you need to make space at the top of your bucket-list for this stunning group of islands, with our Instagrammers guide to the Maldives.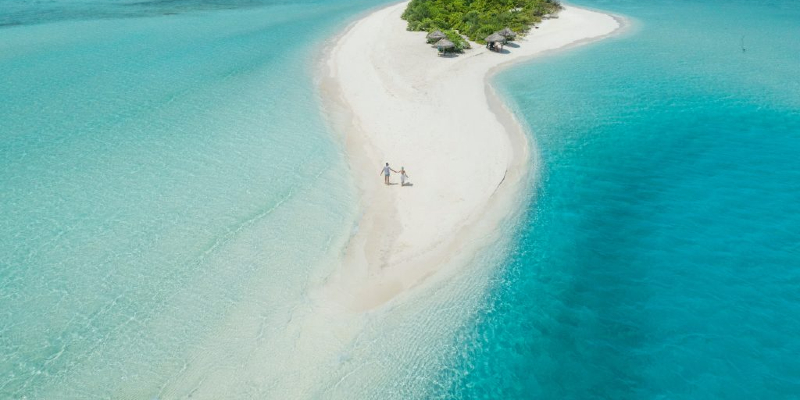 We think it's fair to say that the Maldives are easily recognised by their crystal clear ocean waters and soft white sands, – this is the kind of place a lot of us can only imagine. Our Instagrammers guide to the Maldives is going to show you what you're missing, so you can scooch the Maldives right to the top of your travel bucket-list.
Seaplane Experience
Before you even set foot onto your chosen island, there are memories to make. For many of us, a trip to the Maldives comes once in our lifetime, so there's no time to waste, right? Take a seaplane transfer. Not only is it 3x faster than the boat alternative, it's also an incredible experience.
A seaplane transfer means you'll experience views that cannot be rivalled, you'll see the Maldives in ways you could only dream of. You'll be able to see infinite shades of blue as the Indian Ocean changes in depth around the islands, coral reefs & atolls. Not to mention, the feeling of flying above arguably one of the most stunning places on earth.
If you love to know the details and want to find out what it's like to take a seaplane transfer in the Maldives, then look no further. We've already done the work for you.
Beach & Water Villas
This wouldn't be an Instagrammers Guide to The Maldives if we didn't tell you where to get the best pics for the gram now, would it?
When planning your trip to The Maldives, a major factor is likely going to be the villa you choose. We've all seen those iconic over-water villas, they're part of the Maldives dream, right? But don't dismiss beach villas – they are equally as stunning. Imagine having your own private part of the beach right at your doorstep! Perfect for those candid back-to-camera pics.
There are benefits to both beach and water villas. For example, in a beach villa you're surrounded by palm trees, powder-soft sand, perfect for those who find their happiness on the beach.
Water villas almost need no introduction. Step straight out into the ocean from your villa. Uninterrupted sunrise or sunset views and the ultimate exclusivity. Could it get any more idyllic?
You're probably more undecided than ever before. We get it. It's an incredibly difficult decision to make. We've collated all the information you need to know, so which will you choose, a beach or a water villa?
Island Hopping & Excursions
The Maldives is incredibly majestic and enjoying the surroundings of one island is probably enough for most people. However, if you're finding you're having to stifle your inner adventurer, then you might want to consider hopping over to another island or booking an excursion to experience more.
Island hopping is the perfect way to fuel your curiosity. Find yourself exploring the local islands and experiencing a bit more of the way-of-life in the Maldives. Your experienced tour guide will take you on a journey through the history of the islands, taking you closer to the naturally stunning environment.
The Maldives is an ever-evolving destination, meaning they are constantly working to preserve the islands as much as possible. They work tirelessly to create a sustainable and responsible way of life to ensure the longevity of the islands. Something we, as tourists and visitors should be ever grateful for.
Water Sports
This is a guide to The Maldives, so obviously, being surrounded by all that water, it would be great to get in and enjoy it, right? So, let's dive in to find out what we can get up to in the water. From canoeing to scuba diving, there will be something for you water babies to enjoy.
Having something suitable for your water sporting abilities is key to staying safe and having the maximum amount of fun. Of course, you will have a watersports professional helping along the way, but we thought we'd rank some of the activities in The Maldives, from 'easy peasy' to 'daredevil':
Kayaking / Canoeing – Row around the atoll and admire the sealife beneath the surface.
Snorkelling – Calm but exhilarating adventure under the water.
Banana Boat – The perfect activity to get the adrenaline pumping.
Fun Tubing – Similar concept to banana boating, fun is in the name so it must be good, right?
Catamaran Sailing – Highly recommend some sailing experience. Or just book on a catamaran boat trip. A must do.
Scuba Diving – The ultimate experience in The Maldives. Takes a little practice but it will create memories that will last a lifetime.
Underwater Scooter – Like snorkelling but times it by 1,000.
Parasailing – A thrill-seekers must. Minimal effort required. You'll be taken into the air by parachute. Views are unmatched.
Fly Boarding – One for the agile. Strap on your jetpack and get the ultimate solo-flying experience.
Wake Boarding – Imagine snow boarding… on water… being pulled by a motorboat. So not like snowboarding at all. Good luck!
Which watersports are you going to be trying out? Catch us with a snorkel! 
Spend a day on the beach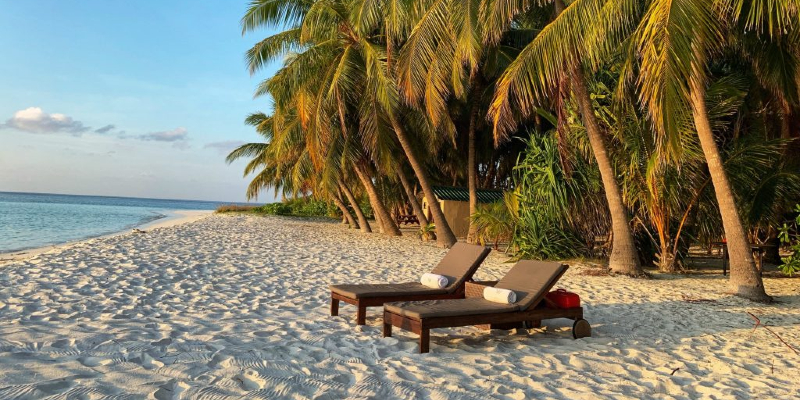 A guide to the Maldives isn't a guide to the Maldives until it includes how to spend the perfect day with white, powdery-soft sand between your toes. We're going to explain how you can spend the daylight hours on a typical Maldivian beach.
First things first, apply sun cream.
The Maldives is made for lounging under the palms, listening to the ocean waves roll gently onto the shore, listening to the distant sound of nature. So, a day spent on the beach might start off with a meander to breakfast. You've got a busy day of, well, nothing planned so make sure to enjoy breakfast before the day ahead.
Apply sun cream.
Find your perfect spot, one where you can hear the ocean, people watch, and have the ideal balance of sunlight & shade – incredible for those mid-day snoozes.
Apply sun cream.
Lunch time approaches, time to top up those hunger levels. Maybe you fancy a refreshing salad made with local ingredients full of exotic flavours, or maybe a burger with all the toppings is more your thing, whatever it is, indulge and enjoy.
Grab a coconut to sip, or maybe take a dip in the sea, cool off. It's hot out there. If you're feeling fancy, take your snorkel and enjoy losing yourself watching the fish and marine life zip around you.
Apply sun cream.
Once your snoozing and snorkelling efforts are done, head back to your villa. Take a cool shower, maybe even have (another) nap, and get ready for a chilled night of dining at your chosen restaurant.
Apply after sun.
Dive In!
Scuba diving isn't for everyone, true. But if you're a scuba diver, then you've probably dreamed of the day you can dive in the Maldives. Some of the most incredible house reefs in the world? Yes, please!
The abundance of marine life below sea level is what attracts thousands of divers, every year. With over 1,100 species of fish, there is no doubt your diving experience will be one to remember.
From Whale Sharks to Moray eels, Bannerfish and Stingray, the thrills that are waiting for you in the underwater landscape are difficult to beat this side of the equator.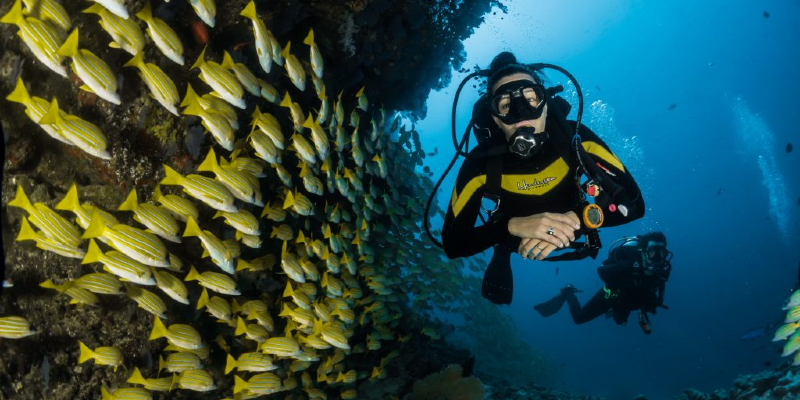 What's next?
Now you need to whittle down the endless choice of resorts. It can be daunting with so much choice, but never fear, we've narrowed the search down to our Top 6 resorts over water villas in the Maldives.
Click the big orange button to discover more!