6 Dazzling Domes Resorts Delivering Five-Star Mediterranean Luxury
This collection of six Domes Resorts are perfect for snatching some five-star opulence on a short-haul summer excursion.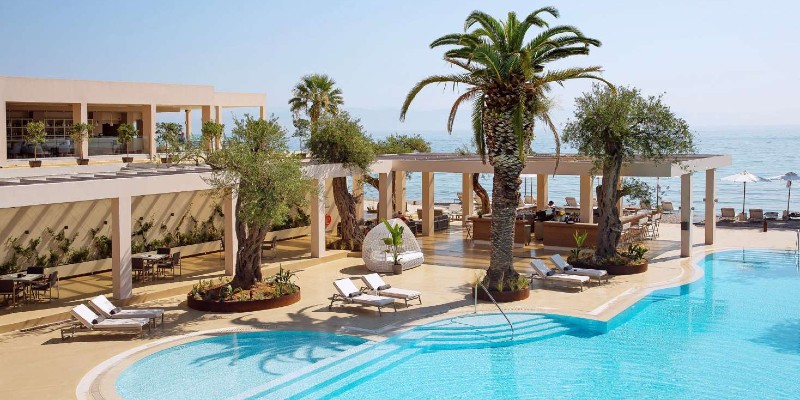 If you're searching for that perfect sliver of summer sun, then our collection of Domes Resorts could be just what you're after. 
In this blog, we'll introduce you to a selection of sun-drenched escapes spread out across mainland Greece, Corfu, Crete and Portugal.
Each five-star destination is only around a 4-hour flight away, making them perfect options for summer sun. 
---

---
Super 6 Domes Resorts
So, what are these incredible Domes destinations then and what can you expect from them?
Domes Lake Algarve 
Domes Aulus Zante 
Domes Miramare
Domes of Corfu 
Domes Aulus Elounda
Domes of Elounda
---
Domes Lake Algarve, Portugal
Resting on the banks of an expansive saltwater lake, Domes Lake Algarve is perfectly positioned to allow you to experience the best of the area. Just a short walk from the town of Vilamoura, you can wander to the glamorous marina or improve your game at any of the local golf courses.
However, with stunningly modern accommodation, 4 gourmet dining options, 3 bars, a spa and a fitness centre, you might just want to stay exactly where you are. 
---
Domes Aulus Zante, Greece
A quick skip over the Ionian and Tyrrhenian Seas brings us to another five-star escape. Domes Aulus Zante is newly renovated for summer 2022 and sets out to redefine high-end service levels on the southwest coast of Greece. 
Elevated cuisine, mixology, an award-winning spa, and a location right in the heart of Zante make for a special break. Plus, animal lovers might like to know, it's a lesser-known fact about Greece that the beaches here actually host nesting sea turtles each year. And this awesome resort sits on a sparkling Natura-protected beach where those babies are born.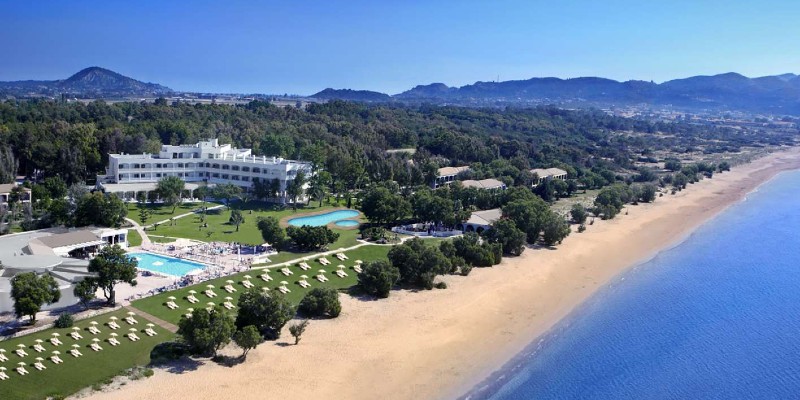 ---
Domes Miramare, Corfu
There are some amazing things to do in Corfu, and this resort places you in a perfect location to try them all. An adults-only paradise which boasts a guestbook bulging with historic names from actors through to royalty. 
Domes Miramare offers its own private beach just minutes from the Old Town, if you fancy getting up to a little local exploration. The uber-chic interior design at Domes Miramare follows you around the resort. From your room to the wonderful on-site restaurant options, fine marble finishes and opulent statues nod to Greece's ancient history.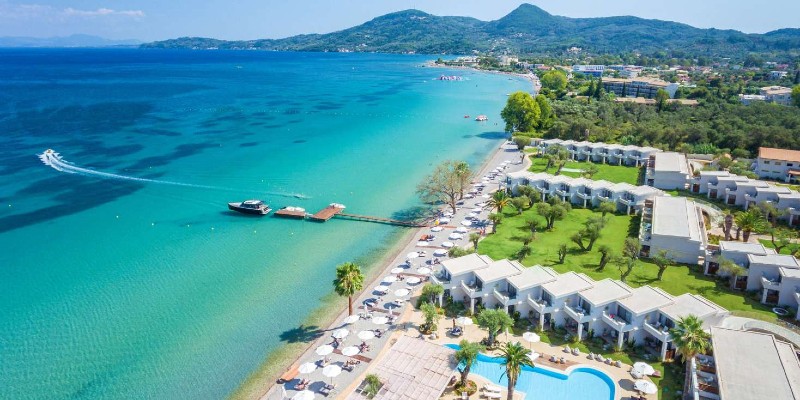 ---
Domes of Corfu 
Staying on the dazzling Ionian Island we come to our next five-star stop. Around 45 minutes northwest of Miramare is Domes of Corfu. Resting on Glyfada Beach, the only Blue Flag-certified beach on the island, the resort screams elegance again. 
Another freshly renovated destination, this resort is backed by an 18-hole golf course and features four pools, restaurants and bars. If that isn't enough you can visit the Soma Spa or wander along "The Core" – a pop-up shopping centre complete with bars, food trucks and exclusive boutiques.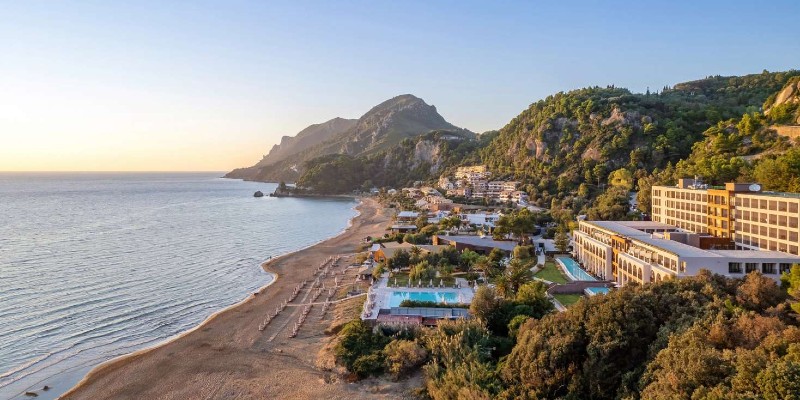 ---
Domes Aulus Elounda, Crete
If you love the sound of Domes of Corfu, but you prefer the scene in Crete then you're in luck. Domes Aulus Elounda follows where that staggering destination leaves off. 
Boasting a chilled in-resort piazza full of additional restaurant, bar, and boutique options. This beautiful resort is located just a minute's walk from the shingle beach looking out over the Sea of Crete. You can also make the most of three pools, a resort spa, a fitness centre and a host of water sports too.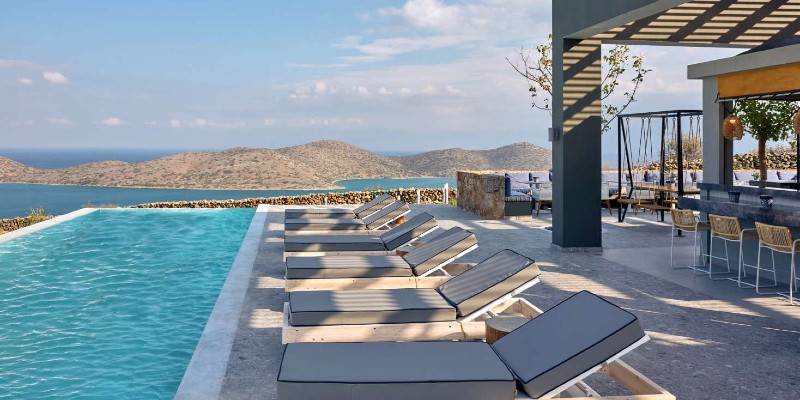 ---
Domes of Elounda, Crete 
Just a 20-minute walk north of Domes Aulus Elounda brings you to its opulent sister resort, Domes of Elounda. This staggeringly beautiful destination, with its incredible interior and exterior design and muted colour palette, is quintessentially modern Greek in look and feel. 
With a selection of restaurants serving mouth-watering local and international cuisine, as well as unforgettable boat trips around the area, you can get a real understanding of the area. The final injection of elegance comes in your room where you can choose between a private pool or Jacuzzi.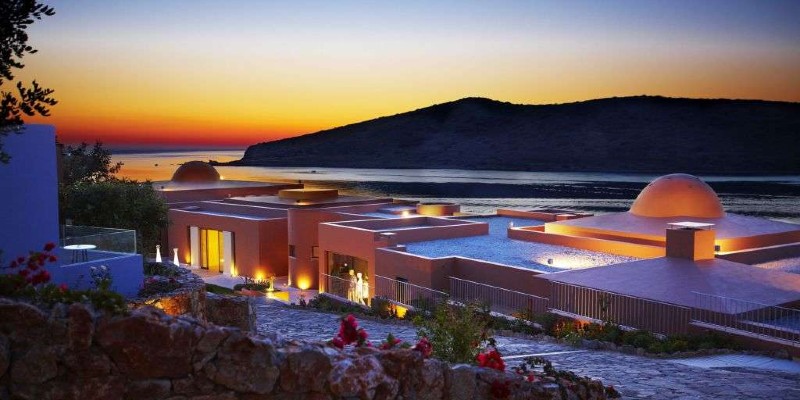 ---
Explore the collection 
Whether you fancy a stylish sojourn in the Algarve or a magical Ionian Island escape, there's an option for you with Domes Resorts. 
Click the button below now to shop the collection and discover some of the most enchanting spots in the Med.