Bursting With New! 12 Tropical Holiday Resorts That Dropped in June
We're always striving to bring you the best of the best. In June we added 12 brand new tropical holiday resorts to our site.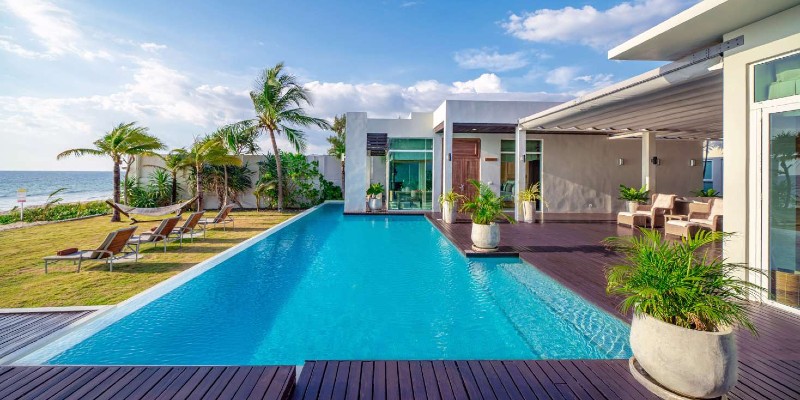 Don't say we never treat you, because this month we added a staggering 12 incredible new tropical holiday resorts to our collection.
But the best news is that these resorts span dreamy locations like Mauritius, the Maldives, Thailand, Bali and more.
In this blog, we'll give you a brief introduction to each site and tell you what to expect when you touch down in your paradise of choice.
But, first, why don't we give you those all-important resort names.
---
12 Incredible Tropical Holiday Resorts to Choose From
Le Cardinal
Maritim Resort & Spa
Brennia Kottefaru
Pullman Phuket Panwa
Aleenta Phuket
Moracea by Khao Lak
Merusaka Nusa Dua
Domes Resorts
---

---
Le Cardinal Exclusive Golf Resort & Spa, Mauritius
First up on our cavalcade of high-quality tropical holiday destinations is Le Cardinal Exclusive Golf Resort & Spa.
This ultra-boutique resort has just 13 rooms available, all located on a shimmering stretch of Mauritian coastline. Enjoy a manicured golf course nearby, or why not make the 15km journey to the capital and spend a wonderful 24 hours in Port Louis?
Although, there's still a world of things to do inside Le Cardinal. With five-star amenities, a host of water sports, an invigorating fitness centre and a soothing spa all at your fingertips, there's plenty to enjoy.
---
Maritim Resort & Spa, Mauritius
Staying on the dazzling island of Mauritius for a little longer, we come to our next stop – Maritim Resort & Spa. Larger than Le Cardinal, but with a five-star service offering, it's just as impressive.
Perfect for couples or families looking to score a tropical holiday, Maritim delivers everything you could want. Choose from seven restaurants, six bars, a spa, and a location that places you in the heart of a historic estate with a host of activities.
In addition, the Ruins of Balaclava offer a world of fun times at your feet. From a scent garden to guided tours to dog walking sessions, you can try some of the most eco-friendly excursions in Mauritius.
---
Brennia Kottefaru, The Maldives
Making the 3,000 km journey over the azure Indian Ocean you'll come to the following stunning location, Brennia Kottefaru in the Maldives. Once you've touched down in Velana International Airport the true magic of this tropical holiday destination hits you on the 40-minute seaplane transfer.
Stepping off the plane and onto the welcome jetty, you'll be enveloped by a five-star paradise. Additionally, the villa or residence accommodation features staggering views of the white sand beach, so those paradise vibes will never be far away.
Meanwhile, three restaurants and bars, a gym and spa, as well as a full PADI dive centre deliver all the island fun you can handle. For example, the dive centre is perfect for exploring the kaleidoscopic world of the house reef.
---
---
Pullman Phuket Panwa, Thailand
Moving on from the Maldives, the next stop on our tour of new tropical holiday resorts is Phuket in Thailand. Pullman Panwa Beach Resort enjoys a picture-perfect location right on Makham Bay. Plus, you're just minutes from all the best things to do in Phuket town. So whether you love chilling, shopping, exploring or all of the above, you can do it all here.
But with that plethora of attractions off-site, what can you expect in-resort?
Well, with a range of restaurant options, including a trendy beach club, there's plenty to keep your taste buds entertained. Elsewhere you'll find a state-of-the-art gym and lavish spa set up too.
---
Aleenta Resort & Spa, Thailand
Around an hour-and-a-half north of Pullman lies the equally stunning Aleenta Resort & Spa. This beautiful five-star location will help you live that a-list lifetsyle in southern tip of Phang Nga Province.
As well as boasting high-quality service, Aleenta has its feet in the sand of picturesque Natai Beach. That natural beauty and enviable positioning encourages you to get out and explore more of this dazzling destination. For example, you can make the short journey to discover everything there is to do in Khao Lak. On the other hand, you might like to book a couple of resort-led excursions. See exquisite coastlines, dense jungles and some of the best night markets in Thailand.
Meanwhile, in the resort, you'll find all-villa accommodation which boasts a pool in almost every room. Plus, there's a world of water sports and an indulgent spa to help you relax.
---
Moracea by Khao Lak Resort
Making it a hat-trick of incredible Thailand retreats in our new tropical holiday resorts is Moracea by Khao Lak. This five-star haven offers you more of an insight into the green heart of Phang Nga.
Etched into the province's verdant rolling hills, you're just minutes from some of the best national parks in Khao Lak. But as those hills fall away, you're also gently lowered onto the soft golden sand of another Andaman Sea beach.
Prepare to be mesmerised by a world of unique Chino-Portuguese design which follows you around the interior of the resort. Plus, the spacious rooms, three bars, two restaurants and Baimai Spa all excite the senses while benefitting from this signature look.
---
Merusaka Nusa Dua, Bali
Before we make the long jump over to Europe on our tour of top new tropical holiday resorts, we need to stop off in beautiful Bali to tell you all about Merusaka Nusa Dua. Because this four-star-plus resort has been renovated recently to an extremely high-standard.
Deliciously secluded in the lush green island landscape, the resort breaks onto the soft golden sand of one of the best beaches in Bali. Additionally, you get to this TripAdvisor Traveller's Choice Award winner, you'll be greeted by a wealth of options. Six restaurants, three pools, two bars, a spa and fitness centre all roll out the welcome mate. Plus, the dedicated kids club can entertain your little explorers too.
Meanwhile, adults can take advantage of being near to the Bali National Golf Course or embark on a number of exciting excursions. Discover the sense-awakening Devdan Show in the Nusa Dua Theatre, or try ticking off some other stunning local beaches.
---
Plus, a clutch of Domes Resorts
We round off our collection of incredible tropical holidays with a journey around some of the most dazzling locations in Europe. Because we recently added no less than six Domes Resorts to our offering.
Each of those picture-perfect destinations offers five-star service in locations like the Algarve, Crete, and Corfu. Domes of Corfu, Domes Aulus Elounda, Domes of Elounda, Domes Miramare, Domes Aulus Zante, and Domes Lake Algarve will deliver Mediterranean vibes you'll never forget.
Stunning Domes Aulus Elounda, Crete

Beachfront bliss at Domes Of Corfu, Greece

Take a dip in the dazzling Ionian Sea at Domes Miramare, Corfu

Experience the seafront and local culture at Domes Aulus Zante, Greece

Get a five-star Portuguese escape at Domes Lake Algarve

Drink in the high-end elegance of Domes of Elounda, Crete
---
Get some new in your calender
This staggering collection of brand new resorts are all available on Tropical Warehouse now. So you can start exploring them for yourself straight away.
To shop the collection and add some new tropical island holidays to your calender for less, just click the button below.