Cocogiri Island Resort Is the Tropical Paradise We All Need in 2023
Get ready to turn off your phone and indulge in the beauty of peak Maldives at Cocogiri Island Resort. Plus a huge offer to get you there for less… (Updated in January)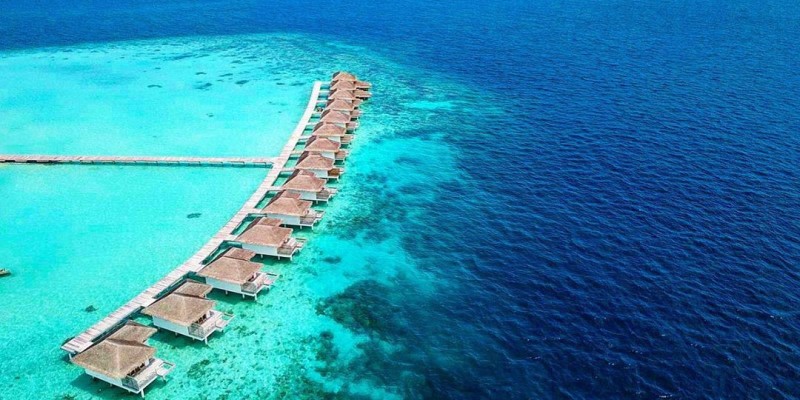 After the last 2 years we could all do with some 'us' time on a private island somewhere. 
Well, unless you win the lottery or stumble across some long lost pirate bullion, it ain't gonna happen. But, you can get damn close to that experience at Cocogiri Island Resort. 
Our latest Maldives resort is all about getting away from it all and kicking back on a stunning tropical beach, cocktail in hand. Sound good?
Read on to find out what paradise looks like and how you can get there for even less!
---
What is Cocogiri Island Resort?
Set out in the stunning Vaavu Atoll, Cocogiri Island Resort is the perfect paradise island escape. We know you've probably heard that a lot when it comes to Maldivian resorts. However, this one is built different.
Accessible by seaplane or speedboat transfer, there's a focus on the beauty of the archipelago's natural environment here. The resort boasts stunning eating spaces, a spa, a diving school, and swimming pool. There's also a pool area and club for the little ones if they fancy grabbing a slice of paradise too.
The resort offers an exciting array of excursions which also showcase the Vaavu Atoll's beauty. Those memorable trips include shark and manta ray snorkelling, dolphin watching, island-hopping, and sunset cruises.
But, before we break down the resort in more detail, how about we tell you more about its location.
---
What is the Vaavu Atoll?
The Vaavu Atoll is the least populated atoll in the Maldives. Located out on the eastern point of the Maldives, just five of the 19 island which make up Vaavu are inhabited. In fact, the population of the atoll is just 1,500.
In addition, the region is also home to the largest continuous coral reef in the Maldives, Fotteyo Falhu. This 55-kilometre-long stretch of coral is a bustling underwater city centre for the area's marine life.
Another great element to the atoll is its proximity to the capital Malé. In fact, a seaplane transfer to Cocogiri Island Resort takes just 18 minutes. Whereas the speedboat journey takes an hour – there's worse 60-minute journeys out there.
After your transfer, you'll be ready to hit the resort and make a decision about your room.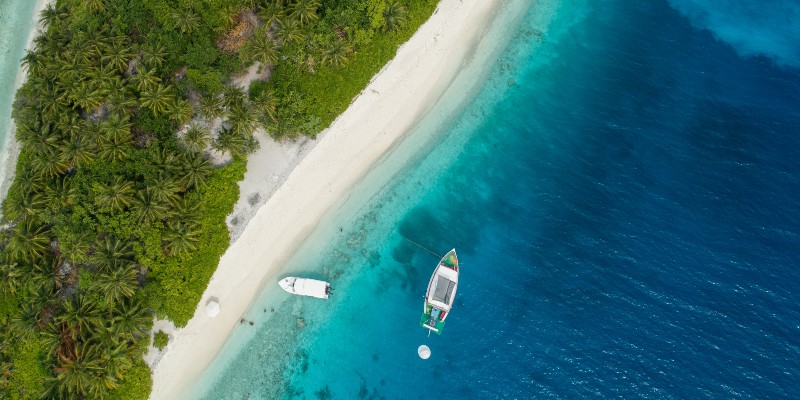 ---
Beach or Water Villa?
The toughest choice you'll have to face at Cocogiri is: Do you want a beach or water villa? With 20 of each room type available, as well as a selection of super-chic Jacuzzi water villas too.
Although, if decision-making isn't your thing, there's always that mega Blue Friday Flash Sale where you can enjoy being bumped up to an Over Water Villa.
In that staggeringly beautiful water villa, you'll have all the high-end amenities you could wish for. Including a luxurious soaking tub which allows for views out over the lagoon. Plus, make you're way out onto the private decking area and you'll find even more top-tier lounging spots, as well as direct access to the azure, bath-warm lagoon below.
Watch the fish flitting around the shallows, or jump in and join them.
---
Double the Culinary Delights
Azure Lagoona is the main restaurant at Cocogiri Island Resort. Serving a wide selection of colourful cuisines for breakfast, lunch, and dinner. Buffets are included in the all-inclusive offering, but you can choose to elevate your mealtimes by paying for a la carte service. Although, with live cooking stations and themed evenings, there's plenty of variety if you wanted to do the Maldives on a budget.
Meanwhile, the other island eatery is open from 12pm through to midnight. White Sands Bar & Café is more of a laid-back snack shack. International classics like pizza, pasta, salads, and burgers are all available at an added cost.
You may want to flit between the two restaurants during your stay. But White Sands is the perfect place for grabbing a cold beer or cocktail and staring out over those magical Maldivian vistas.
---
Aquatic Activities Galore
It's not just about eating, sleeping, and relaxing at Cocogiri. If you want to turn up the pace of your break, you can.
As we said earlier, there is a full range of excursions available to help give you a more colourful picture of the surrounding area. However, staying (relatively) on-site there's also a host of aquatic activities on offer at the resort water sports centre. From high-octane banana boating to gentle kayaking, there's something for everyone.
The dive school is also open to those who want to learn how to discover the wonders of the deep, in one of the best diving locations in the world. But the fun in the sun at Cocogiri Island Resort isn't reserved just for the adults. Let's talk kids club.
---
The Kids Are Alright
A great family-friendly Maldives resort, Cocogiri boasts a colourful Kid's Club, as well as a special area of the pool just for the little ones.
Trained staff in the club can take your sproggs through an engaging activity schedule. They'll learn more about themselves and the Maldives.
Who knows, you could come back with the world's next great marine biologist.
---
Top Spot for You Time
Now we've covered off where to eat, sleep, swim and even somewhere to take the kids. How about we look at some more chilled out areas, like the spa for example.
Ameera Spa is the place to be for soothing your stresses. While there's no stress in the Maldives, we understand the trappings of everyday life and a long flight may have left you feeling a little jaded. Rejuvenate your mind, body, and soul at Ameera, with the help of some indulgent treatments.
The menu offers everything from massages to body wraps. Plus, with that offer we told you about earlier, you'll have access to an exclusive 15% spa discount. So, you can start exploring a whole new world of relaxation.
But grab some drinks from the bar and kick back in the sand. Or pick up that page-turner and get some chapters logged around the tranquil resort pool. This is your trip, on your paradise island, spend it however you like.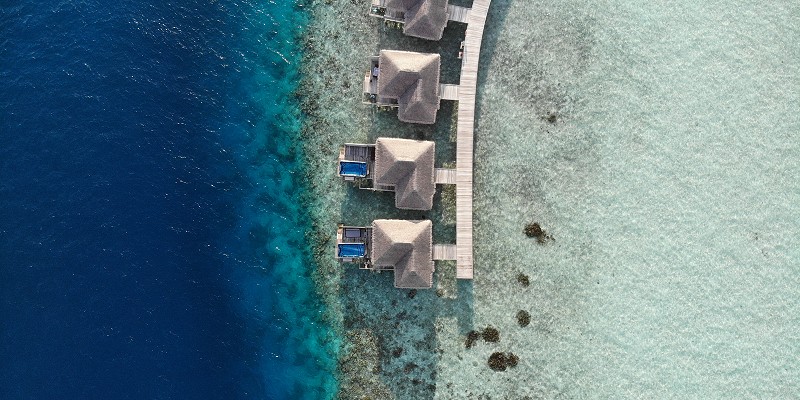 ---
Ready to go?
After all that, you're probably itching to get your Maldivian adventure underway.
Click the button below to take advantage of our limited-time Flash Sale offer price. And start counting down the days until paradise finds you.