6 Beachin' Hotels In Sri Lanka You Need To Know About
These six beach hotels in Sri Lanka are perfect for placing the country's incredible coastline right on your doorstep.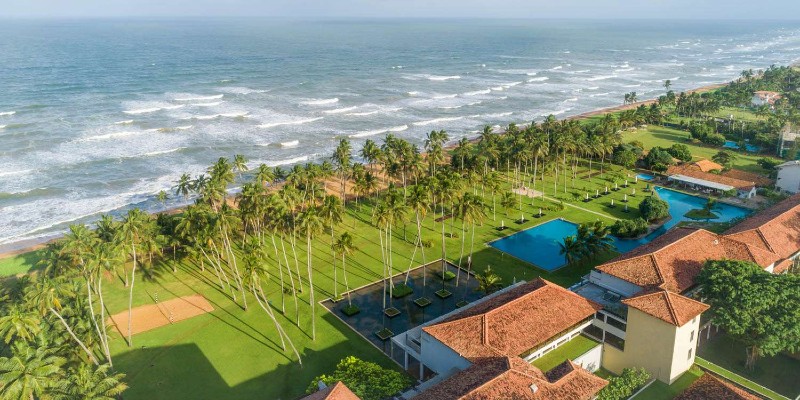 We want to tell you about six beach hotels in Sri Lanka that are well worth a spot on your travel bucket list.
Sri Lanka is famous for its special heritage, abundance of wildlife and glistening coastline. In this blog we're talking a sextet of resorts showcasing the latter of those highlights. These hotels are getting beach hols in the teardrop of India absolutely right.
But, before we get into them in more detail, let's reveal the resorts and recap a little more about this incredible destination.
---
The scintillating 6
Jetwing Beach
Hikka Tranz by Cinnamon
Oak Ray Haridra Beach Resort & Spa
Mermaid Hotel & Club
Suriya Resort
The Blue Water Hotel & Spa
---

---
Sri Lanka in a nutshell
Colourful and bursting at the seams with culture. Formerly known as Ceylon until 1972, Sri Lanka is a superbly diverse destination.
With everything from brilliant beaches through to mist-shrouded hills, there's so many amazing things to do in Sri Lanka. It's that breadth of adventure which keeps the tourists flooding back year after year – as well as the awesome resorts, of course.
If you fancy getting out of your resort then bustling cities like Dambulla, Kandy, and Colombo offer a world of additional sights. But, for now, let's pretend you're staying in-resort. We're talking brilliant beach hotels in Sri Lanka and where to find them.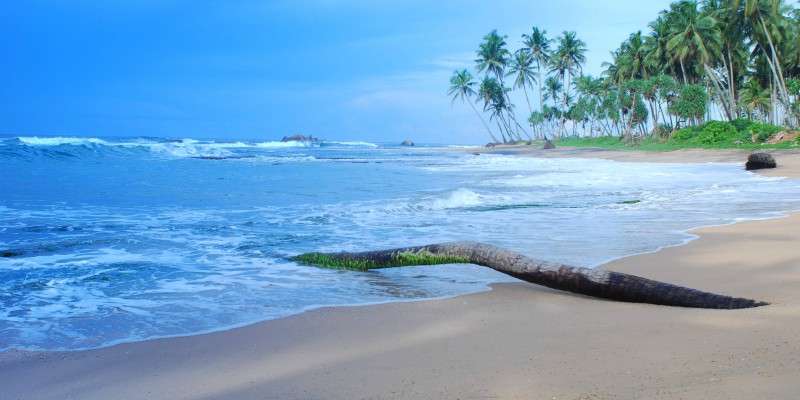 ---
Jetwing Beach
In the western province of Sri Lanka lies Jetwing Beach. A haven of Sri Lankan design laid out along a vast stretch of dazzling Negombo beach. With a short transfer time and romantic beachfront positioning, this resort is the epitome of sophisticated relaxation.
Treat your taste buds to a selection of authentic Sri Lankan and international cuisine at a choice of two restaurants. Dine in style at Black Coral or turn up the romance with a private dining experience on the beach.
The resort lies in a convenient spot close to the town of Negombo. Placing itself as an ideal base to visit the rest of the island interior.
---
Hikka Tranz by Cinnamon
If you like your tropical beach hotels with more of a party atmosphere, then this is the location for you.
Hikkaduwa is the nightlife capital of Sri Lanka's west coast, making Hikka Tranz by Cinnamon the perfect centre for partying. Don't miss the chance to sample some of the country's firewater, arrack. However, Hikka Tranz has more to offer than just a stunning beach and partying the night away.
Famed for its coral reef, the area is rife with snorkelling opportunities. With a multitude of chances to spot turtles and an on-site PADI certified dive centre, this resort is perfect for diving pros or those taking their first dip. Plus, if you're feeling more adventurous, the surrounding area is known as an international destination for surfing.
---
Oak Ray Haridra Beach Resort & Spa
Away from all those party antics and surf boards, Oak Ray Haridra Beach Resort & Spa is more of a chilled out option for beach lovers.
Stretched out on one of the best beaches across Sri Lanka's southwestern coast, Oak Ray delivers pure tropical bliss. Just 35km from Colombo, this boutique beachfront escape boasts an oasis-like vibe.
The Ayurveda Spa is designed to deliver even more chilled out times. So when you're not kicking back on the gorgeous sand, or round the large resort pool, you could be resting with the help of professional therapists.
---
Mermaid Club & Hotel
A 10-minute car ride from Oak Ray lies the village of Kalutara and the incredible Mermaid Club & Hotel. This dazzling beachfront escape continues to showcase the incredible virtues of Sri Lanka's southwestern coast.
With sea view rooms, a wealth of activities, and even the option of al fresco dining on the beach, you never have to spend too long away from your beloved coastline.
On the other hand, if you fancy a change of scenery, there are a range of excursions available. Take the chance to head inland and uncover a world of adventures in Dambulla. Conversely, you could elect to just move your lounging to a new location. How about around one of the two resort pools or in the stunning Sahana Spa.
---
Click the banner below to check out our latest Mermaid Club Hotel & Spa offer

---
Suriya Resort
Further up from Mermaid and Oak Ray on Sri Lanka's west coast is an elegant escape like no other.
Suriya Resort is a four-star retreat bristling with style. But it's also the closest of our beachfront sextet to all the best things to do in Colombo. Benefitting from its positioning between the Ging Oya River and Laccadive Sea. The resort delivers the sort of serene magic that can only be offered by a hotel surrounded by water.
Grab your beach towel and stretch out on the soft golden sand. Or sink into the resort and make the most of the chic interior. Upgrade your stay to an incredible Water Chalet and spend your days chilling on the river. Inspired by the village houses raised out of the river via wooden stilts, Water Chalets offer an incredibly serene and chic experience in Suriya.
---
The Blue Water Hotel & Spa
There's plenty of reasons why we love Blue Water Hotel & Spa. But the main one has to be the way it delivers five-star elegance right on the beach.
Resting in an idyllic setting along a fabulous stretch of sand in Sri Lanka's Western Province. Blue Water acts as the perfect base for your tropical escape.
Choose to drop your 'cases and get straight to kicking back in the sand. Or make a plan and start getting out to spy some top excursions. Sri Lanka's UNESCO world heritage sites promise an awesome, and unforgettable, adventure.
---
Get your seat by the beach
We all love a beach escape, right? And these 6 resorts are ideal for delivering tropical beachfront bliss. But, while the best beach hotels in Sri Lanka are designed to frame the best of the country's coast, it's worth remembering there's also a host of incredible adventures to be had away from the sand. 
Although, we understand, with a whole country of choice it can be difficult to know what activities to pencil into your trip schedule. So, we've created a couple of handy guides to help you pinpoint the excursions for you. 
If you're on a short escape it might be best to keep your activity quantity expectations low. But that doesn't mean you can't still deliver the wow! Factor. Our pick of the top 5 excursions in Sri Lanka is a short tripper's guide to the must-do adventures in the teardrop of India.
On the other hand, if you've got a longer break on the books you might be better clicking the button below to check out our top 10 things to do in Sri Lanka.