We Need To Talk About Cocoon Maldives! A Contemporary Haven in The Indian Ocean
Cocoon Maldives is haunting our dreams (in a good way). Here's why we can't stop thinking about this awesome space.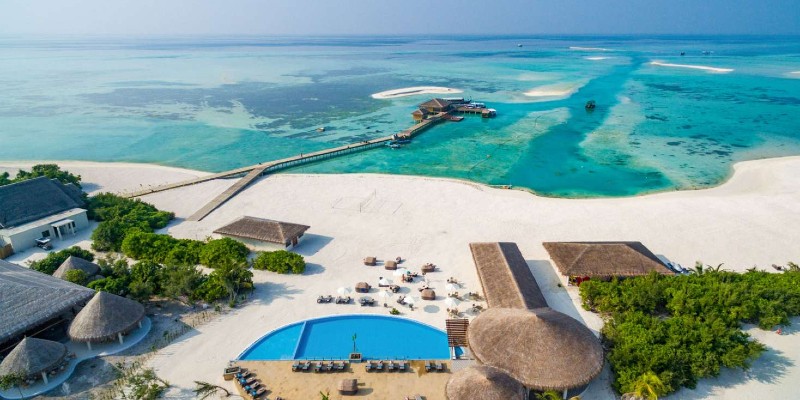 Somewhere between chic five-star contemporary hotel and paradise island retreat, you'll find Cocoon Maldives. 
In this blog, we'll tell you about all the reasons why this resort is living rent-free in our minds. But first, let's get you two a little more acquainted. 
---

---
Introducing Cocoon Maldives
Take the natural beauty of the Indian Ocean, plus an endless tropical ecosystem, add in a contemporary designed resort and you'll have Cocoon Maldives. 
A high-end paradise boasting spacious Lagoon Water Villas, Beach Suites and more.
The resort was designed by award-winning Italian specialist, Lago, to deliver a chic luxury feel, while remaining homely and comfortable. The selection of activities, stunning accommodation, beautiful views, and mouth-watering cuisine will leave you dumbstruck. 
So, why don't we start by telling you more about that incredible accommodation?
---
Awesome Accommodation
Where that expert design work comes to the fore is in the special rooms. Each villa is perfectly balanced to deliver an engaging space that places comfort at the top of its remit. 
Whether you decide to go for a beach or water villa the views from your private sun deck will be as scintillating as you can imagine. But do you want to be steps from the sand or the surf? Either way, you'll have the bonus of a spacious room, spectacular bathroom and a king bed to kick back in. 
But, if choosing isn't your strong suit, allow us to make the decision for you. With our latest incredible offer, you can upgrade to a staggeringly beautiful Lagoon Water Villa. 
Live that paradise life

Exquisite water villas

Style it out in your private pool

Stunning lagoon villa interior

Watch the sun go down over the lagoon from the bathtub

Check out your idyllic locale

But beach villas are just as dreamy

Check out the spacious beach villa interior

The elevated styling comes to the fore in the beach villa bathroom
---
Meals to Match the Views
Packed with three restaurants and two bars, Cocoon offers a good selection of cuisine for when you get peckish. If you're wanting to capture that romantic Maldivian dining experience, enjoying fine dining as you gaze out over the lagoon, then Manta Restaurant is the place. 
Meanwhile, Octopus is the main resort restaurant where you'll find the international buffet selection. However, this is no ordinary hotel buffet. With a wide array of dishes, dedicated world cuisine areas, and live cooking shows there's plenty to keep you coming back. 
Alternatively, you might want to take your dining experience to the sand. Another supremely romantic evening meal option is available at Palm Restaurant. Snack on fresh grilled seafood and chat about anything and everything under the glimmer of starlight. 
Elsewhere, Kurum Bar and the Laobi Loabi Bar have you covered for cocktails and good times. 
---
Things to do at Cocoon
As we said earlier, this Maldivian paradise offers more than just the chance to switch off and unwind. If your idea of taking it slow is packing your itinerary with activities, then you can do that here too. 
However, it has to be said, the main even of the area lies beneath the surface. Check in at the dive centre and take a crash course on scuba, because at this resort, you're actually smack-bang in the middle of over 50 incredible dive sites. The submarine sights in this area of the world are beyond compare. In fact, they are one of the main reasons why we love the Maldives. 
On the other hand, if you fancy staying dry, there's still plenty to get through back on terra firma. Boduberu cultural shows, as well as zumba, yoga and pilates are just some of the amazing activities you can experience on the sand. You might also like to check at the tour desk to head off on an incredible excursion or two.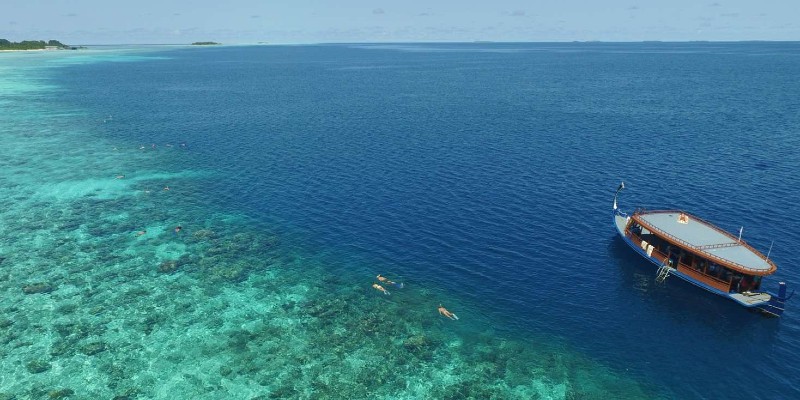 ---
Something for the Kids
We have spoken about this resort being great for the kiddiewinkles before. It's true that you don't necessarily think of these atolls when it comes to family escapes. But Cocoon is one of the more family-friendly resorts in the Maldives.
We love the fact that there's a great offering for kids here. Because you genuinely get the feeling that the resort team has thought about families when it comes to spending time together in-resort.
While you have water sports and other adventures, they can have their own fun in a purpose-built environment.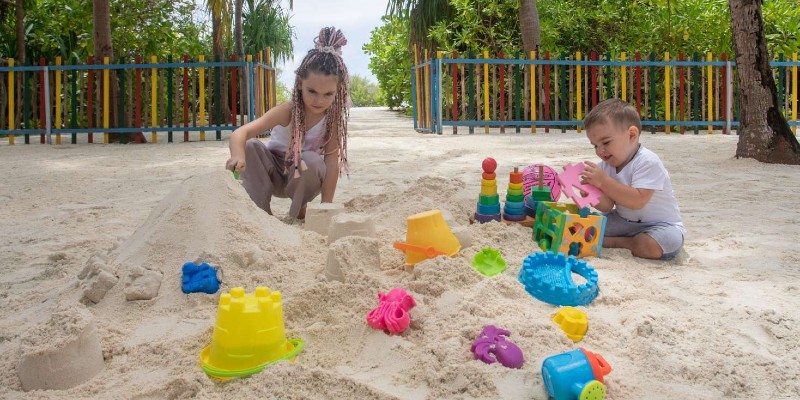 ---
The Cube Spa
Speaking of other activities, would we really be talking about a mega Maldives escape if we didn't mention a relaxing spa?
The Cube Spa at Cocoon Maldives is the perfect place to sequester if you're looking for a chilled-out environment. A specialist team of therapists has access to a range of soothing products, as well as knowledge of amazing therapies. 
This place is perfect if, somehow, you've managed to not fully let go of your troubles just by admiring the view from your 30-minute seaplane transfer.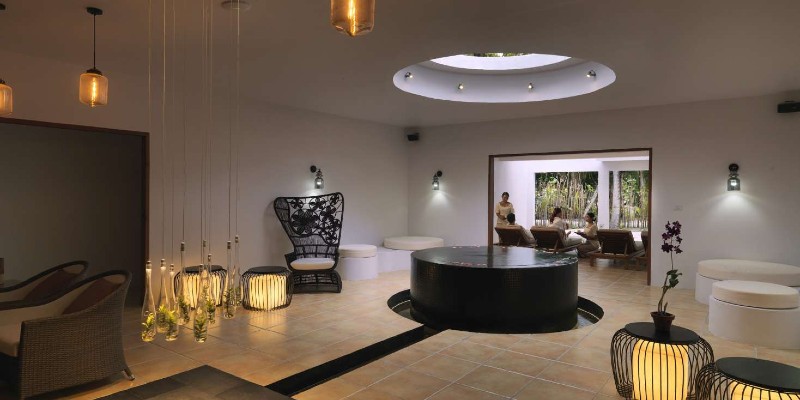 ---
Ready To Embrace Your Cocoon?
If all this talk of high-end Italian design and paradise island vibes has you daydreaming about an escape, then what are you waiting for?
Start turning those dreams into reality by clicking the button below and get cracking on building your free online Cocoon Maldives quote now.