How to Celebrate in Style at X10 Khaolak Resort
Find out what Sharon got up to on her celebratory trip to X10 Khaolak Resort.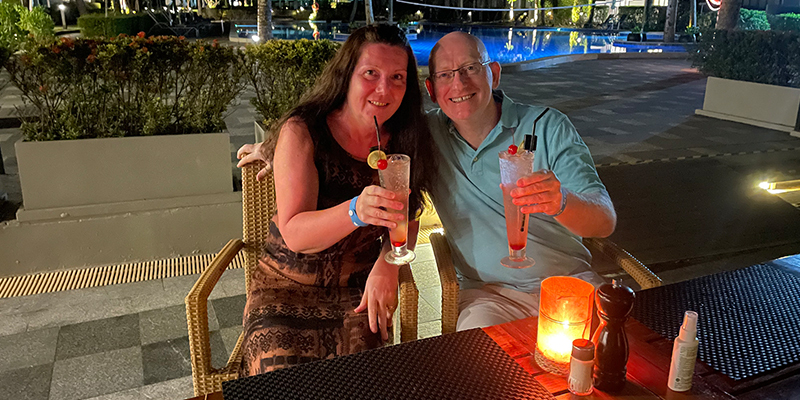 One of our amazing Personal Travel Consultants, Sharon Ash, recently got the chance to experience an unforgettable trip to Thailand.
The escape to X10 Khaolak Resort was to celebrate her silver wedding anniversary. So only the best would cut the mustard!
In this blog, she'll take us through her experience at X10 including one or two awesome adventures along the way.
But before we hand it over to Sharon, why don't we tell you a little bit more about this awesome resort.
---

---
What is X10 Khaolak Resort?
A five-star beachfront escape resting on the idyllic sands of Bang Niang beach, the resort offers a world of Thai adventure.
There are many reasons why we love X10 Khaolak, but its perfect location on the beach, just minutes from downtown Khao Lak, is a huge bonus.
Inside the resort, you'll find stunning interior design, five pools, two bars, two restaurants, a spa and a gym all waiting to make your trip memorable.
For now, though, why don't we catch up with Sharon and she can talk you through her experience.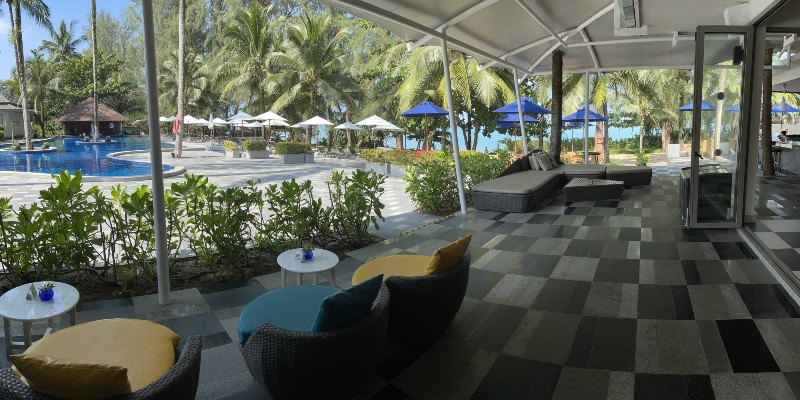 ---
Over to Sharon
My husband and I always wanted to travel to Thailand to take in the scenery and enjoy the incredible wildlife.
Unfortunately, life and, more recently, Covid have got in the way. But, because this was a special occasion, we decided the time was right to make the trip happen.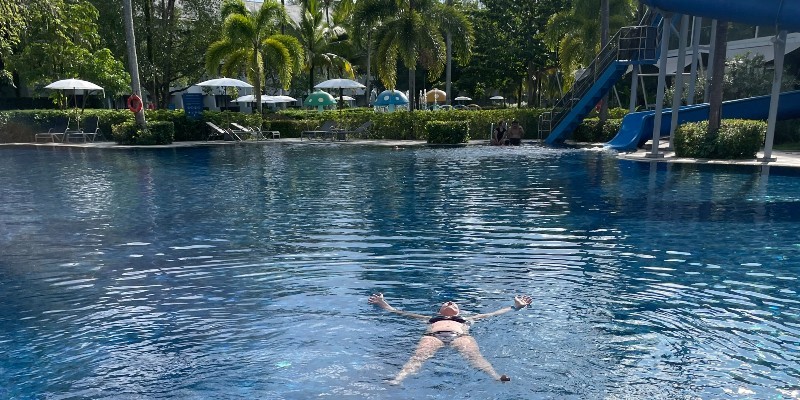 ---
First Impressions
Our flight and airport experience was all very smooth, even with all the extra checks. There was even complete compliance with in-flight mask-wearing. So, I'll skip straight ahead to my first impressions of X10 Khaolak Resort.
To get to the resort you have to drive up (what looks like) a Grecian dirt road. This track seems to run through the resort grounds. We realised, after checking in, that part of the resort sits on one side of the road while the upgraded beach side lies on the other.
Because we'd upgraded to a Deluxe Pool View room we were lead across the road after checking in, to the beach side of the resort and it was a different world. Once we entered that side of X10 we immediately got all the five-star vibes.
The beautiful pools, manicured gardens and stunning vistas from the pictures online all come into view and deliver the WOW! factor.
From there we were taken to our room and that was another WOW! moment in as many minutes.
Moving around the resort and beach our first impressions were that it was all very clean. The beach is golden sand and the sea is lovely to swim in. However, I would say, if you're travelling with young children and want to take them swimming in the sea, it's tidal and quite strong. Even as adults we could feel the pull of the tide between waves.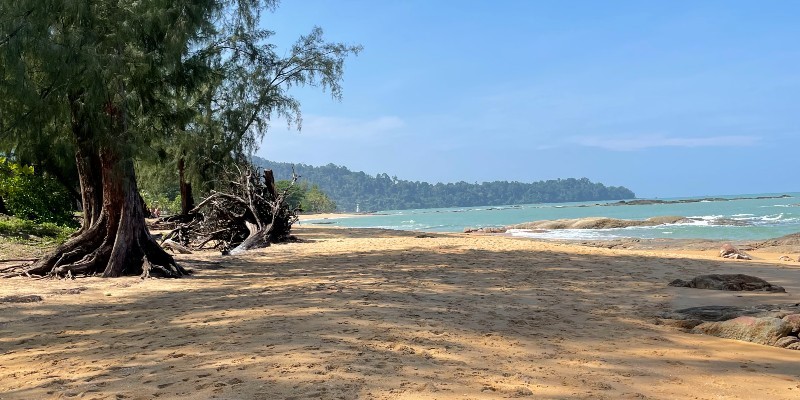 ---
More About That Incredible Room
As I said, the room was a picture. With stunning modern interior design and the view over the pool, it was certainly five-star quality. A great touch from the resort was that they had noticed it was our wedding anniversary, so they decorated our bed and put a lovely poem on there too. 
However, if I had to pick one small flaw, I'd say maybe it lacked a little cupboard space. If, like me, you want to completely unpack your suitcase when you get somewhere, there was not much drawer space and hangers were in short supply – but I think that's the same anywhere you go. 
But, we did have an ironing board, bathrobes, slippers, flip flops and (the all-important) X10 umbrella. Perfect for when we got caught in a tropical downpour. 
The testing requirements in Thailand have now been lifted. But they were still in place when we travelled. With that in mind, we had to stay in our room until the result of our arrival PCR test had come back.
That meant ordering a host of room service and chilling for a while. But by the time we'd eaten it and sat down on the balcony, the phone rang to say our results were back, we were negative and free to roam.
---
How Was the Food?
The Main Restaurant was still closed while we were there, so we had all our meals in the a la carte Seafood Kitchen. But, in my opinion, the quality and quantity of the food is the best I've seen at an all-inclusive resort.
Everything was freshly prepared, delicious and beautifully presented, to the point where we thought about doing the cooking class they offer at X10. But with all the other activities we had planned, we didn't want to over-pack our stay.
However, I'd love to go back and try that class. To get the chance to head out into the resort gardens with the chefs to pick the ingredients and see their processes would be a brilliant experience.
Is There Anything Around the Resort?
Another great thing about X10 Khaolak is that it's just a 5-6 minute walk from the town. So if you like to get out and explore the local bars, restaurants and shops you can. The resort will offer to get you a taxi there and back, but it's really not far and we felt super safe stepping out. Literally, go out of the hotel, turn right and that's where some of the shops start.
If you did want a taxi, though, we couldn't recommend the driver we found in the town enough. Her name was Pam and she took us everywhere we want to go, great service.
Meanwhile, in the town, there are like 7/11 shops, pharmacies and banks so you can get some bits for the room and use the ATMs. We bought some little souvenirs and clothes from the shops. But, one thing to be aware of, they all want cash rather than card. Although, I'm not sure whether this is regular practice or just a Covid thing.
It's also not very expensive in Khao Lak town. For example, we had a full sit-down meal at one of the restaurants and it all cost us about £5.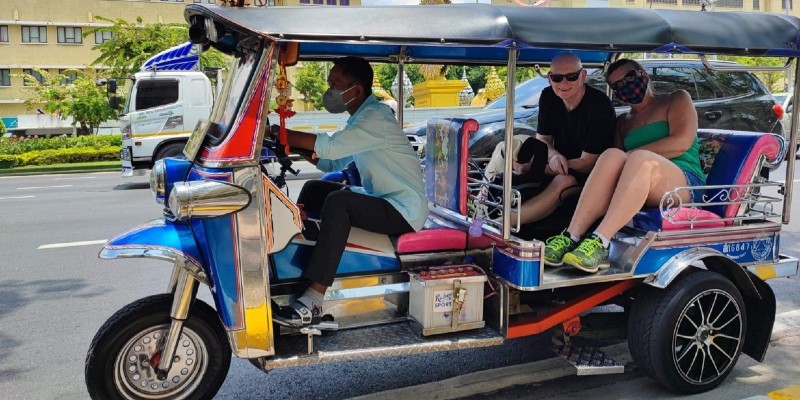 ---
Did You Go On Any Excursions
There are some amazing things to do in Khao Lak. But our main focus was to go see the elephants and, as an experience, it was right up there with anything I've ever done.
Seeing the elephants
I made such a connection with Sandy, the elephant we met, she was 60 years old and an absolute sweetheart. As well as Sandy, we were able to meet a couple of babies which were sooo adorable.
Once at the sanctuary, we fed and washed the elephants which was a surreal experience. The keepers told us more about Sandy's story and how she'd been rescued. You could see the scars from where the chain had been around her ankle.
Part of the experience was getting to walk her around the reserve and making her food with bananas, leaves, and sugar cane. After pounding the mix into paste we formed it into balls and fed it to her. Bathtime came next, we went down to the pond and got into the water with Sandy. Her keeper gave us a bucket and a scrubber and set us to work. 
We specifically chose this reserve through a Facebook group we found. It was important that we found a completely ethical environment. The reserve was only 20 minutes from the resort and, I can honestly say, it was the highlight of my holiday.
---
Boat trip
We also took the chance to head out on a tour of Cheow Lan lake on a tour through the same provider as the elephant home. It took us around 2 hours to get to the lake because it's up in Khao Sok National Park, which is one of the best National Parks in Khao Lak. 
The trip was out of this world! The scenery as we were gliding across the water was incredible! Lots of wildlife like monkeys popped up on the islands before we headed further out to a dark cave where bats were resting. After seeing all the amazing animals we went to the floating restaurant where they were serving fresh seafood straight from the lake. 
If you want to have an even more immersive experience on the lake you can book to stay in the wooden huts on the water's edge. But they are quite basic. 
---
Two Nights in Bangkok
I was a little skeptical about visiting Bangkok, but I'd definitely go back.
As with any city, there's just too much to see in two nights. Plus, we probably didn't have the most authentic experience as it was still quite quiet due to Covid.
We booked a private tour through Khanom Travel Bangkok. Because I work for Transport for London, I wanted to experience every mode of transport in the city, as well as seeing some markets and temples, so that's what we did.
Tuk-tuks, water taxis, sky trains, and the metro were all done. But we also experienced a long-tail boat ride along the canals where James Bond was filmed. It was just an amazing experience!
---
Book Your X10 Khaolak Resort Xperience
As you can tell from Sharon's incredible experience, X10 Khaolak Resort is a stunning place to get the complete Thai experience.
Feel the energy for yourself and get started building your free online quote by clicking the button below.