Introducing The Standard Maldives: Bringing Beach Club Vibes to Paradise
The Standard Maldives is bringing all those contemporary Ibiza Beach Club feels to the famous archipelago.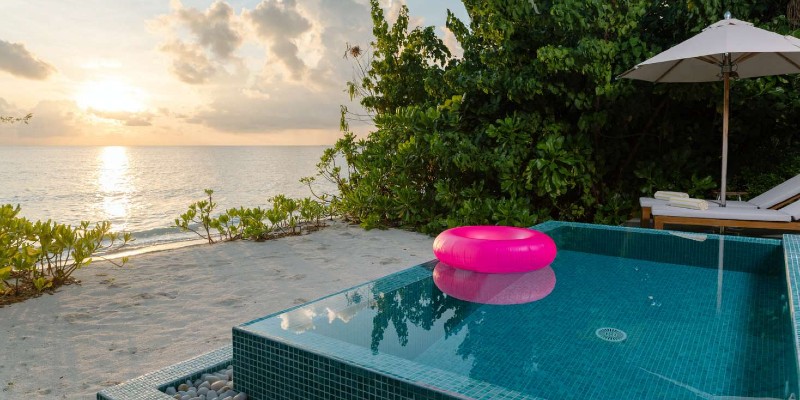 Despite its name, The Standard Huruvalhi Maldives is anything but average. It's a five-star paradise bursting with modern personality.
We'll introduce you to this stunning resort. But, we'll also tell you more about the brand that's bringing a punch of modernity to The Maldives' private deserted island resort trope.
---
What is The Standard Maldives?
To answer that, firstly, we'll have to tell you more about the brand.
The Standard are a hotel chain with bases in dazzling destinations like Bangkok, Miami Beach, New York, and Ibiza. Now, they're aiming to inject some of that urban contemporary style into the Maldives market.
This Huruvalhi location is The Standard's first resort in the famous archipelago. But when you understand the brand, you can understand the uber-chic beach club vibes emanating from this latest resort in the chain.
---
An Instagram Dream
We all know about the Maldives on Instagram and how well the spectacular scenery lends itself to the eponymous photo-sharing app.
But it's quite rare to get a resort where every element has been thought through from an aesthetical/sharability perspective.
That's what we have here though, from the moment you step off your short luxurious seaplane transfer. Each facet of The Standard features a colourful modern approach that is extremely refreshing.
But rather than waffling on about how good the place looks, why don't we tell you more about the amenities. Starting with where you'll lay your head.
---
Rooms With a View
The all-villa accommodation at The Standard Maldives is as stunning as you would expect. With incredible water or beach villas available, you'll have to decide which aesthetic you prefer.
Every villa comes with a host of welcoming amenities designed to leave your jaw on the floor. Including glamorous rain showers and large soaking tubs, private infinity pools, daybeds, and sun decks. But a standout feature in all the accommodation is an activity wall behind your bed.
Before you start wondering, no, it's not a climbing wall in your room. Rather, this white wall is adorned with a snorkel kit, wet bag, flippers, life jacket, and a ukulele. So you have everything you need to start making holiday memories, without increasing your baggage allowance.
We've lost count of the number of times we've had to jettison the ukulele to hit that airport weight limit.
---
---
Plates for Days
If you can tear yourself away from the ukulele and overall comfort of your room, then you might like to explore the selection of restaurants.
International cuisine is served in Kula. But, again, this is The Standard, so nothing is run-of-the-mill. The restaurant's name means "colour" in Dhivedhi and it more than earns that title. A well-designed menu is bursting with vivid shades, perfect for sharing on Insta.
Elsewhere Gudaguda and the BBQ Shak offer even more pleasures. The former places delicious authentic Maldivian cuisine at the heart of its offering. Encouraging you to expand your palate while sitting at traditional tables low to the floor in a picture-perfect, open-sided, restaurant overlooking the Ocean.
Meanwhile, the Shak serves up succulent meats and vegetables out on the sand and under the stars. Soooo many photo opps.
Colourful Maldivian Cuisine in Gudaguda

Outdoor seating area at Gudaguda

Kula Retsaurant

Elevated food from the BBQ Shak

Beach dining at BBQ Shak

Grab a tea, coffee, cake or sandwich from Joos Cafe

Pull up a beach bean bag at Todis Bar

Stop by Tonic for a dose of healthy mixology

Showstopping venue for Beru Bar
---
What's "Happening" at The Standard?
In terms of things to do, there are the normal sport and water sports offerings available. But, as we know by now, they don't do things by halves here.
The resort deviates from the norm with, what they call, "Happenings". From Ibiza-style pool parties through to coconut fishing. The latter activity sees local experts use time-honoured techniques to scale the heights of the local trees in search of their bounty. You can then take your coconut to the bar to be turned into a refreshing drink.
Other Happenings include: Dolphin cruises, guided night snorkels, sunset boat trips, and turtle expeditions. We don't think we need to tell you to take your camera along on some of these.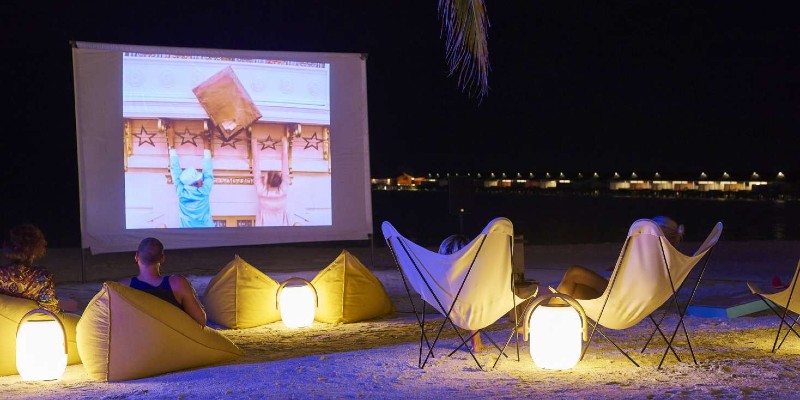 ---
So Is The Standard Maldives Adults-Only?
You may be forgiven for thinking, with all this talk of Instagram and pool parties, the resort operates an adults-only policy. However, the Lil Sharks Kid's Club would tend to disagree.
But this isn't just some token gesture to keep the little ones happy while the parents go off snapping paradise. In fact, activities like the inflatable water park, kite flying, and crafting, all overseen by trained staff, help make The Standard an awesome family-friendly resort option in the Maldives too.
In addition, there's a Teen Zone where older kids can kick back and chill, or whatever it is teenagers deem to be "cool" these days. Honestly, we can't keep up.
---
Oh… And Did We Mention The Spa?
That's right, the fun at The Standard Maldives isn't confined to the lagoon, pool or kid's club. If your idea of chilling out on holiday is treating yourself to some indulgence, then there's plenty of it on offer here.
The Standard Spa offers everything from soothing massages all the way up to in-depth treatment cycles like a full hydrotherapy circuit. Complete with a communal hammam, cypress aroma steam room, and a contrast plunge shower this is invigoration at its finest.
Moreover, if those experiences aren't immersive enough for you, then you might like to try a spa-shaped Happening. For example, you could treat yourself to a Spa Sleepover.
Holistic snacks and cocktails are provided, as well as a comfy spot to sleep and a reviving elixir in the morning to help you rise with the lark. It might well be the most relaxing night's sleep you've ever had. Why not go live and invite the followers along for the experience.
---
Put Yourself in the Picture
If you've got a Standard-sized hole in your Insta grid, then why not get yourself out there? Just make sure you check out our 10 things to know before you go first.
Click the button below to start building your very own quote for this five-star paradise now.